When Naomi Tweyo Nkinsi first learned that race was a variable in an equation used to calculate kidney function, she knew she had to raise her voice.  
"How is it possible that something that's a social construct is being considered as playing a role in someone's physiology?" Nkinsi said. "We know that the organs of Black people and the organs of non-Black people work exactly the same."
Nkinsi raised the concern to professors and leaders at the UW School of Medicine about the validity of using race in calculating a person's kidney filtration rate. The calculation, which wrongly assumes that Black people have more muscle mass, adds a multiplier of 1.2 if the patient is Black.
"Black people actually have to be sicker in order to get the same amount of specialty kidney care," she said.
If kidney malfunction isn't detected early, the organs could deteriorate further, requiring more expensive medical treatment. Patients with underdiagnosed kidney problems can lose access to transplants, medications, and specialized care covered by insurance.
Nkinsi, a third-year medical and public health grad student, spent three years advocating to end race-based clinical practices. She made a historic change when UW Medicine announced that it would exclude race in its kidney's eGFR calculation starting June 2020.
Now, Nkinsi wants to aim higher — she is taking the issue to the U.S. Congress and is providing evidence to lawmakers that certain clinical practices are harming Black patients.
Her advocacy soon caught the attention of Sen. Elizabeth Warren, Sen. Ron Wyden, Sen. Cory Booker, and Rep. Barbara Lee. In February 2021, the Democratic leaders released a statement saying that the Agency for Healthcare Research and Quality had approved their request to review the use of race-based clinical algorithms in medical practices.
In recognition of her activism, Nkinsi was awarded the Paul & Daisy Soros Fellowship for New Americans and named as one of the 2021 Husky 100.
"I was really excited to find out that I won," Nkinsi said. "It was a way to validate the work that I've been doing."
A birth that inspired the future
Born in Yaoundé, Cameroon, to a mother who contracted malaria during her pregnancy, Nkinsi was born underweight and had rashes all over her body. Her condition was so severe that her parents and doctor even prepared for the death of the newborn.
"I was the smallest baby [my parents] had ever seen," Nkinsi said.
Her birth story reminds Nkinsi of the health inequality that exists in different parts of the world. Developing countries face a lack of medical supplies, exposing people to more public health risks, while wealthier countries can create — and profit from — the majority of the world's medical resources.
"My mom's pregnancy and delivery could have been completely benign," Nkinsi said. "But because she happened to be pregnant in an area where malaria is endemic, access to care is more limited."
The desire to study medicine in underserved populations has been the theme of Nkinsi's work. Her most notable research studies involved tracking the 2014 West Africa Ebola outbreak and analyzing the impact of food insecurity on people living with HIV, alongside the iThembalabantu People's Hope Clinic in Durban, South Africa.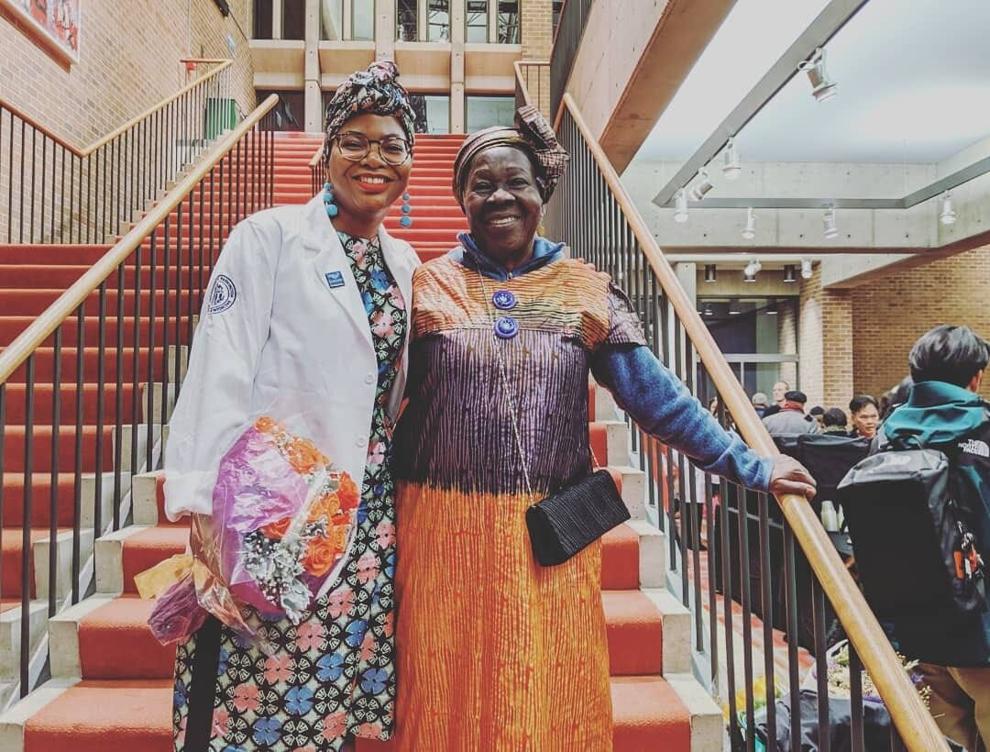 When asked about her motivation to study medicine, Nkinsi attributes it to her experience moving from Cameroon to the United States at the age of six. In the United States, where she thought the people were "richer," low-income communities still cannot afford the high cost of medical bills. 
According to the Centers for Disease Control and Prevention, 8.3% of American adults fail to get medical care due to cost. Failing to get treatment can create a cycle of ill health, Nkinsi said, and the effects can be generational.
"If you're not healthy, it's hard to work," she said. "If you can't work, you don't have money. If you don't have money, you can't really get an education or other markers that will help propel you in society."
Learning from her heritage
For Nkinsi, her African heritage plays a prominent role in shaping her identity as a medical researcher. She identifies as Congolese — her parents were from the Democratic Republic of Congo — Cameroonian, American, and as a member of the Bayansi tribe.
"My cultural heritage has always been very strong," Nkinsi said. "My parents were very adamant about my siblings and I knowing where we came from, knowing our culture, our heritage, and our family stories."
As someone who navigates between her African and American identities, Nkinsi finds the two cultures very different. She said that African culture has a strong sense of community, while American culture is the opposite. 
"In Congo, if you have a neighbor that's lacking something, you share," Nkinsi said. "There's nothing individualistic."
Nkinsi hopes that medical professionals in the United States could learn to emphasize a patient's community when making decisions about their treatment. Health is not just about the patient: It also depends on where they're born, what their community is like, and how other people treat them. 
These factors, however, are difficult to change. 
"So much of our own health is dependent on factors that we don't have control over," Nkinsi said. "And a lot is because of inequity."
Nkinsi aspires to work in family medicine to improve children's access to healthy food, education, and social support. In her activism, she is part of the Institute of Healing & Justice in Medicine, working with laboratories and national societies to lobby for change related to health and medical equity.
But whatever Nkinsi does next, she always reminds herself one thing from her heritage: "We're only as strong as our community."
Reach writer Anh Nguyen at news@dailyuw.com. Twitter: @thedailyanh
Like what you're reading? Support high-quality student journalism by donating here.