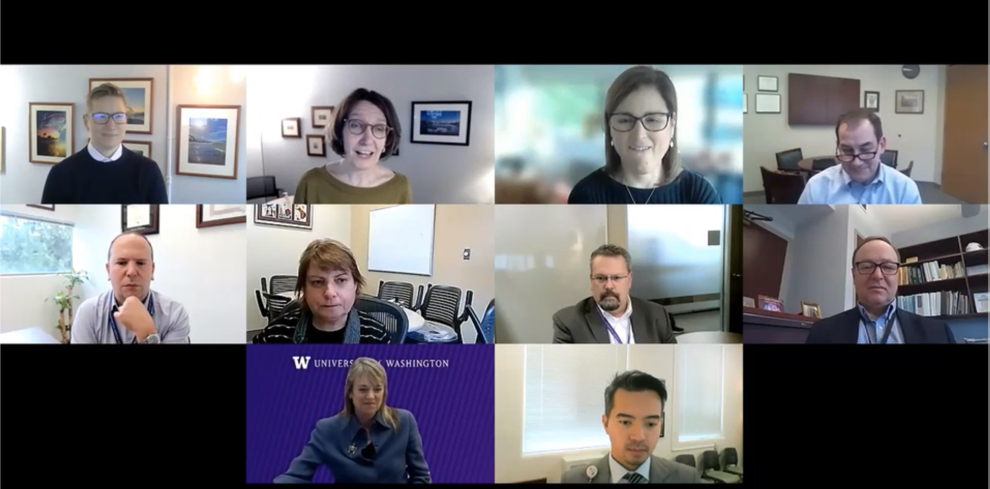 UW Medicine officials answered vaccination questions and discussed the rollout of Destination One Epic during a town hall Friday.
Destination One Epic, or D1 Epic, is a new connected care experience that UW Medicine aims to expand to a single, enterprise-wide electronic health record system for all clinical and revenue operations. It will essentially make it more convenient for medical professionals to access patient information, while also streamlining business operations.
Lisa Brandenburg, chief health system officer at UW Medicine, said UW Medicine's old system was inefficient and that implementing this will make it much easier for staff to complete patient-related tasks. 
Eric Neil, chief information officer at UW Medicine, assured attendees that administrators had been working hard for the D1 Epic launch and that, while there may be a few hiccups when first getting started, system administrators are going to be on call to support UW Medicine staff during the launch of the program. Neil said they have 2,800 administrators ready to help UW Medicine staff with problems during the launch.
UW Medicine leadership also discussed concerns about new COVID-19 variants entering Washington state and the rising number of coronavirus cases. 
"Washington state has plateaued, and we are continuing at around a flat 650 new cases a day," UW Medicine's chief medical officer Dr. Tim Dellit said. "We are starting to see a little bit of an uptick in the number of cases."
Leadership noted the opening of the state may be a contributing factor to the increased number of cases. They are not yet concerned about the impact this may have on medical facilities, but noted they are keeping a close eye on future developments.
As for vaccinations, Dellit said UW Medicine has administered over 160,000 vaccinations total, with 15,000 doses administered per week. Washington state also met its goal of a total of 45,000 doses administered per day, with plans to increase the amount of dosage after receiving an increased vaccination supply in the future.
UW Medicine is receiving a supply of all three federally approved vaccines: Pfizer, Moderna and Jannsen. However, Washington state's vaccine supply has not been increasing, with incoming vaccine shipments remaining at a plateau, Dellit said.
UW Medicine leadership is confident that they'll be able to meet President Joe Biden's recent request that vaccinations be available for everyone over the age of 16 by May 1. Officials said primary care providers are able to schedule vaccinations in advance for people who will be eligible after a certain date. However, other members of the community will have to sign up for a queue once they are eligible for this vaccine. 
UW Medicine officials said that while it's important to get the vaccination to stop the spread of COVID-19, people should still exercise caution even after receiving the vaccine. This means continuing to follow social distance norms and wearing masks when possible, because it is still possible to spread or contract COVID-19. 
"I want to give a special huge thanks to all the folks part of the team who made this happen," Dr. Trish Kritek, physician at UW Medical Center, said in a closing statement. "It is essential that we keep taking care of our patients and families."
Reach contributing writer Yash Katwal at news@dailyuw.com. Twitter: @yaaaaaaaaash
Like what you're reading? Support high-quality student journalism by donating here.