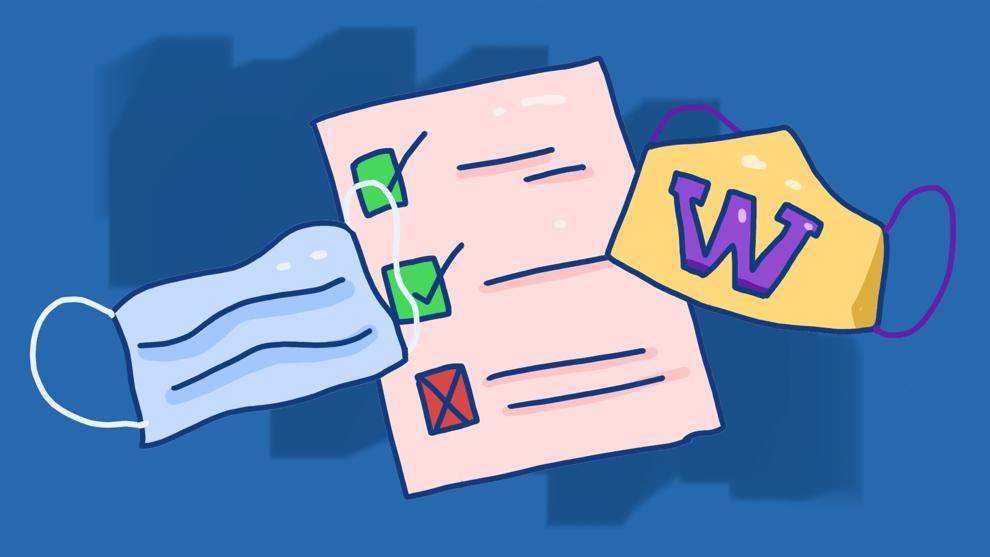 UW researchers are conducting a survey to find out which groups of people, in terms of age and gender, are more likely to wear masks in a public setting. The survey will be conducted anonymously throughout King County and will include different regions and different types of public spaces.
The statewide mask mandate has been in place since June 26, 2020, but there are still issues with compliance throughout the state. Since Jan. 9, 81% of people in Washington consistently wear masks in public according to Institute for Health Metrics and Evaluation (IHME) data; the universal mask usage goal is set at 95%.
To slow the spread of the pandemic, it is important to understand which groups of people are less likely to wear a mask, so that information about the importance of mask-wearing can be targeted to these groups.
The survey is being led by Dr. Judith Wasserheit, chair of the UW department of global health, and other professors, and is being conducted by a team of volunteers from the Schools of Public Health and of Social Work. The survey focuses on eight different areas of King County: Northeast Seattle, Redmond, Southeast Seattle, Federal Way, Shoreline, Snoqualmie, Tukwila, and the baggage claim at Sea-Tac Airport. These surveys — currently planned to run through March — are conducted approximately once a month when the volunteers observe and take data anonymously on site from their cars.
Many of the public venues that are being observed are indoor, such as grocery stores, shopping malls, or convenience stores. However, some venues, such as parks, do not have consistent foot traffic based on weather and time, which could skew the results. Therefore, volunteers try to choose a date and time that features an average amount of people interacting with the venue.
"It's usually a weekday, but we leave that to our volunteers to decide what day," Martin Cohen, a professor in the department of environmental and occupational health sciences, said. "We try to ensure that there are people at the different venues. We're not going to go to a park when it's rainy at night."
The volunteers sit outside of these public spaces in their cars for around 30 minutes and keep track of the approximate age and gender of individuals who are wearing masks versus those who are not. To track their data, the team uses an app called Open Data Kit (ODK), which allows them to input the data into a smart device and have it sync between devices.
"Initially we started using paper forms, but then we developed a tablet or a phone-based app that allowed people to collect data, to make their observations directly on a device, and when they get back to Wi-Fi or a cell service then it uploads to our cloud server," Cohen said.
The data that is collected will be analyzed to determine if there are related trends over time. The results will then be sent to Public Health — Seattle & King County and Washington State Department of Health and will be used to determine how to better target messaging and education about the importance of mask-wearing.
"In public health it really helps to be able to focus the message to be able to get more impact," Cohen said. 
Reach reporter Taylor Bruce at news@dailyuw.com. Twitter: @Tay1or_marie9
Like what you're reading? Support high-quality student journalism by donating here.