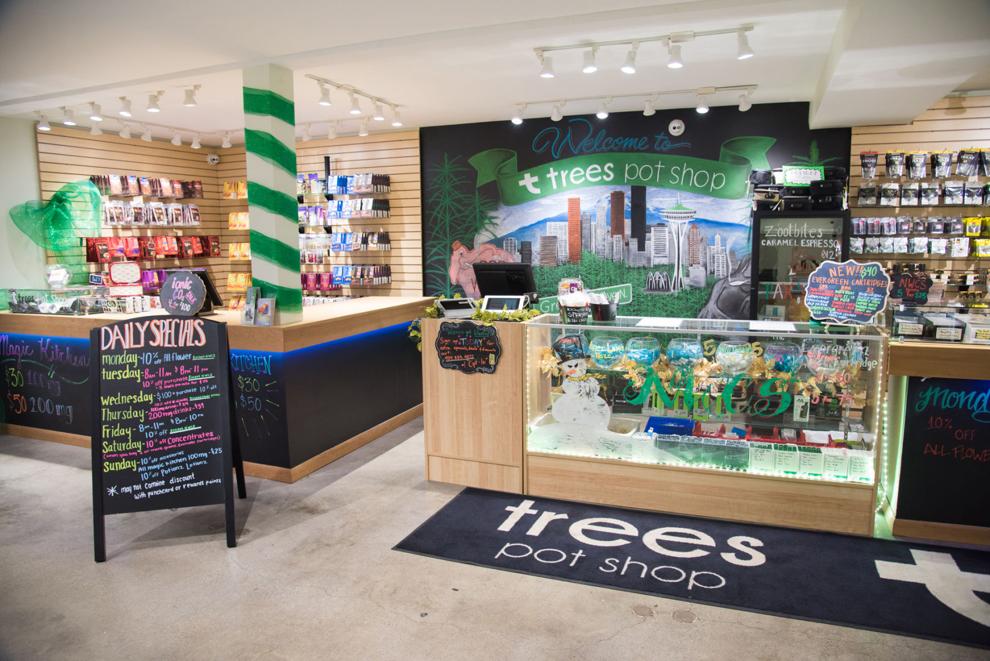 Josh King, medical consultant at The Joint retail marijuana store in the U-District, has worked in the cannabis industry for three years. Although he's happy that cannabis retailers' distinction as an "essential business" gives him a way to make money, he doesn't feel protected by the current state rules and business practices.    
The cannabis industry has never been a predictable one, but retailers have had their work cut out for them. Cannabis shops and liquor stores that sell food were among the few businesses that Gov. Jay Inslee deemed essential, requiring numerous adjustments to stay open while abiding by both social distancing and cannabis sale regulations. 
The Joint, for example, only allows three customers in the store at a given time, and if a customer touches a product, they have to buy it. There are dividers up in the store, and customers are instructed to abide by social distancing rules. The Joint is providing an option for online orders to lessen the amount of person-to-person contact, but they have yet to switch to an online-only model.
Noncompliance has become a source of anxiety for service workers like King, who have to decide either to risk their health by showing up to work, or risk their economic stability by not showing up to work. He said that he's observed many customers absent-mindedly ignoring six-foot social distancing rules and forming crowds outside the doors. 
He also believes state regulations could go further in protecting workers by mandating online-only orders and providing health insurance for essential workers. The Joint does not provide him health insurance, but if he doesn't show up to his "essential" place of work, he does not qualify for unemployment and has no way to pay his bills. 
King also challenged whether or not cannabis should be considered an essential business. 
"It seems just a little shady," King said. "I understand that people do need these products, there are several folks out there that legitimately really really need cannabis in their life and I understand, and absolutely 100% empathize with that, but the problem I've got is we still get customers and people in that think this is just no big deal. And that's really frustrating."  
There are only recreational cannabis retailers in Washington state, no solely medical dispensaries, according to Julie Graham, a spokesperson for the Washington State Liquor and Cannabis Board (WALCB). But recreational cannabis sales tax brought in nearly $400 million in sales tax revenue in 2019 and WALCB expects sales tax revenues to spike amid the novel coronavirus pandemic. Last year, over $180 million of this revenue was allocated to basic health expenditures by Washington state.
Sales tax records for March have not yet been reported, but budtenders in the area have noticed a significant spike in business since coronavirus-related closures and cancellations first started happening. Kat Autry, a budtender at Trees Pot Shop in Greenwood, noticed a spike not only in customers, but in sales, which she suspects was due to people stocking up in anticipation of potential closures. 
In addition to being one of the "lucky" ones who still has job security, she's found another silver lining throughout the COVID-19 outbreak: uncharacteristically friendly customers.
"People's attitudes have been kind of different and come in with more friendliness, like you can tell that it's their only social interaction for the day," Autry said. "Some people have told us that this is the only place they go besides Fred Meyer." 
Inslee's "Stay Home, Stay Healthy" order is currently in force through May 4. 
Reach reporter Emma Scher at news@dailyuw.com. Twitter: @emma_scherr
Like what you're reading? Support high-quality student journalism by donating here.