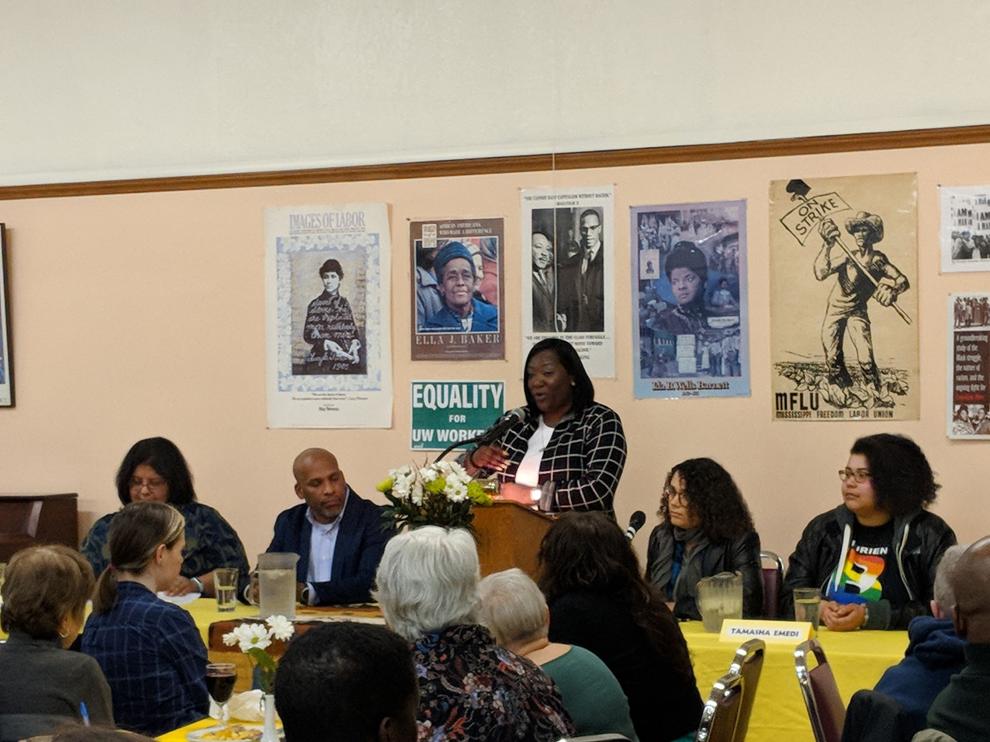 Members of various local unions spoke out about their personal experience with racism in the workplace at a Feb. 23 panel hosted by the Freedom Socialist Party and Radical Women Seattle branches.
In the New Freeway Hall, where offices for the Freedom Socialist Party and Radical Women are situated, John Frazier, president of WFSE Local 3488 at Harborview Medical Center, began the discussion by identifying a lack of equal opportunity for people of color. He explained the need to address and have a conversation about racism. He spoke of the subtle racism that has been hiding in Seattle.
"We never start to move unless we start to talk about race," Frazier said. "We have to start having those conversations so we can change."
The next speaker, Markisha Dixon, PROTEC17 and Seattle Silence Breakers member, revealed her struggle with discrimination while employed at Seattle City Light. Dixon spoke on the nepotism and racism she encountered in the government department.
Dixon's attempt to combat and overcome this prejudice wasn't easy. According to Dixon, her vacation and work hours were unreasonably docked and her coworkers and managers were trying to push her out of the job.
"The more I advocated for myself, the more it became a problem," Dixon said. "I learned that I'm not gonna be silent. That's what they want."
Dixon filed eight charges against Seattle City Light and successfully filed retaliation charges, but this isn't the first time the City of Seattle has received backlash for racial discrimination. According to a July 2018 study by Seattle's Department of Human Resources, people of color are unrepresented in upper levels of employment and by supervisory authority and pay relative to the population.
"I don't think Seattle City Light expected me to proceed," Dixon said. "They wanted me to understand where my role was and not to ask for more, not to expect more, not to question it. And if you don't follow suit, if you don't fall in place, that's a problem, and that's where it's been with Seattle City Light, and that's where the issue remains."
After Dixon spoke, the discussion shifted toward education, as the teacher and building representative to the Highline Education Association, Tamasha Emedi, described the injustice she faced in the education system as both an educator and a person of color. 
As she wrote her own curriculum, Emedi had her class of first graders read about black Americans and talk about black history. She stressed the importance of black and brown people in the education system.
"Just thinking about the makeup of schools, if you see a lot of black and brown people they are at recess," Emedi said. "They are pulling the small groups. They are cleaning the school. There aren't very many of us in the classroom, and there are even fewer of us in the principal's office. The further you go up in this government job, the less and less black and brown faces you see."
Christina López, Teamsters Local 763 member and Comrades of Color Caucus coordinator, was the last speaker. She told of her story with discrimination and unfair treatment at a job at an auto licensing office that caused her to quit.
"My coworkers are in the middle of a fight for higher wages," López said. "Can you believe it had been 13 years since they got a cost of living raise?"
After recently becoming a shop steward, López is working with coworkers, mostly people of color, to get a higher reclassification. López, an affirmative action advocate, expressed her support for Initiative 1000, the Affirmative Action and Diversity Commission Measure set to appear in November.
"Organized labor is the strongest when it gets involved with social justice causes," López said. "At the same time, the movements are strongest with labor support."
López spoke out against fascism and white supremacy in the country. Many people at the panel also attended the Rally Against Far-Right Violence at the UW in The Quad hours before the Feb. 23 event.
"We need to put an end to racism in this country," López said. "The fight needs to be multiracial: brown, black, Asian, Native American, immigrant, white; all workers need to not buy into the pressure to racially divide and segregate ourselves."
Reach contributing writer Joshua Lee at development@dailyuw.com. Twitter: @jjosh_u
Like what you're reading? Support high-quality student journalism by donating here.