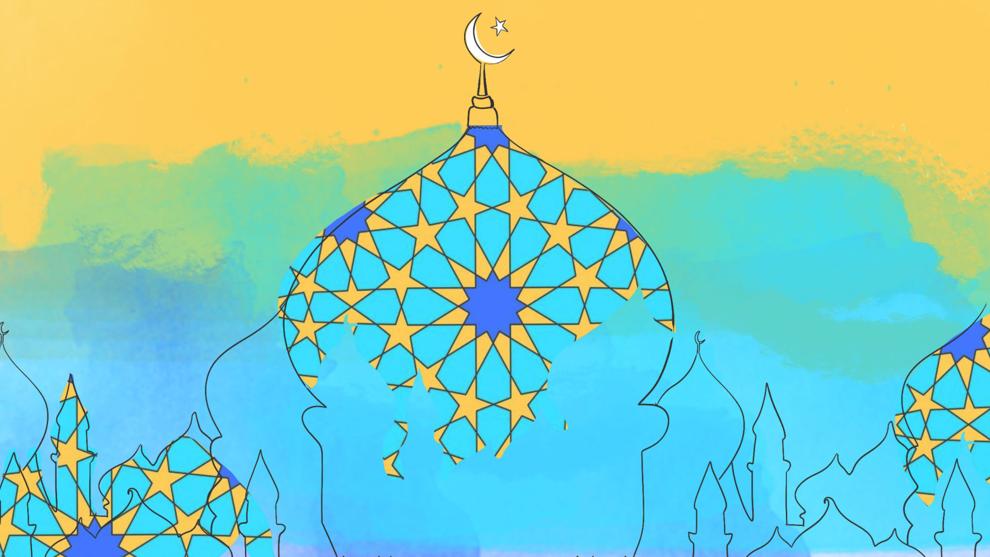 Like the tank of a car, our spiritual supply can run dry, and for Muslim students, Friday Prayer is an essential way to refuel, former UW student Ali Alameedi said.
Unfortunately, going to Friday Prayer is not always as easy as simply entering a mosque.
Students on campus often have to navigate classes and prayers, and because many courses hold classes on Fridays, they are sometimes caught in the middle, having to choose between academics and religion. 
"Every quarter when we're planning classes, at least for me, I always try and find classes that didn't override my Friday Prayer," Alameedi, the former president of the university's Muslim Student Association, said.
In addition to being mandatory for Muslim men, Friday Prayer marks an important spiritual space for worshippers each week. To Alameedi, who graduated in the spring of 2019, it's an integral way to connect with God and the community.
Normally lasting about one hour, Friday Prayer or Jummah Prayer begins at 12:30 p.m. during daylight saving time and at 1:30 p.m. on normal Fridays at the Islamic House near University Village where many students attend. To get there, Alameedi says it's roughly a 15-minute walk from campus.
Because of such timing, attending Friday Prayer and an hour-long Friday class in the early afternoon is nearly impossible, meaning some students miss out on Friday Prayer for the quarter. 
"It's extremely disappointing, and it's like a let down," Alameedi said. "I've had it before where I've had to miss for personal reasons or medical problems or something like that and it's permissible in that case, but you just feel drained."
While some students try to hold a later, more informal service in the HUB basement, such prayers are held less consistently based on the varying availability of individual members. 
Although a religious accommodations bill meant to help college students navigate religious holidays became effective in Washington in July, whether this bill can help Muslim students participate in weekly Friday Prayer remains unclear. 
According to the bill, " the [postsecondary educational] institution's policy must require faculty to reasonably accommodate students who, due to the observance of religious holidays, expect to be absent or endure a significant hardship during certain days of the course or program."
The measure was spearheaded at the UW in 2018 by then-ASUW senator BJ Dondoyano, who heard of professors at the UW Bothell rescheduling exams to accommodate for Ramadan.
While the bill does attempt to protect students from religious discrimination, whether or not it can be used for weekly events such as Friday Prayer and not just major holidays like Ramadan is not fully clear.
According to one Muslim Student Association member who preferred not to be named, it is too early to determine whether or not the legislation will help students navigate around Friday Prayer, as many students are not familiar with what the bill allows for in practice. 
The source said in an email that it is too early to accurately estimate the effectiveness of the bill in helping students accommodate for weekly religious events, though a questionnaire has been released to gather feedback. 
Comprehension seems to be a major obstacle in the bill's initial phase, as some students aren't sure what it allows them to ask for. 
Vice president of the Islamic House and Ph.D. student Syed Faisal said students are unsure what the jurisdiction of the bill is and that he hasn't heard of anyone using the religious accommodations to help navigate Friday Prayer. 
"Are students going to take the religious accommodations bill for this? No," Faisal said. "Why? Because students would understand when they're scheduling or picking their classes, that they will not be able to attend Friday prayers for that particular quarter."
Faisal also believes students would be reluctant to ask for accommodations on a weekly basis. 
"[You can't] be like 'Hey, can you accommodate a quiz section for me every single week that's at a time that you don't usually do it?'" Faisal said.
Because non-Muslim students do not require accommodations on Friday, Faisal added that some students may feel bad asking to reschedule classes. Instead, some decide to personally negotiate by attending the interfering class or quiz section, swallowing the personal consequences instead. 
In an ideal world, there would be no classes on Fridays. In a more realistic world, students would be able to skip classes on Fridays. But even this poses its own problems. 
"Even if there was religious accommodations, sometimes you get scared," Alameedi said. "Like OK, well am I gonna get graded poorly because I didn't come for 10 weeks to this class or something?"
The academic implications of missing class every Friday are not small, placing Muslim students at a disadvantage compared to their peers. At the end of the day, students who attend Friday Prayer could miss out on course content or get docked points based on attendance.
"It may not be a great impact, but … you're not on the same footing as other people in your classes even though it's not your fault," Alameedi said.
Alameedi said he's had conversations with students who wanted to attend prayer but couldn't due to a lack of flexibility from their teacher, exams every one or two weeks, clicker questions, or other class-related obstacles. 
Unfortunately, the alternative is missing out on every week's major religious event, and falling behind spiritually.
"And that's part of the balance, right?" Alameedi said. "You have to balance your religious identity with being a student." 
Maybe for a quarter you miss out on some classes, or maybe you miss out on Friday Prayer. 
"Being in school and stuff and that's tough, that's hard because you don't want to — you want to do well in those classes but you also don't want to compromise on your religious beliefs," Alameedi said. 
Reach Elizabeth Turnbull at news@dailyuw.com. Twitter: @LizTurnbull5
Like what you're reading? Support high-quality student journalism by donating here.