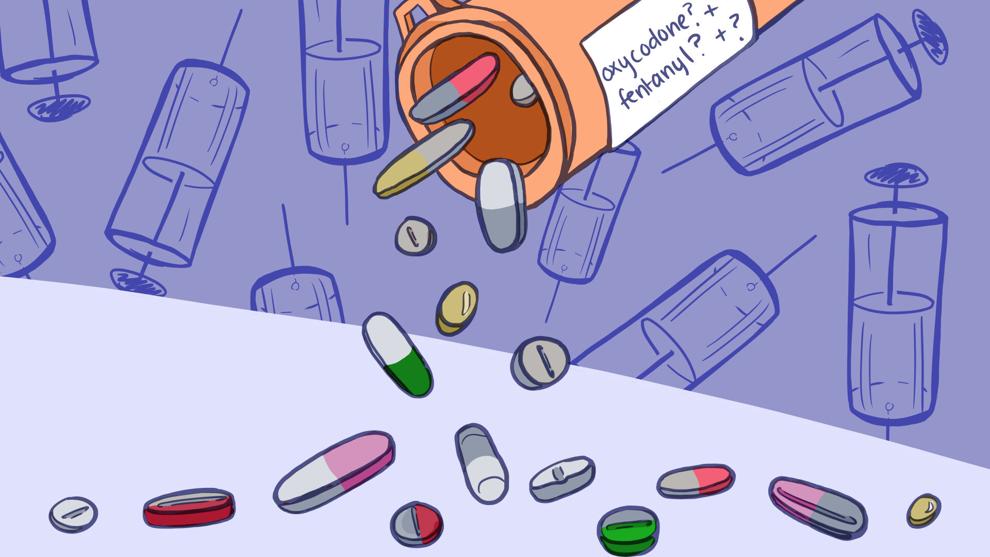 Deaths as a result of fentanyl overdose have dramatically increased in the past year in Washington state, with the most recent spike beginning in the first half of 2020, according to Caleb Banta-Green, principal research scientist at the UW Alcohol and Drug Institute (ADAI).  
This spike follows a nationwide trend, in which deaths related to synthetic opioids such as fentanyl have risen 38% in a 12-month period ending in May 2020, compared with a 12-month period ending in June 2019, according to the Centers for Disease Control and Prevention. Widespread availability and increased supply of fentanyl is a main factor contributing to the recent spike in overdoses, according to Banta-Green. 
Illicit fentanyl is so widely available largely because it is highly cost-effective to produce in  illegal markets. An extremely potent, synthetic drug, fentanyl is cheaper to produce and ship than other opioids. It is most commonly produced as a pill, which is often passed off as 30 milligrams of oxycodone.
"Based on the evidence that we've seen, basically any pill that you're getting not directly from a pharmacy is 99% likely to be fentanyl, not oxycodone," Banta-Green said. "You don't know what you're getting. You don't know how strong it is. And you don't know how it's gonna impact you."
Fentanyl overdoses are happening across a wide demographic, with demand for pills largely coming from those with opioid use disorder (OUD) and people under the age of 25 who have little or no experience with opioids.
Young people are taking fentanyl recreationally, as well as in an attempt to self-medicate for issues such as anxiety, insomnia, or physical pain, according to Banta-Green. More so than other age groups, they are obtaining pills through the internet and social media, as opposed to directly from the streets, contributing to the misperception of the drug's safety.
Visually, fentanyl pills appear to be safe as well. Speaking with a crime lab chemist, Banta-Green described how even a professional looking at a pill from the street was "sure it was going to be oxycodone, and it was fentanyl," as tests revealed.
ADAI created stopoverdose.org and learnabouttreatment.org to help educate people about drugs such as fentanyl, providing information about the potential dangers of opioid use and treatment options for OUD. One of the most important pieces of information for young people is being aware of how to spot a potential overdose.
"Never let a friend sleep it off," Banta-Green said. "If you can't wake them up, you need to assume they are never going to wake up, you need to call 911, and you need to understand that you will get protection for minors in possession and drug possession charges."
In addition to promoting education, ADAI has worked with communities across the state to treat OUD on the ground. According to Banta-Green, 75% of people with OUD aren't getting the treatment they need. This is due in part to stigma about seeking help and about opioid treatment medication.
In the past year, ADAI has held several meetings with people who have experience with drug use. By listening to these community members, ADAI started allocating funds and delivering addiction treatment medication to places in the community where those with OUD actually go — syringe exchanges and unhoused service programs. 
"I think it's one of the most exciting things I've done in my work, in 25 years," Banta-Green said. "It's not just the right thing to do, but the smart thing to do that's going to make our work much more effective."
Reach contributing writer Mari Kanagy at news@dailyuw.com. Twitter: @mari_kanagy
Like what you're reading? Support high-quality student journalism by donating here.