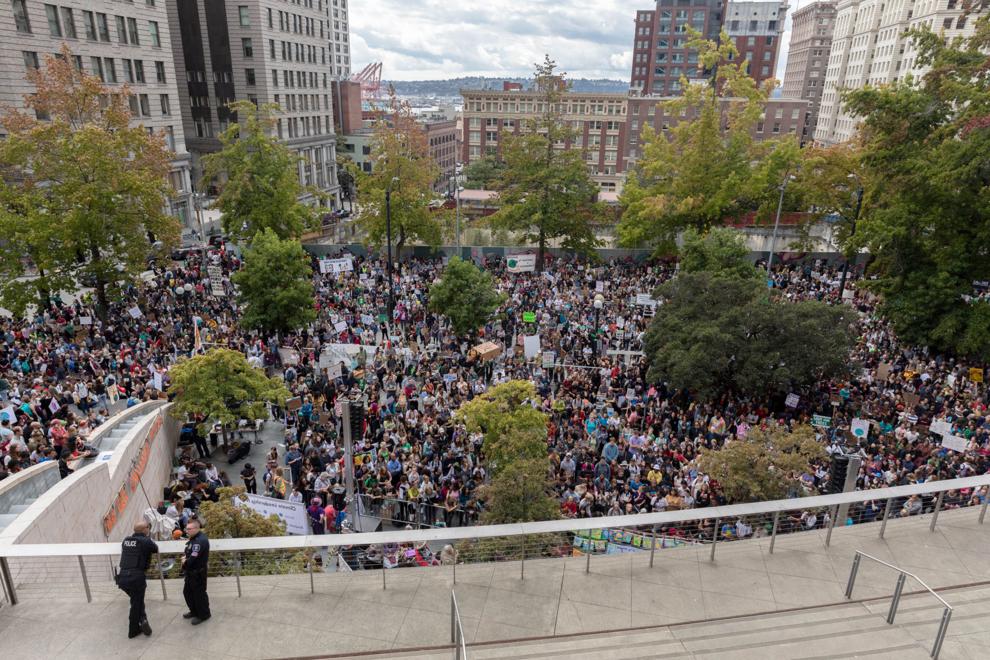 While Sept. 20's climate strike could have easily been overshadowed by adults, most stepped aside and let the kids have the center stage. Adult allies, parents, academics, and tech workers stood back and showed their support, standing in solidarity with youth organizers protesting government inaction against climate change.
In the morning, with gray skies out, Cal Anderson Park sat populated with thousands of Seattleites of all ages, united, chanting, and urging political action against the impending human-made climate disaster. People held signs demanding, "DON'T BURN MY FUTURE" and "CHANGE IS COMING." 
Surrounding the park area were booths with people engaging in song, leading workshops about climate awareness and activism, and elementary-aged children with homemade signs, missing school to protest with their older counterparts organizing the protest.
UW College of the Environment Ph.D. students Sarah Ragen and Lucas Zeppetello were in attendance. The duo were engaged in rigorous discussion with interested protesters about the ways that climate change affects the Earth. 
Ragen and Zeppetello emphasized the importance of making sure people are informed about and literate in climate science. They talked with protesters about how sometimes unseen impacts of climate change affect oceans, glaciers, and sea levels.
In their climate activism, the two have encountered several climate deniers.
"One of the best pieces of advice I ever got about talking to skeptics was that a lot of what they bring up is true," Zeppotello said. "But it's just not relevant to contemporary problems." 
Zeppetello stressed that while the data that climate deniers reference is accurate, it's cherry-picked and often irrelevant, making it easy for deniers to masquerade as legitimate participants in climate discussion.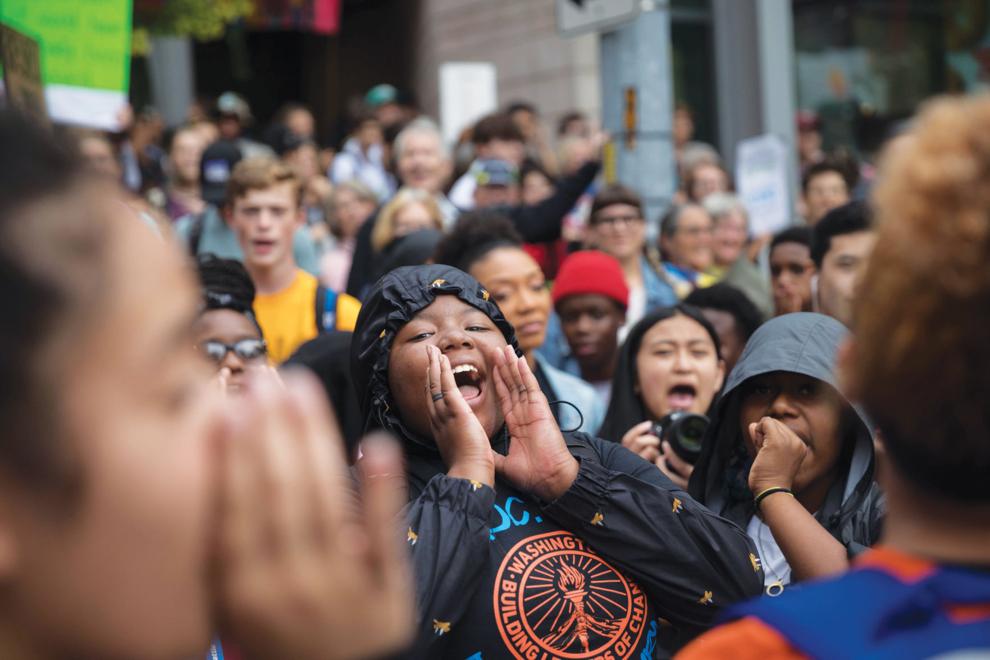 The students aren't alone in their activism. Their work at the climate strike was a testament to the passion of the UW's student body. Earlier this year, the ASUW Student Senate passed a bill recommending the creation of a sustainability credit, much like the existing diversity credit. 
The bill specifically cites the need to increase the UW's commitment to environmental education and build on its long history of environmental education, as evidenced by UW Sustainability's 2017 report.
Protesters gathered at 9 a.m., and marched on Seattle City Hall by early afternoon. The urgency in the crowd was palpable and drew in political figures, including Washington state Governor Jay Inslee.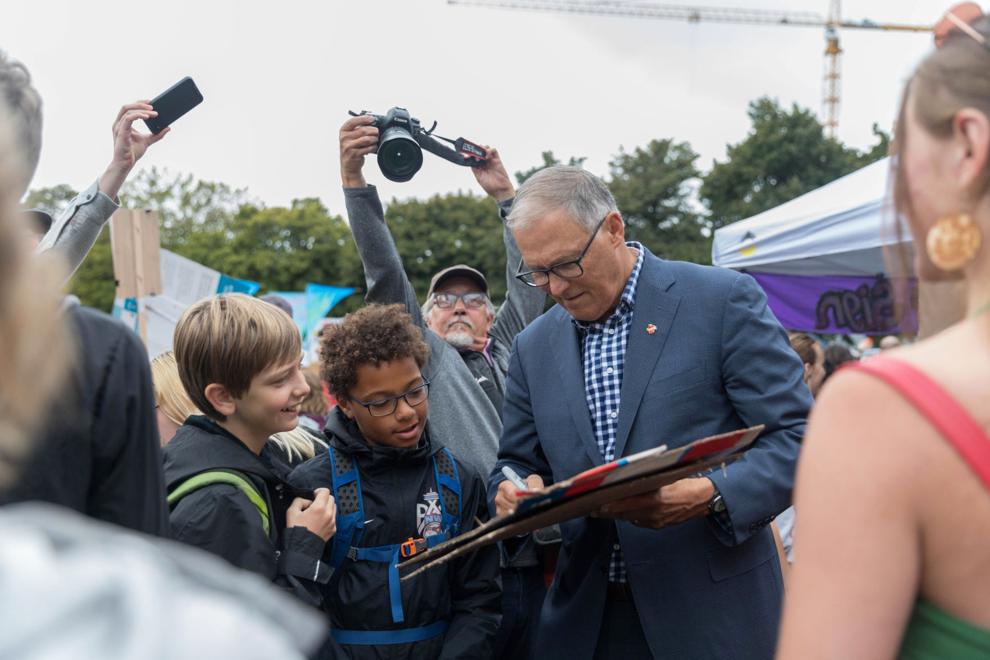 "It is a group of people that have the moral high ground on the issue," Inslee said. "No older person can look at a 12-year-old and deny them a future. I wanted to support that."
At the center of the event was the overwhelming youth participation from students at the WA Youth Climate Strike, who are based all around Washington state and demand radical action be taken by policymakers to counter the imminent effects of climate change, which some scientists say is only 18 months away from causing irreversible damage.
The students spoke of their commitment to the cause of raising climate awareness and of getting their message out to legislators about the overwhelming effect that climate change will have on their futures.
Through poetry and spoken word, many students described the crushing anxiety and responsibility they feel in the face of the deteriorating climate they have been left with; an anxiety their parents never had to face as children.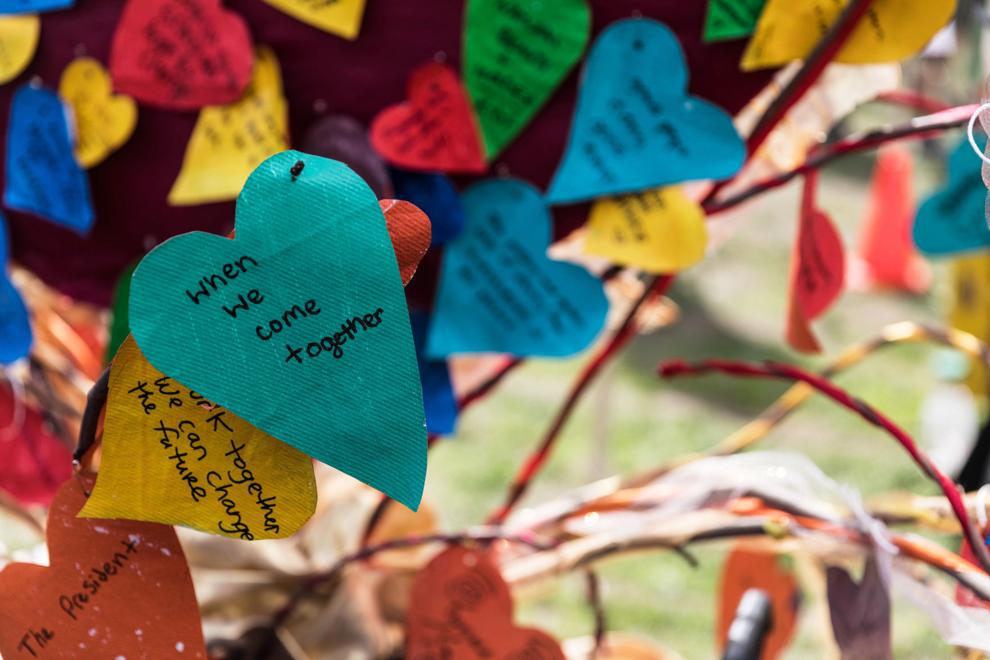 "In our current administration the lack of anti-climate change legislation passing… it's really important that we the youth in the United States make it known that this is something we want," Tanisha Redey, a WA Youth Climate Strike organizer, said. 
Speakers also called for awareness of the differential impacts of climate change on communities of color who are generally more affected and often unable to ignore its impacts.
For Fiona McDaniel, another youth organizer and policy advocate for WA Youth Climate Strike, the climate science and the critical importance of government intervention were some of the most important issues for her peers to make their voices heard.
This protest was one of many across the country and globe as part of a youth-led movement for climate activism, initiated by youth climate activist Greta Thunberg, an environmental activist known for her unflinching pressure for political accountability. 
The Seattle strike drew thousands of protesters, multiple community organizations, grassroots movements and various climate-focused non-profits such as Got Green, an organization that advocates for environmental, economic, and racial justice.
"This protest means everything," Johnny Fikru, an organizer with Got Green said. "We've seen the studies, we know the reports, we're in a climate crisis and we're under threat." 
Reporter Sammi Bushman contributed reporting to this story.
Reach Science Editor Thelonious Goerz at news@dailyuw.com. Twitter: @TheloniousGoerz
Like what you're reading? Support high-quality student journalism by donating here.