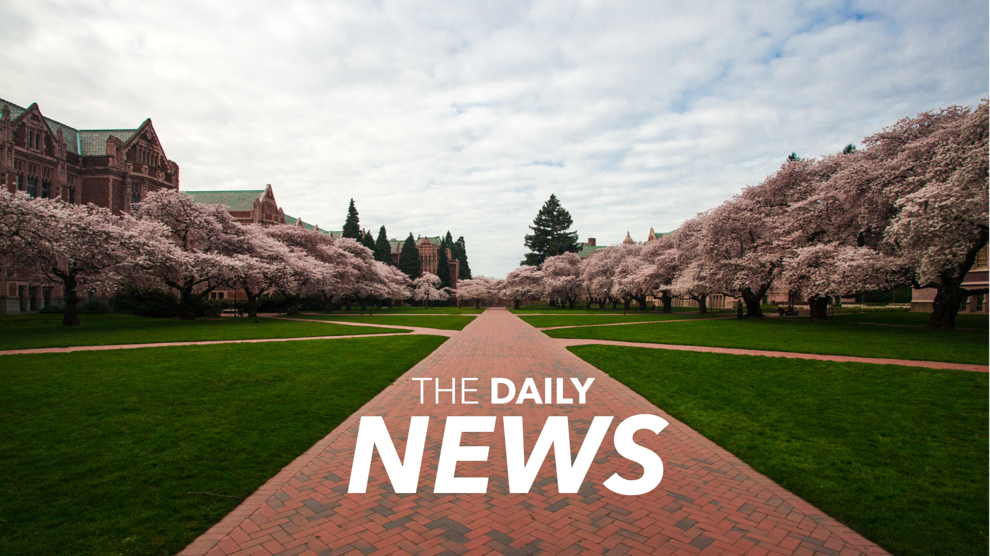 On a rainy and windy day, protesters chanted phrases like, "The cops and the Klan go hand in hand" and "No Nazis, No KKK, No fascist USA."
Community & Labor Against Fascism (CLAF), a coalition of many organizations and individuals, like the ANSWER coalition, Freedom Socialist Party, Radical Women and many more, sponsored a rally Sunday, Jan. 5 against the Three Percenters, a far-right militia group. 
The Three Percenters are pro-gun, pro-limited government, and were one of the sponsoring groups in the 2017 white-supremacist Charlottesville rally. The group gathered at Seattle City Hall while CLAF gathered on the opposite side of the street.
The Seattle Police Department (SPD) surrounded both groups. They also stood in the middle of the street with batons and bicycles facing protesters from the CLAF side.
CLAF protesters sang songs about solidarity with immigrants and minorities and sported signs urging unity against hate and human rights. 
At the beginning of the protest, several CLAF protesters were arrested for preventing the Three Percenters from entering Seattle City Hall. SPD also wore riot gear and shut down the sidewalk on James and Cherry Street.
As tensions lessened, SPD reopened the street, but later in the protest, black-masked individuals tried to confront the police again. SPD surrounded the group with bicycles to prevent them from crossing the street to disrupt the Three Percenters' rally. 
The Puget Sound John Brown Gun Club showed up in support of CLAF, with a large banner that said, "What we need is action, arm yourself against white supremacy!" 
The club, which advocates for "accountable, community-led defense," stood with their guns around the protesters.
When interviewed, some protesters expressed their comfort with these guns being present because of the history of the Three Percenters and the fact that they had guns at their own rally across the street. On the other hand, some people wanted to protest away from the gun-holders and explained that they wanted to peacefully assemble without drama. 
Midway through the protest, a car drove through the street with the American flag and a "Trump for 2020" flag, while anti-fascist protesters chanted in opposition.
Christina López, a member of Radical Women, argued that the Three Percenters are among the many groups that are relied upon "for support for conflict and involvement in the Middle East and the Muslim Ban."
"We gotta continue opposing these people," López said. "And we gotta continue opposing war" 
Reach contributing writer Ruwida Muqabel at development@dailyuw.com. Twitter: @rruwidaa
Like what you're reading? Support high-quality student journalism by donating here.