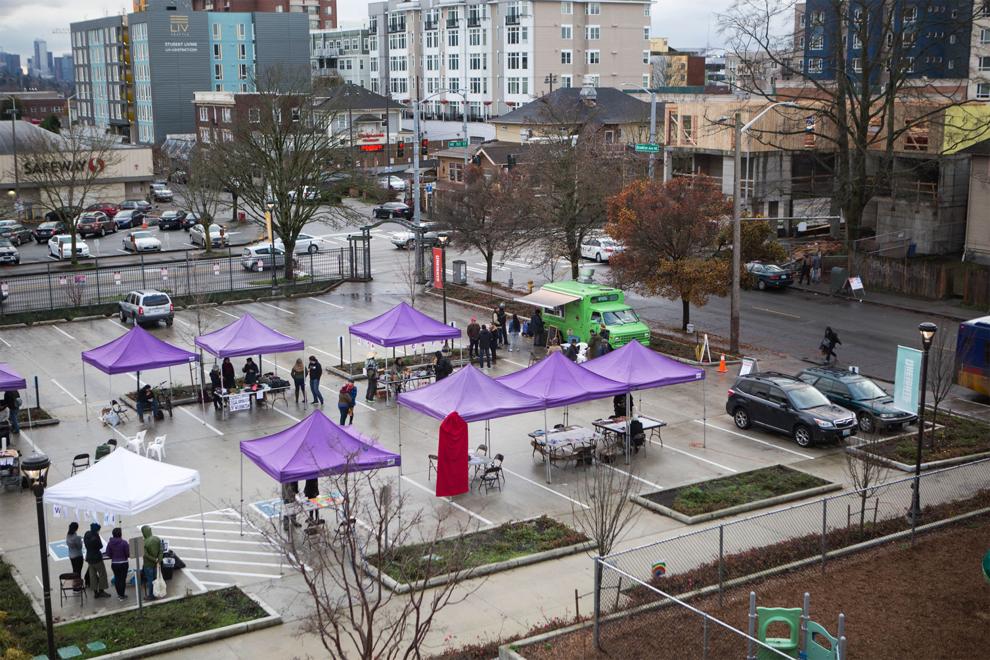 Rosie's Tiny House Village, under a two-year property lease from Sound Transit, is part of Seattle's plan to open more than 350 new enhanced shelters and tiny home spaces, a larger strategy to shelter those experiencing homelessness while moving toward permanent or long-term housing. 
The Low Income Housing Institute (LIHI), in partnership with the city, hosted a community meeting April 15 to give updates and details of operation for the new tiny house village in the U-District.
The aim of the village is to house those not traditionally served by other shelter programs, such as couples, families, and people with pets, according to LIHI special projects manager Bradford Gerber. The U-District space will provide 40 furnished residential units, housing up to 65 people, as well as shared kitchens, bathrooms, offices, and other community spaces.
Site development will begin in May, overseen by a community advisory committee (CAC) made up of seven to 10 community stakeholders such as neighbors, local businesses, and service providers. Gerber estimates that there will be around six weeks of construction, with the village's opening slated for June.
The city's homeless outreach and provider ecosystem (HOPE) team, located within the human services department, will refer potential residents to the program based on recommendations from city outreach and the availability of services that match individual needs.
"There are two main strategies for prioritization," LIHI executive director Sharon Lee said. "One is that the most vulnerable are selected — those who show low survivability. The other is if the city is about to do a sweep, then we try to take everyone out of that area."
Rosie's Tiny House Village will have a behavioral health focus and will take on a "housing first" approach, meaning potential residents will not be turned away in cases of drug or alcohol dependency or mental illness, tiny house program manager Theresa Hohman said.
"We want to lower barriers and focus on healing and rehab," Hohman said. "It is a harm reduction village."
The village will have 24-hour on-site staffing, including caseworkers who meet with residents regularly, working toward securing permanent housing, employment, and identity documents. Caseworkers may also provide referrals to mental health and rehabilitation services.
Other staff will conduct regular perimeter checks to maintain the security of the property. Safety concerns of the surrounding area will be addressed at monthly CAC meetings attended by village residents and members of the Seattle Department of Neighborhoods and Seattle Police Department, according to Josh Castle, LIHI's director of advocacy and community engagement.
Residents must abide by a code of conduct, outlining set quiet hours and individual responsibilities like chores, which contribute to the success and operation of the village and serve as a stepping stone into long-term housing, Castle said. 
The transition period to permanent housing varies greatly depending on whether individuals are "housing ready," with complete identification, housing applications, and income support.
"The typical transition is around six months," Hohman said. "But it's individual case-based. So when we work with someone who already has their IDs and records, it can be as quick as one month." 
Existing tiny house villages are operating at nearly full capacity, with 24-hour turnover periods between residents leaving and entering, Hohman said. The villages also have higher exit rates and higher success rates in obtaining housing compared to other programs, according to a 2019 Shelterforce article written by Lee.
"The major challenge right now is the lack of affordable housing," Castle said. "[This program] is about eliminating barriers to that."
Reach reporter Jessica Wang at news@dailyuw.com. Twitter: @Jssica_vv
Like what you're reading? Support high-quality student journalism by donating here.