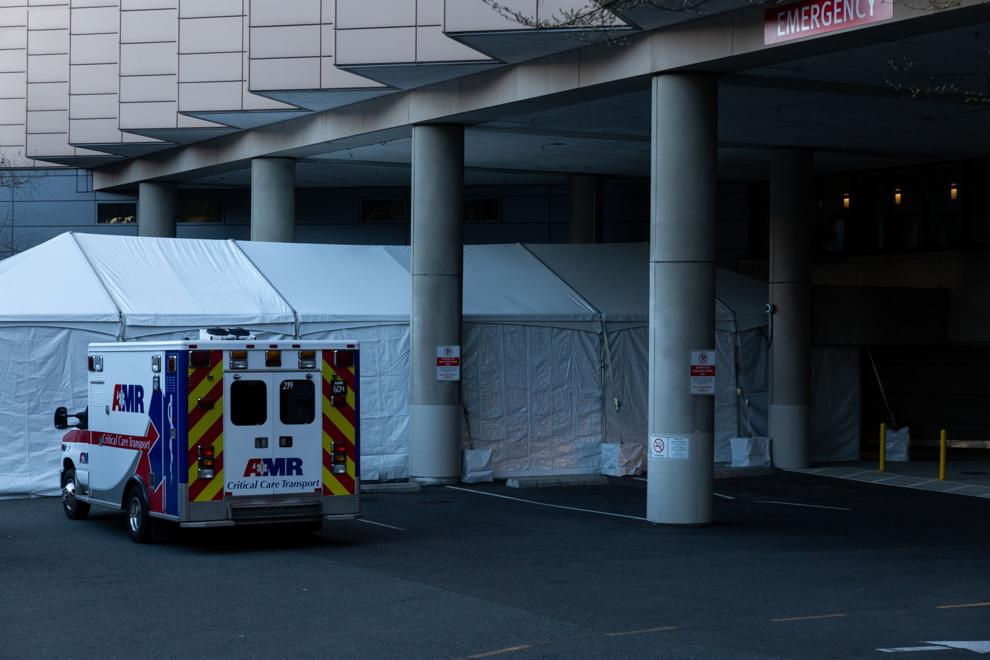 As the number of patients coming into UW Medicine continues to increase amid the COVID-19 pandemic, there has been a high demand for personal protective equipment. 3D printing communities on and off campus have responded to this clinical need by producing face shields designed for healthcare workers. 
The idea started with Tim Prestero, founder and CEO of Design that Matters (DtM), when he 3D printed a headband, or "cradle," of a face shield he invented. This became a part of a three-piece prototype consisting of a cradle, transparent shield, and elastic band.
The DtM face shield underwent modifications and eventually began production at the UW CREST lab. It also reached Dmitry Levin, associate director at the Center for Cardiovascular Innovation, who wrote the documentation for the design's submission to the National Institutes of Health (NIH).  
Levin said that this was a Class I device, meaning it was exempt from formal communication with the Food and Drug Administration, but that it still needed to undergo further testing to ensure it fit the proper requirements regarding manufacturing, design, and reusability.
The testing was completed at the VA Puget Sound, where Beth Ripley, director of the Veterans Health Administration (VHA) 3D Printing Network, also approved the clinical review of the face shield.
Only eight days after Prestero had printed the first prototype, the NIH officially approved the DtM face shield as a "recommended device." It was then posted in the NIH 3D Print Exchange, an organization for science, medical, and public communities to upload and share their designs. 
Although the face shield has been praised for its creativity, Levin said this was actually one of the biggest challenges of the project.
"There are so many good ideas that have come out of these collaborations, and the challenge has been to go through all of those and provide people with feedback after testing and evaluation, or information on how best to improve their devices to fit the clinical needs," Levin said. 
To produce more of these face shields for UW Medicine, the CREST lab reached out to the UW community for help, resulting in a cross-campus collaboration between all three UW campuses.
Several areas began printing cradles, including the Dabble Lab at Area 01, The 8, and The MILL. Derrick Van Kirk, program manager of the HFS Makerspaces, said they were able to quickly mobilize 37 printers across these locations for printing.
For post-processing, all of the prints were transferred to The MILL, where they were individually deburred and sanded. The prints were then organized into bags labeled with the makerspace they were printed in, and delivered every few days in batches of 300.
Nick Durand, a graduate student who works at The MILL, helped manage the production line. He said working in an empty campus has been a strange experience.
"I'm used to seeing the campus full of students and this is especially true for The MILL, which is usually packed with students at all hours of the day," Durand said. "Now, I'm the only person using the space."
Although the campus is quiet, Van Kirk said he wants everyone to know that the makerspaces are being put to use.
"It's been very important to me to have our spaces used to help the cause rather than sit silent as we are closed to students," Van Kirk said. "We need to ensure these spaces continue to be funded and staffed for our students and campus community, despite potential funding deficits."
With a total of 1,036 completed prints, as of Apr. 18, Van Kirk said they have filled the need at UW Medicine, and they are planning to reach out to other areas that may need supplies. Now, they are working on another project that involves making fabric face masks.
As different communities continue to support healthcare workers on the frontlines of COVID-19, Durand said it has been rewarding to be a part of that effort.
"This project has given me a chance that many people don't have, and I'm grateful to have an opportunity to help," Durand said. "While staying at home and practicing social distancing is essential, I can't deny that this project has given me a sense of purpose."
Reach reporter Shannon Hong at news@dailyuw.com. Twitter: @shannonjhhong
Like what you're reading? Support high-quality student journalism by donating here.