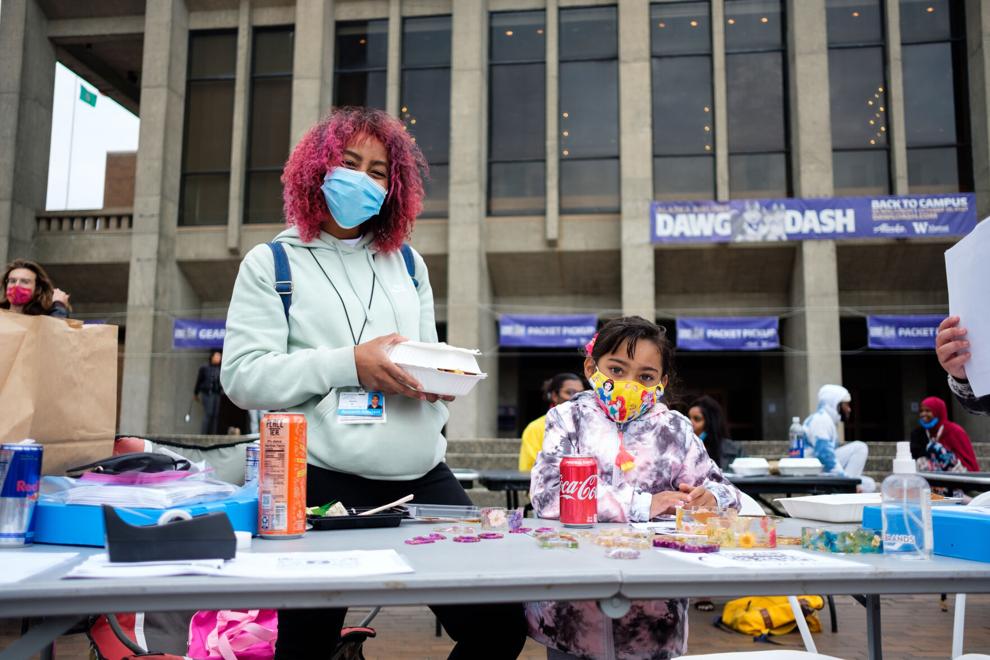 The Black Student Union (BSU) hosted "Black is Back" in Red Square on Saturday, Oct. 9 to welcome new and returning students to the UW. 
The event, which ran from noon to 5 p.m., featured a keynote speaker in Kane Hall and musical talent such as Midnite Blu and Rell Be Free. Attendees also enjoyed local food trucks and supported local businesses, many of whom are Black-owned, during the event. 
"One of the biggest purposes of Black is Back was to prove to the Black student body, to prove to incoming students, to incoming freshmen and sophomores who had their first, physical year at the University of Washington basically erased due to COVID-19, that there are Black students here," BSU historian Stacey Hines said. "You are not alone, and you have people that understand your struggle and where you're coming from here at this university." 
The same sentiments motivated the overall atmosphere of community-building at "Black is Back," which featured leaders like keynote speaker Sean Goode, executive director of CHOOSE 180, a nonprofit focused on combating the school-to-prison pipeline through school-based diversion programs. 
Entrance to Kane Hall for the keynote speaking event required proof of vaccination or a negative COVID-19 test within the past 72 hours, in addition to required mask-wearing. Goode, who was invited by BSU, spoke about youth incarceration stemming from systemic inequities against marginalized youth. 
"We've been doing that work for 10 years and we now serve 12-to-24 year olds, and 90% of them that engage in our work don't return to the criminal legal system within 12 months of participating in our program," Goode said. 
In his speech, Goode addressed problems of racial inequality and police brutality.
"We can segregate ourselves and restrict the amount of power we can express or we can align ourselves [with]," Goode said. "Not everybody will want to work with law enforcement and that is fine, you shouldn't. Not everybody will want to be in the frontline protesting and that is fine, you shouldn't. But if we all do what we feel called to do, backed by this thing called justice within us, we'll end up mobilizing in a way that no one can stop us." 
Hines, who lived across the country during the pandemic, decided to become involved in organizations on campus upon returning for his fourth year of school. He did so to combat feelings of isolation amplified during nationwide racial unrest. 
"I'm very much inspired by the history of the founders of the Black Student Union," Hines said. "Before the 'Black is Back' event, I was doing a lot of research regarding the origins of the UW BSU and how it was rooted in Black radical tradition, and how it wasn't until Black radical tradition started becoming more prominent that the BSU was moving as a collective for them to be more effective." 
Goode recommended opportunities for BIPoC and other marginalized students to find and build community at the UW. 
"I think that belonging has a lot to do with being connected to a safe space and community," Goode said. "Everybody needs to find a safe space that's not a judgmental space, but it's a space where people are not only peers, but are healers." 
Hines suggested BSU and department-affiliated BIPoC RSOs. 
"I would recommend joining the fight to make this school a more equitable place for yourself and for the future students that come through it," Hines said. 
Writer Victor Simoes contributed reporting to this article.
Reach reporter Julie Emory at news@dailyuw.com. Twitter: @JulieEmory2 
Like what you're reading? Support high-quality student journalism by donating here.