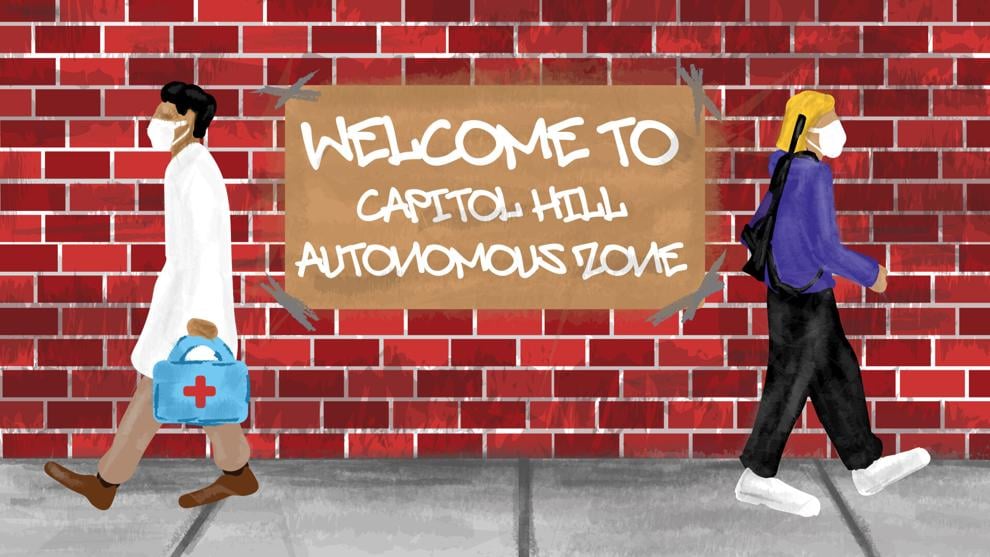 Sensationalist headlines regarding the Capitol Hill Autonomous Zone (CHAZ), formerly the Capitol Hill Occupied Protest (CHOP), captivated national interest last year. For many UW students, the only exposure to the protest zone was a national news outlet that only told fragments of what actually happened at CHAZ — often isolated from the greater framework of last summer. It is impossible to write about CHAZ without recognizing all the actors involved and what the zone represented in the broader context of social movements during the summer of 2020. 
CHAZ refers to the area of Capitol Hill between 10th Ave and 12th Ave on Pine St. that was occupied after the East Precinct Police Department abandoned its building on June 8. The zone was occupied by a number of social coalitions with no clear structure. The lack of organization likely accounted for the two vastly different pictures of CHAZ — daytime CHAZ and nighttime CHAZ.  
Daytime CHAZ included healing spaces for BIPoC individuals disproportionately affected by police brutality and live music performances to unite the community. Black Lives Matter Seattle King County (BLMSKC) held an event on Juneteenth, BLACKOUT at the CHOP, to facilitate healing spaces despite not being formally involved with CHAZ. Organizers made it clear that the event would finish at 8 p.m. — just in time to leave before the scene changed. 
Unlike its daytime counterpart, nighttime CHAZ saw a sharp increase in crime that included four shootings, two homicides, arson, and numerous counts of alleged sexual assault. These attacks were not affiliated with BLMSKC or any other social coalitions present — instead, male bargoers and others were allegedly responsible for this uptick in violence. 
Michael McCann, a professor of political science at the UW, explained the likely cause for the stark difference between daytime and nighttime CHAZ. 
"It's a lot easier to work to generate a protest … around clear sources of justice than it is to generate the collectivity, that is actually autonomous, to provide medical services, food, and security," McCann said. "I think that CHAZ never really developed that capacity … In other words, to have clear structures of leadership communication networking." 
BLMSKC released a statement on Twitter in June regarding CHAZ, emphasizing that it did not condone the actions of nighttime CHAZ, despite supporting the initial intent to stand against police brutality. 
"[CHAZ] has been widely misrepresented in the media," the statement read. "We're not surprised that a White supremacist culture responded to it with fear and anger. Sadly, we're also not surprised that Black people were hurt and killed in the process. We deserve to be able to gather, to heal and to defend our right to live in safe, Black-led spaces. It's disheartening that individuals who are ostensibly fighting for Black Lives continue to blame [CHAZ] for the violence that other parties have inflicted upon it." 
The School of Public Health documented all instances of police brutality during the summer of 2020. Police brutality escalated conflict in CHAZ and throughout the city at large during organized protests and demonstrations led by social coalitions such as BLM. 
Sakara Remmu, former head of BLMSKC and the lead strategist of the Washington BLM Alliance, spoke about the greater context of issues regarding Black lives in the events of last summer. 
"This is about the whole of Black life," Remmu said. 
CHAZ lasted for the duration of June until police swept the area on July 1. The events that transpired at CHAZ and throughout the greater Seattle area — which also reverberated across the nation — occurred in response to police brutality, especially toward BIPoC communities. The struggle against police brutality still continues globally. 
For those who were outside Seattle last summer, CHAZ is often isolated from the larger framework of social movements and protests against police brutality. The confusion between BLM — a national movement that welcomes all regardless of their intent — and BLMSKC — one of many formal BLM organizations with a team of people working to support Black lives — led to misinformation regarding BLMSKC's work last summer.
CHAZ, however, was a crucial part of a larger movement seeking to improve the condition of BlPoC living in Washington state. This progress is reflected in bills currently in deliberation in the state capitol that include, — but are not limited to — HB 1227, which aims to tighten the restrictions for removing children from their families, in which Black and Indigenous children are disproportionately affected, and HB 1406, which will tax the ultra-rich. 
"We don't move the needle," Remmu said. "We are the needle." 
Additionally, a federal judge ruled that the SPD was in contempt for failing to stop the use of chemical weapons against protesters when not in immediate danger in the case of BLM v. SPD. Despite this progress, work remains to end police brutality. Additionally, BLM continues to call for the removal of Initiative 200, a bill that effectively ended affirmative action in Washington state despite the markedly low percentage of Black and Indigenous students at universities such as the UW.
Reach reporter Julie Emory at news@dailyuw.com. Twitter: @JulieEmory2 
Like what you're reading? Support high-quality student journalism by donating here.