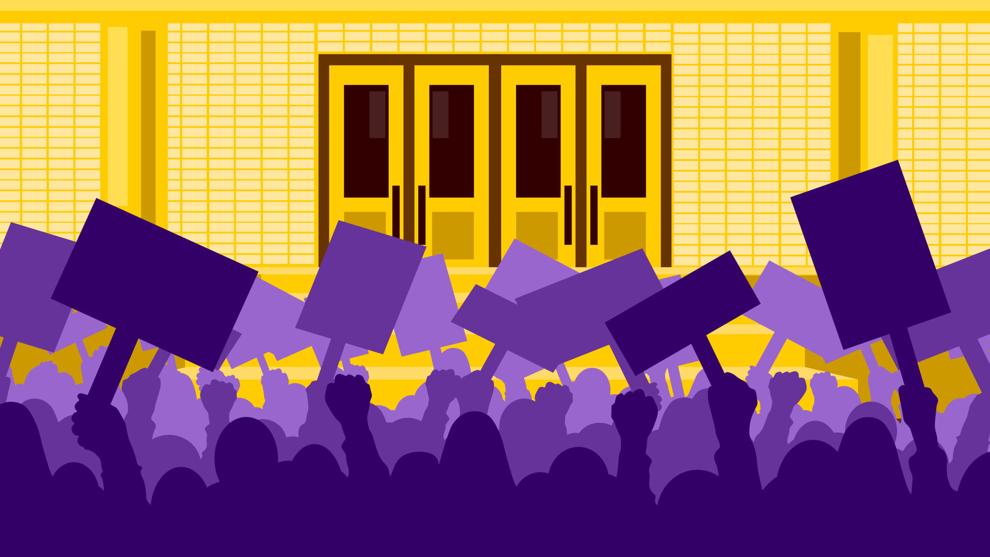 The Black Student Union (BSU) demonstrated outside the Sept. 8 UW Board of Regents (BOR) meeting to demand the university divest from UWPD. The BSU was joined by the Collegiate Community Transitions (CCT), Subvert UD, Decriminalize Seattle, Students United for Palestinian Equal Rights UW (SUPER), UW United Students Against Sweatshops (USAS), and the Black Graduate Student Association. 
Chants such as "No justice, no peace, abolish the police" and "Who keeps us safe? Community. Let's dismantle? UW police" reverberated across the walls through the Allen Center for Computer Science & Engineering before and during the BOR meeting. The chants were followed by speeches from participating organizations regarding police brutality at the UW.  
"After last year … putting out all these demands — UWPD, mental health, the George Washington statue — I'm really tired of honestly doing all this for people who don't seem to listen to anything," Kiana Reynolds, the BSU president, said. "It is just so draining and I feel so repetitive and redundant for saying that Black students don't feel safe with police officers on campus."
Tension peaked at 3:20 p.m. when a board member closed the door on Reynolds as she voiced her frustration at the university repeatedly ignoring her and her peers' demands to be heard. 
"You know there are white supremacists who abuse other police officers, what makes you think they won't call students a slur," Reynolds said, referencing a June New York Times article detailing the racism a Black police officer experienced from his colleagues within UWPD. 
Decriminalize UW further documented police brutality within UWPD. A written statement distributed to demonstrators read that through the UW's "EZ-Hire" process, local police officers can bypass steps of the HR procedures. UWPD is funded from $8 million from the Office of Student Life budget on the Seattle campus alone, according to Decriminalize UW. 
BSU's demands were echoed by Dashni Amin, a UW graduate, who spoke on behalf of Collective Justice Northwest and their goal to enact justice for largely underserved groups.
"[Collective Justice Northwest] is trying to build those resources up, to build up alternatives, that's what was really exciting," Amin said. 
Although this was Amin's first time demonstrating outside the BOR meeting, others described their frustration at the lack of progress by the board. 
"BSU has been calling for the dismantlement of UWPD for a while now and it just hasn't really happened," a member of SUPER UW, who requested anonymity, said. "The Board of Regents has put out statements; they talk the talk but don't walk the walk. We don't want more committees reviewing and recommending changes, we just want it to actually happen and that is why we are here today."
A live stream of the demonstration was posted to Instagram; BSU encouraged any interested students to join their Oct. 9 Black is Back event at noon in addition to signing the Decriminalize UW petition or sending a message to the BOR demanding action on UWPD. 
Reach reporters Julie Emory and Victor Simoes at news@dailyuw.com. Twitter: @JulieEmory2 and @victorhaysser
Like what you're reading? Support high-quality student journalism by donating here.