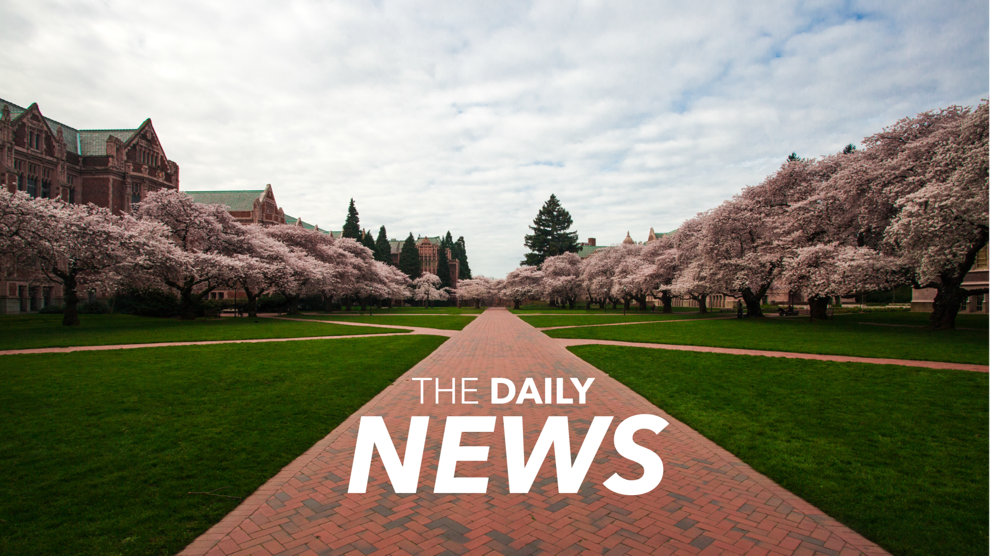 Despite the return to in-person school this fall, students are still feeling stressed, dealing with heightened feelings of loneliness and isolation, a new normal of online learning, and a growing sense of burnout, just to name a few. These issues of poor mental health and burnout are also applicable to a group perhaps overlooked: professors and faculty members. 
According to a study released in October 2020 by The Chronicle of Higher Education, "On the Verge of Burnout," more than half of 1,122 surveyed U.S. college and university faculty have seriously considered changing careers or retiring early, with 24% of faculty members feeling "extremely" more stressed than in 2019 and 50% feeling a decrease in enjoyment of teaching. 
Switching to online learning while having to navigate one's personal life at home poses a difficult task for many. When the pandemic first started, computer science and engineering professor Dan Grossman and his partner had to handle full-time jobs at home while caring for their two young children. 
"I got creative," Grossman said. "I moved the meetings that I could move to the evening, after my kids were asleep. Every night after my kids went to bed, I basically put in a half day of work, the half day that I didn't get done during the day." 
While Grossman noted his experience navigating the pandemic was more of an "adventure," he said that he empathizes with other professors who had to deal with hardships. As the Vice Director of the Allen School, Grossman is responsible for organizing the teaching schedule, and for spring 2020 he considered which faculty members needed help and worked on the logistics behind virtual classes, especially those that required the shipping of resources like hardware to students. 
Louisa Mackenzie, associate professor of French, who was interviewed for The Chronicle study, said that navigating the switch to online school was especially difficult for her, working up to 80 hours a week to teach her two undergraduate classes and support students. 
Mackenzie is also a member-at-large on the Executive Board of the UW chapter of the American Association of University Professors (AAUP) and an elected member of the Faculty Senate. 
"I refuse to call it a 'pivot', a word which makes it sound effortless," Mackenzie said in an email. "It was a chaotic, root-canal level overall of everything we do. In non-crisis times, this kind of change would have taken years, and ongoing collaboration with instructional design specialists. We did it in a few days." 
In addition to this new teaching style, Mackenzie suffered her own personal loss during spring quarter. Three weeks into the term, Mackenzie's father passed away in the UK and the funeral was held over Zoom. Mackenzie said that due to understaffing in her department, she was unable to take medical leave approved by her doctor. 
"I know I'm not special because I lost someone to [COVID-19]; my loss is that of millions," Mackenzie wrote. "But as a teacher, the combination of pandemic death … the already-crushing workload, not knowing how to balance being there for students with what was going on for me privately, all of that broke something in me which I'm not sure can be fixed."
Mackenzie authored a piece detailing this experience and calling for trauma-informed administration in higher education.
AAUP UW Chapter President and English professor Eva Cherniavsky said that in her 30 years of teaching, she never felt more exhausted than at the end of last year. Cherniavsky said factors affecting faculty, like declining numbers of members, increasing numbers of students, and pressures to max out class enrollments, existed long before the pandemic, and were only exemplified during. 
Even though UW is back in person, Cherniavsky says it is still the burden of faculty to remain flexible, support students with continued online options, and deal with understaffing. 
"The return to the classroom (for those faculty, like myself, who didn't have to worry about unvaccinated children or other vulnerable household members) has been uplifting, despite the awkwardness of masking," Cherniavsky said in an email. "But otherwise, the work and stress multipliers are all still there."
Mackenzie added that in addition to staffing issues, faculty, especially those from underrepresented groups, often must deal with what she calls "invisible labor," or forms of emotional labor that are not recognised as work. An example of this, Mackenzie said, is when faculty members who signal to students their understanding of mental health struggles find themselves performing mental health interventions and providing support for students.
"We do it because it's the right thing to do, but it can have an impact on our own health, and is certainly not acknowledged as a form of meritorious labour in our evaluations," Mackenzie wrote. 
In the Faculty Senate, Mackenzie intends to advocate for what she and other colleagues have framed as a reconceptualization of merit, which would recognize the importance and impact of teaching in the classroom and these other invisible ways faculty members provide for students.
At an institutional level, Mackenzie supports the hiring of more teachers, faculty, and tenure-track faculty to better support hybrid and online options for classes and to allow more flexibility with staffing during emergencies. 
Cherniavsky agreed, and stressed the need for more robust advising structures –– with a better ratio of advisers to students –– and increased protections for faculty, like better-defined limits on workload. 
Mackenzie said students have been at the forefront of her thinking. She welcomes the chance to work with student groups on how best to provide for both students and faculty after the pandemic is no longer as immediate of an issue.
"I'll probably never be a superstar teacher, but I hope my students would agree that I work really hard on my teaching, am compassionate, and show up for them as whole human beings," Mackenzie wrote. "The reason I am so strongly advocating for more hiring, and for a rethinking of how faculty 'merit' is defined, is because students benefit from their teachers being meaningfully supported *as teachers* and not on the verge of burnout." 
Reach contributing writer Anjali Singh at news@dailyuw.com. Twitter: @anjali_singh35
Like what you're reading? Support high-quality journalism by donating here.