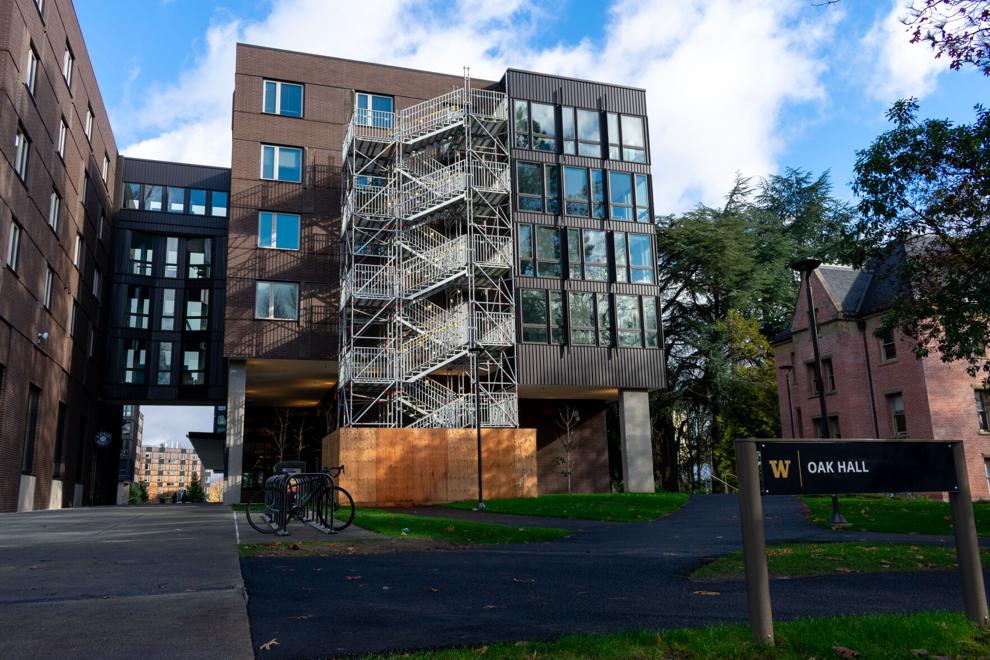 Housing & Food Services (HFS) looks to finish repairs on Oak Hall on schedule, after the building sustained millions of dollars in water damage in June.
The damaged section of the residence hall, known as the keep, holds approximately 110 beds. Repairs on the building, which is adjacent to Hutchinson Hall, are on pace to meet HFS's Jan. 2 deadline. The repairs to the Denny Cafe and District Market locations in the building, however, will not be completed until March 1.
"Be aware, we could experience a delay of a couple weeks," Rob Lubin, director of UW Facilities & Capital Planning, said. 
According to Lubin, students assigned to the Oak Hall keep may be relocated to other on-campus housing temporarily if these delays occur. 
"I feel pretty good about the January 2 [deadline], but it's better for people to understand now that there could be a delay," Lubin said.
New furniture and amenities will be moved into the Oak Hall keep in December. 
"The showers are one of the last things that are coming in," Lubin said. "So that'll be a scramble in the end of December. If those arrive on time, there will be no problem to meet the schedule."
The water damage to the Oak Hall keep was caused by a burst pipe, which reduced Oak Hall's housing capacity by nearly one-third. As a result, HFS had to convert a number of double rooms in other buildings into triples in order to meet the housing demand this fall.
Lubin does not expect Oak Hall to fill to capacity once repairs are complete. Since all of the students that were assigned to the damaged sections were moved to different buildings on campus, Lubin expects most of them won't want to move out so late in the year.
"They get to know their roommates, they're enjoying life," Lubin said. "Why would they want to move?"
Additionally, on-campus housing demand typically declines as the academic year progresses, according to Lubin. If Oak Hall isn't filled to capacity, Lubin said, HFS plans to leave a floor of the keep empty for high school tours.
"Then it can be a less disruptive situation for the other students living in the building," Lubin said.
Lubin expects insurance to cover everything but $250,000 of the $5-6 million repair cost, which includes repairs to Denny Cafe and the District Market. The insurance payout is expected to cover all repair costs, and it will also cover lost revenue from the rent differential as a result of relocating students from damaged Oak Hall doubles to unaffected triples.
"There won't be any additional bills to students, and there won't be any rent increases this year or next year as a result of this," Lubin said. 
HFS draws funds exclusively from the students that live and dine on campus. Since the costs of the repairs are expected to be covered by insurance, the price tag for the repairs is not expected to transfer to students. However, if HFS's insurance provider decides to increase insurance rates, then students will have to pay the difference. 
"The reality is, with 10,000 students in our system, that might equate to a dollar or two [increase] at some point," Lubin said.
Under the building code, HFS had to remove all electrical wiring, walls, ceilings, showers, and other fixtures to let the wood structure dry, Lubin said. 
Lubin is proud of his team's response to the incident and believes they all have done the best they could to come up with an effective solution as quickly as possible.
"The whole thing is really indicative of our housing and food program, where a problem occurs and then people rally around solutions not to affect students," Lubin said.
Reach‌ ‌contributing writer Nicholas Shires ‌at‌ ‌news@dailyuw.com.‌ ‌Twitter:‌ ‌@nshires8
Like‌ ‌what‌ ‌you're‌ ‌reading?‌ ‌Support‌ ‌high-quality‌ ‌student‌ ‌journalism‌ ‌by‌ ‌donating‌ ‌‌here‌.‌