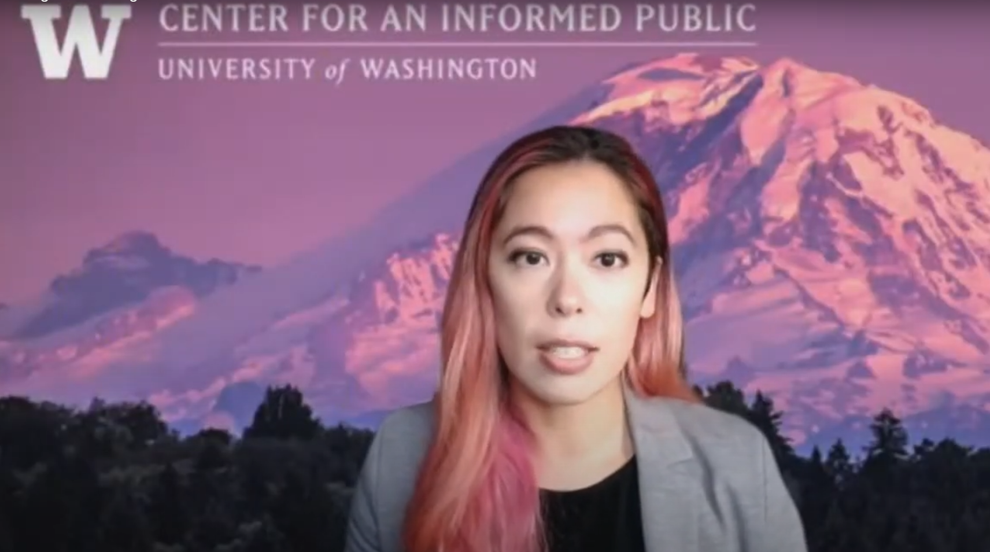 Kolina Koltai, a postdoctoral scholar in the Information School, testified before the U.S. House of Representatives Select Subcommittee on the Coronavirus Crisis at the Nov. 17 "Combating Coronavirus Cons and the Monetization of Misinformation" hearing.
Koltai is a fellow at the UW Center for an Informed Public and specializes in misinformation research, specifically within the context of vaccine dissent and the COVID-19 pandemic. During the hearing, she spoke about the spread of COVID-19 vaccine misinformation on social media platforms, offering several recommendations for how to fix this issue.
Koltai testified before the subcommittee alongside Jay Kennedy of the Michigan State University School of Criminal Justice, Dr. Jeffrey Aeschlimann of the University of Connecticut School of Pharmacy,María Teresa Kumar from Voto Latino, and Jayanta Bhattacharya of Stanford University's School of Medicine.
Appearing via Zoom, Koltai used her five minute opening statement to outline prevalent issues regarding vaccine misinformation on social media. 
"From fundamental questions about the safety and efficacy of the COVID-19 vaccine to more outlandish conspiracy theories, social media and online platforms have been struggling with the difficult and complex problem of how to mitigate the spread of misinformation on sites while still allowing users the freedom to discuss and share information about the pandemic," Koltai said. 
Koltai said the subcommittee should encourage social media companies to deprioritize vaccine misinformation in their platforms' algorithms. The proposed deprioritization would target both individual misleading posts and a small number of accounts deemed "superspreaders" of inaccuracies. 
"All online platforms, especially those involved in e-commerce, need to evaluate how their sites contribute to the spread of misinformation and the financial profitability of financial misinformation," Koltai said. 
According to the subcommittee's website, the hearing offered a chance to understand trends in digital vaccine misinformation and the resulting damages, as well as an opportunity to recommend solutions. However, most of the proceedings were spent on a back-and-forth about censorship on social media.
Bhattacharya, the only witness publicly unsupportive of mask and lockdown mandates, received the large majority of follow-up questions from both Democratic and Republican subcommittee members. Koltai was only questioned once on the specifics of what tech companies could do to improve their efforts to provide accurate information. 
Though Koltai was not able to speak much during the hearing, she also submitted a written testimonythat expanded on her spoken remarks. During the hearing, Koltai quoted a colleague, summing up her perspective on online vaccine misinformation and voicing support for tech companies increasing regulation of misinformation.
"You have a right to speech, but not a right to reach," Koltai said. 
Reach contributing writer Isabelle Spence at news@dailyuw.com. Twitter: @isabelleleahs
Like what you're reading? Support high-quality student journalism by donating here.