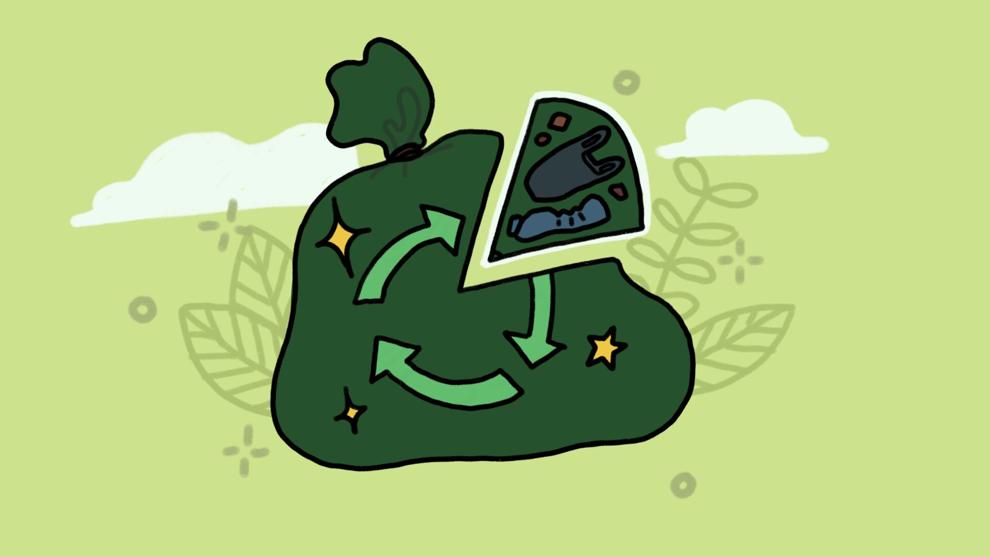 In 2018, UW Recycling set a goal of 70% waste diversion by 2020. However, the program recently decided to shift to a new goal of 10% less landfilled waste by 2025.
According to UW Recycling, the diversion rate is one indicator of how successfully the university is keeping materials out of landfills. The rate is used to measure how the institution is doing compared to previous years, other higher education institutions, and the City of Seattle.
A waste diversion goal of 70% would mean only 30% of all waste would be sent to the landfill, and everything else would be repurposed and resold, recycled, or composted. 
"We did not achieve this goal," Audrey Taber, interim manager of UW Recycling, said. "The diversion rate for fiscal year 2020 was 61%, and this is consistent with 61% in fiscal years 2018 and 2019."
Taber said UW Recycling previously shipped a lot of recycling to China. In 2018, China enacted the National Sword policy, which decreased the importation of contaminated recyclables. 
"We want to focus on reducing the amount of waste we made in the first place, not just recycling," Taber said. "By measuring how much less waste we are sending to the landfill, that's a more useful indicator of how we are doing at reducing the waste."
In order to meet the new 2025 goal, UW Recycling cooperated with UW Sustainability to create the UW Sustainability Action Plan. UW Sustainability lists diverting compostable waste from recycling and landfills, implementing low-waste campus kitchens, and reducing single-use disposable items as its target actions for 2022.
"The sustainability office's role in this area is pretty much to support the work done by the UW Recycling," Marilyn Ostergren, interim director of UW Sustainability, said. "We are really not experts, but we are supporters of that work." 
According to UW Sustainability, UW will need to discard less than 4,332 tons of waste annually to meet the new goal of 10% less landfilled waste by 2025. By focusing on increasing awareness and access to composting on campus, UW can not only reduce the amount of landfilled material and the corresponding carbon footprint, but can also ensure its recyclable items are clean and recycled successfully.
Taber said UW Recycling designed the MiniMax program, which makes waste sorting more accessible by placing desk-side garbage bins in individual offices and self-service MiniMax containers consisting of a "28-quart green recycling bin with an attached 3-quart black garbage bin" in workstations. 
Afterward, staff are responsible for emptying their containers into the "centrally-located recycling, landfill, or compost containers," which increases awareness and responsibility regarding waste generation.
Nov. 15 was America Recycles Day. UW Recycling now provides an online training course on waste diversion and waste reduction on campus that is free and available to anyone with a UW NetID. 
People who take the online training during the month of November and email UW Recycling their UW NetID will be entered into a low-waste giveaway.
Reach contributing writer Hsin-Yu Tsai at news@dailyuw.com. Twitter: @alisa2000hsinyu
Like what you're reading? Support high-quality student journalism by donating here.