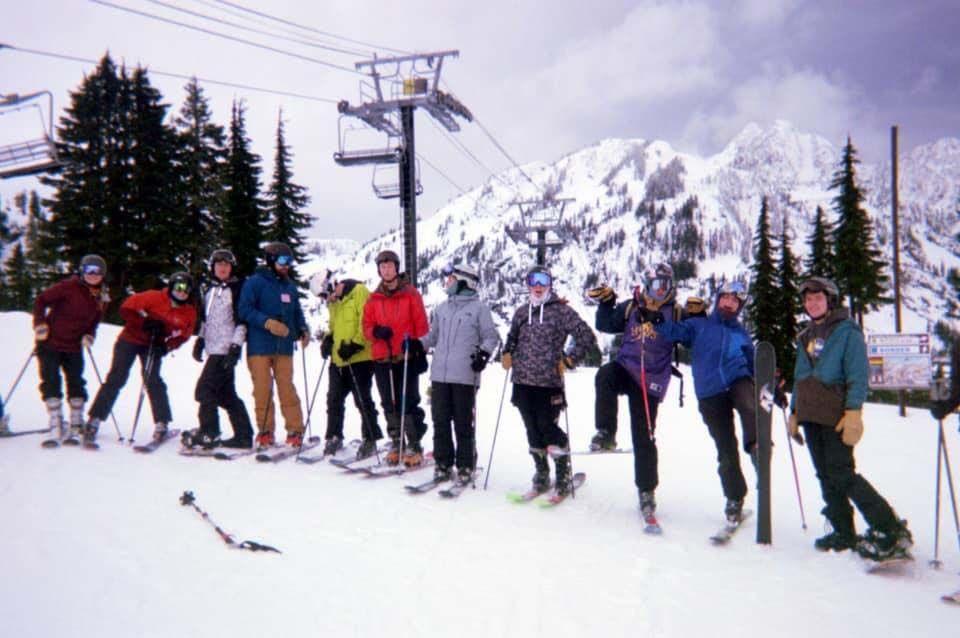 One of the UW's oldest clubs, Husky Winter Sports, is recruiting new members to join its close-knit community of skiing and snowboarding enthusiasts. 
The club, which has been in continuous operation since the 1930s, offers free Snoqualmie ski passes to UW students in exchange for help teaching skiing and snowboarding lessons to local children. 
The COVID-19 pandemic hit the club especially hard, as they were forced to cancel their 2021 season due to an inability to social distance, which drastically decreased the revenue they typically earn from lessons. Coupled with the loss of two senior classes, the fully student-run club's membership decreased by half, dropping from roughly 40 skiing and snowboarding enthusiasts to about 20. 
Nearly every weekend in winter quarter the club travels to Snoqualmie, where they teach lessons for more than two hours on Saturday and Sunday mornings, according to the club's president and senior Emma Radisch. The club also covers transportation and lodging costs, allowing members to focus on winter sports and club bonding. 
"[Husky Winter Sports] is one of the best clubs if you're trying to get out and ski or snowboard as many days as possible throughout the season," Radisch said. "It's just a really great community of people who are trying to shred on a budget."
The club works to create an inclusive environment for its members and acknowledges the combined difficulties of being a student-athlete and finding one's place in a university as large as the UW. 
"Everyone that [joined] had that concern, like 'Am I going to get my homework done?' And yeah, it is possible," the club's vice president and UW senior Ling-Yi Tsiang said. "We have people of every different kind of major, and that's a benefit."
The club is excited to welcome newcomers — or "prospies," as first-year club participants are affectionately called — no matter their skiing or snowboarding skill level. 
"In exchange for the commitment you get best friends for life; as long as you're stoked about it and ready to learn and you're responsible enough to handle children, then yeah, that's all we ask for," Radisch said.
The first informational club meeting is Monday, Oct. 11 at 7:30 p.m. in Smith 304, with additional sessions the following Tuesday, Oct. 19, and Wednesday, Oct. 27. 
Interested students can sign up for the club's email list for additional information sessions and events and can also donate to the club's GoFundMe page. 
Reach reporter Sarah Kahle at news@dailyuw.com. Twitter: @sarkahle
Like what you're reading? Support high-quality student journalism by donating here.