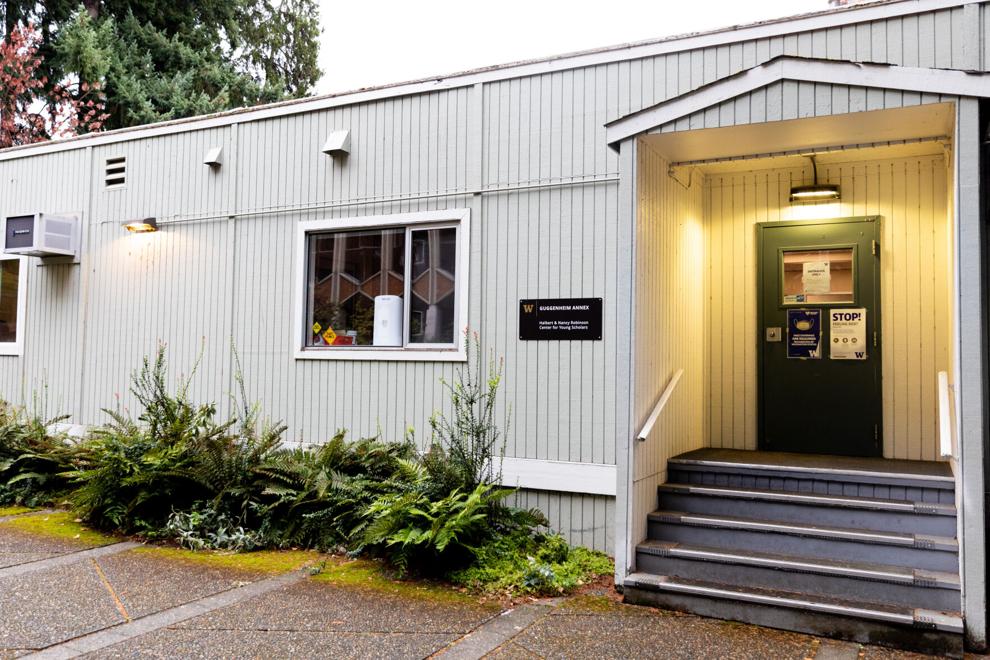 Trigger warning: Mentions of sexual assault and eating disorders.
The Robinson Center for Young Scholars, located in the Guggenheim Annex near Drumheller Fountain, is home to UW's youngest students. As early as ninth grade, students can join one of the center's programs and attend college in one form or another.
In 2019, an exposé by The Daily brought to light a toxic, misogynistic culture at the center after UW publicly revealed that John Sahr, the program's interim director from 2008-2010, had sexually assaulted a student. Sahr, a professor in the department of electrical and computer engineering, was terminated and his tenure revoked.  
Students at the center who spoke to The Daily at the time said sexual harassment from TAs, teachers, and other students was common. High levels of stress resulted in anxiety, depression, and eating disorders. When students asked for help or guidance, they were advised to keep it to themselves.
Since then, the Robinson Center has come under new leadership, with interim director Janice DeCosmo. According to her, the center has changed a lot since 2019.
"It's a very small community on this big campus, and it's a really nice place to be," DeCosmo said. "I have to say I was a very studious student myself ... and so I really like these kids. They're really studious and eager to learn; they're so excited about what they're doing."
Some question whether the high-stress college environment is appropriate for students as young as 14. DeCosmo argued that the students at the Robinson Center are truly ready and excited for college and that the center provides them the opportunity to reach their full potential.
"People question 'Well, what does it mean to be gifted?'" DeCosmo said. "I like to think more about academic acceleration, and people who are just so eager to learn — we try to satisfy that. The students come here and they are ready to be challenged. They're ready to grow in ways that they feel that high school is no longer serving them, and they're not just book smart and classroom smart, they want to do things too."
According to DeCosmo, the Robinson Center has a culture of students supporting students.
"The kids, they find each other here," DeCosmo said. "They really want that academic focus and they find other kids who also want it, so it's a very close-knit community."
A first-year student in the center's UW Academy program, whom The Daily chose not to name because they are a minor, confirmed this, expressing gratitude for their peers. Several other Robinson Center students and staff contacted by The Daily elected not to be interviewed. 
"It may have been hard for me because I'm two years younger than everyone else, to go out to my peers in the class, like in chemistry class … but it's more comfortable and more convenient for me to go ask my peers in this program so they can understand me," the student said.
As far as support from the center, DeCosmo explained, they offer a health and wellness class through their Transition School program, and there is an orientation before each school year starts.
According to DeCosmo, Lisa Scott, the new Transition School principal, has revamped the health and wellness curriculum to be more about wellness than physical health.
"One of the first things they look at in their curriculum is understanding how you handle stress and how your body reacts to stress, and there's some of it that's sort of natural," DeCosmo said.
At orientation, students learn about adapting to college life, as well as how the Robinson Center can support them through that transition.
"We do an orientation before school starts with all of our students, and that really focuses on helping them understand what they're getting into and what the resources are that are at their fingertips, and also how we support them and how to access support," DeCosmo said.
Orientation has another benefit: building relationships.
"We start to build community also during that time, and we help them really connect with each other and understand each other," DeCosmo said.
The student source agreed, saying they found orientation to be beneficial.
"I think it was really helpful because we got to meet people who were also in this program, but they're like a year older than us — they did this program last year — so that was helpful," the student said. "We asked them a lot of questions and also [interacted with] peers, talked to them more, and made some connections."
Students of the center's Early Entrance (EEP) and UW Academy programs also have access to all general UW resources and support programs.
Faculty at the Robinson Center, according to DeCosmo, are involved in supporting students throughout the year, with things such as tutorials and community meetings.
"They have something called 'tutorial,' which is once a week, and they have some time with one of the teachers," DeCosmo said. "It's just a time to get together and say 'How is it going?' and 'How is your stress level?' and 'Are you finding it more difficult than you thought?'"
Students also participate in community meetings with Kathryn Grubbs, who specializes in mental health and is interim director of the EEP and UW Academy. 
"They also have community meetings with Kathryn ... once a week, and they talk about how things are going," DeCosmo said. "And that's the whole group, so it's not like private counseling or anything like that, but it's really helping them develop some strategies and also sometimes realizing 'I'm not in this alone.'"
Grubbs also provides general support for students, as highlighted by the student source.
"I've been able to email her a lot and she's been able to help me a lot," the student said.
Drop-in hours for parents of Transition School students and pre-major advising services are also available, and are aspects of the center that reflect DeCosmo's stress on open communication.
"I think we all feel that we all need to be on the same page to support the students, and so it's important that we hear any concerns or complaints or feedback, and that we get that as soon as possible," DeCosmo said.
The student denied any stress out of the ordinary, and overall felt supported by the center.
"Our strongest desire is for all the students to succeed, so [we do] whatever we can do to help," DeCosmo said. "I think that you've got people here who are really dedicated educators and really care about the students, so that's where we're coming from."
Reach writer Samantha Ahlhorn at news@dailyuw.com. Twitter: @samahlhorn
Like what you're reading? Support high-quality student journalism by donating here.