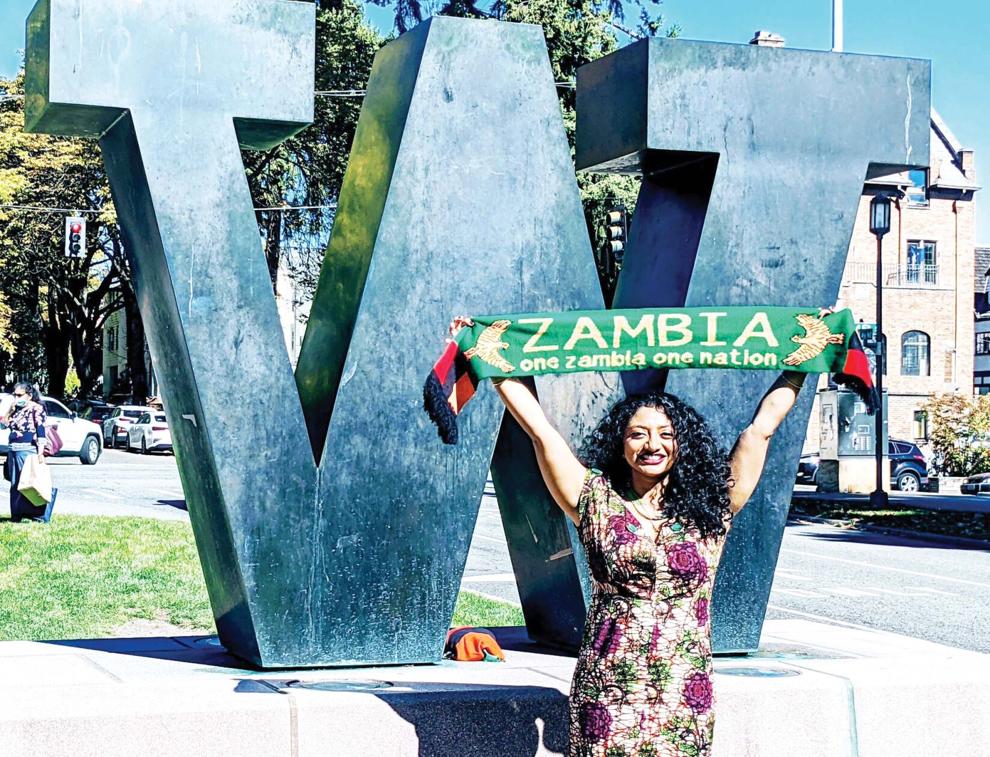 Ramya Kumar, a second-year Ph.D. student in the department of epidemiology, began the Ph.D. program along an atypical pathway. Kumar, who studied political science as an undergraduate before entering medical school, credits her unique challenges studying diseases, such as Ebola, to her resiliency.
"I am part of the most resilient cohort on campus," Kumar said.
For the past seven years, Kumar lived in Zambia, working for Zambia's Ministry of Health. Before moving to Zambia, she earned her master's of public health from Boston University in 2014.
Kumar noted that students in her cohort received their acceptance letters in January 2020, before the COVID-19 pandemic, and had to make their decision to join the program in April as many countries were closing their borders to international travel and going into lockdown. Kumar, who was in Zambia, spoke about difficulties managing the time zone difference (nine or ten hours ahead of Pacific Time, depending on daylight saving) and building community over Zoom during her first year in the epidemiology program.
"I think the strength of this university is the students because, despite all that, there were students who still made the time to advise me and … other people in the cohort," Kumar said.
Kumar's professors and colleagues in Seattle were understanding, with many agreeing to meet early via Zoom to accommodate their students tuning in from overseas and completing asynchronous coursework.
"We had so many responsibilities that we were juggling because you couldn't just say, 'I'm a grad student now, so leave me alone,'" Kumar said. "We were living and working in countries with limited epidemiologists that needed our expertise, so that was just another layer of responsibility that was unique to international students."
Kumar balanced responsibilities in her own community and her research assistantship through the START Center, a research group at the UW that provides mentorship programs to graduate students, while managing internet access amid 12 to 14 hours of load shedding — reducing the electrical capacity on a grid to prevent overload — per day in Zambia in order to thrive in the first year of her program.
One of the most unique issues Kumar had to navigate was getting vaccinated in a country with less access than the United States. According to Kumar, approximately 1.5% of the Zambian population is vaccinated. Even though she had the opportunity to receive a vaccination in the United States, she chose to get the AstraZeneca vaccine in Zambia.
After months of waiting to receive the vaccine, Kumar prepared for her journey back to the United States to begin the second year of her program. She recounted a surprise encounter at the airport.
Kumar met Hakainde Hichilema, the newly inaugurated president of Zambia, on her flight back to the United States. Kumar spoke in a podcast about her experience taking the same flight— and even receiving a tweet from — the head of state. The plight of Hichilema, who fought decades of oppression amid five failed presidential bids where he was sworn an "enemy of the state," according to the BBC, encapsulates the example of staying true to one's principles despite all odds, an example that Kumar will bring forward in her doctorate program.
"Even more incredible … was that I was a viral sensation just getting off the first sector of that flight," Kumar said.
Kumar offered some advice rooted in Zambian culture as students from around the globe return to campus after over a year apart.
"I think that is a very Zambian value of humanism [that] the late Dr. Kenneth Kaunda, Zambia's founding father, made [into] a national ideology, of caring for each other, especially the most marginalized people in our society," Kumar said. "I think that's the way forward for the university. I think that's the way forward for the country. I think that's the way forward for the globe. I think that's the greatest lesson we can learn from this pandemic."
Reach reporter Julie Emory at news@dailyuw.com. Twitter: @JulieEmory2
Like what you're reading? Support high-quality student journalism by donating here.