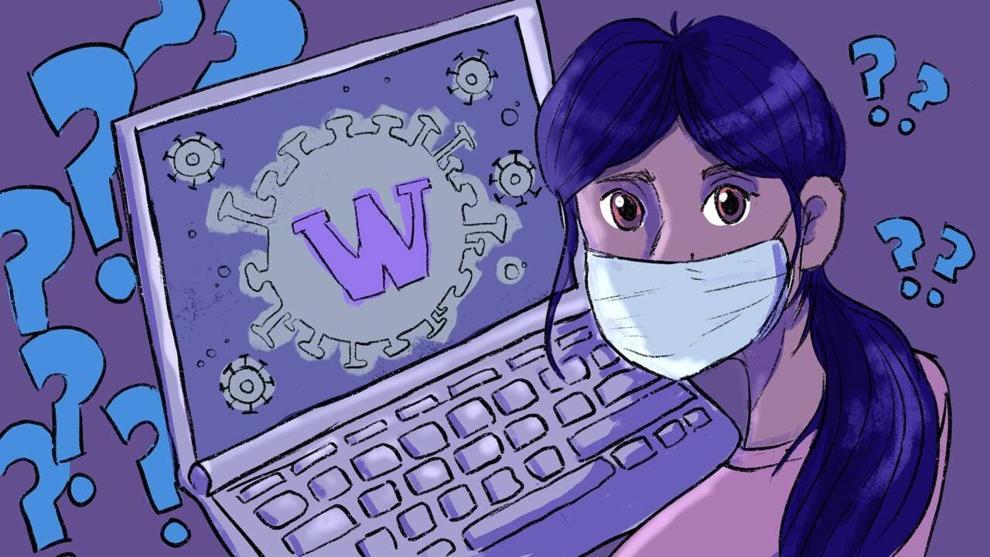 The start of fall quarter is traditionally a time of excitement and nervous anticipation, but this year, the return to campus brings new fears for students at risk of serious COVID-19 infection.
Writing in The Daily, UW student Mason Winchell pointed out that vaccines do not offer protection to all members of the UW community, and explained how his disability lowers vaccine efficacy. 
Shortly after publishing his piece in The Daily, Winchell started a petition to require remote access options for all courses at the UW, aiming to help students who are at risk of contracting COVID-19 from being in close proximity to those at-risk for COVID-19 but are not eligible for Disability Resources for Students (DRS) accommodations.
Immunocompromised or otherwise at-risk students can request accommodations through DRS such as classroom relocation, varied masks, and increased distance between students, according to Adiam Tesfay, director of DRS.
Students must have medical documentation to receive a DRS accommodation; currently, commuter students living with immunocompromised family members or students with immunocompromised living partners cannot receive DRS accommodations, according to Tesfay. 
"We legally cannot require an instructor to simultaneously teach a remote version or hybrid one of the same in-person class they are teaching," Tesfay wrote in an email. "That is causing undue burden to them. And if they can prove that teaching in person is a fundamental part of their curriculum or program then we cannot require them to make it hybrid or remote."
This means that whether a class is remotely accessible to a student is largely up to a professor's discretion. 
"Most faculty and departments have been working with me very well to find solutions," Tesfay wrote. 
But student disability advocacy groups are critical of relegating this decision to professors. 
"The whole purpose of admin is to make these decisions, but then it comes down to instructors," Jim Lawler, president of the UW's Disability Advocacy Student Alliance (DASA), said.
ASUW Student Disability Commission (SDC) Director Devon Sheehan said that the SDC was not consulted in the decision to return to in-person classes. 
"I found [out] just the way everybody else found [out]," Sheehan said. 
Last year, Sheehan and then-ASUW President Camille Hattwig advocated that "if we are going to return back to in-person, there needs to be an option or a way for professors and TAs to record the lectures or live stream their lectures and post them asynchronously for students," Sheehan said. 
SDC has been lobbying for required and virtually accessible asynchronous lecture content for several years, Sheehan said. 
"I've had instructors deny me my accommodations before just because they didn't want to accommodate," Lawler said. 
Lawler thinks that some instructors are afraid that accommodating disabled students will be complicated or make it more difficult for them.
"In reality, universal design benefits all students, and it benefits the instructor," Lawler said.
"The decision to return to largely in-person instruction was prompted by the fact that we now have safe and effective vaccines widely available and more knowledge about how to prevent the spread of COVID," UW spokesperson Victor Balta wrote in an email. 
The return to in-person classes without guaranteed remote access seems like a "throwback" to Sheehan. 
"Why don't we have this accessible technology?" Sheehan said. "We learned how to do it last year."
Sheehan also cited SDC data that shows that making courses virtually accessible is beneficial to students with disabilities. 
"We have encouraged instructors to consider how to accommodate remote learners when preparing their courses for autumn quarter," Balta wrote in response to how the UW plans to accommodate high-risk students. 
Balta said that instructors frequently needed to accommodate illness, travel, and other student situations pre-pandemic and that the flexibility to make those types of accommodations remains.
"Encouragement is not enough," Sheehan said in response to the aforementioned. "Professors are going to do what they think is right for their course and sometimes that is not in the best interest of the student."
Sheehan also disagreed with Balta's comment on the flexibility of pre-COVID-19 courses. 
"If a student was out with a long-term illness, or they had to travel, if the classroom wasn't equipped with Panopto and equipment, the student was [out of luck]," Sheehan said. 
Sheehan expects more students to start reaching out to SDC for help with advocating for remote access as the quarter begins. 
"It's unfortunately going to have to continue to be a long-term push at administration to care about disabled students and to care about student parents and to care about commuters and to care about, you know, things other than profit," Sheehan said.   
Reach reporter Nuria Alina Chandra at news@dailyuw.com. Twitter: @AlinaChandra
Like what you're reading? Support high-quality student journalism by donating here.