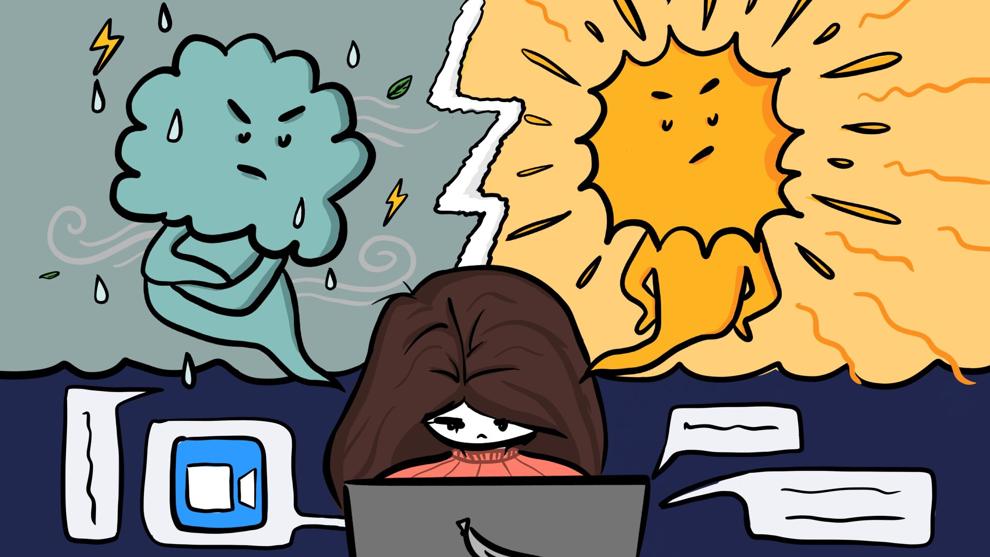 Trigger warning: Mentions of suicidal ideation.
The pandemic and remote schooling have brought unprecedented challenges to mental health. Data from the Centers for Disease Control and Prevention show the emergency department (ED) visit rate for suspected suicide attempts among adults aged 18–25 years began rapidly increasing early on in the pandemic.
"What we have seen on the side of mental health is a lot more kids experiencing trauma, depression, and anxiety," James Mazza, a professor of education who works with the university's Forefront Suicide Prevention program, said. "We know that our emergency rooms, especially here in Washington state, are being overrun with youth because of their mental health issues."
According to Mazza, unprecedented responsibilities such as remote schooling and looking after family members do not allow kids to fully experience their childhood. He said that there are multiple factors to ED visits for mental health among youth, such as a lack of motivation, social interaction, and computer screen fatigue.
"I can't get the social interactions that I personally feel like I need to have to have good mental health, and I feel like it just makes me feel a lot more trapped and bogged down," Christian Macazo, a second-year studying earth and space sciences, said.
Michelle Nguyen, who graduated from UW in 2021, said it is difficult to stay positive during these times.  
"Before the pandemic I considered myself to be a generally positive person, but being positive during the pandemic felt like grasping at straws, trying to distract myself from what is reality," Nguyen said.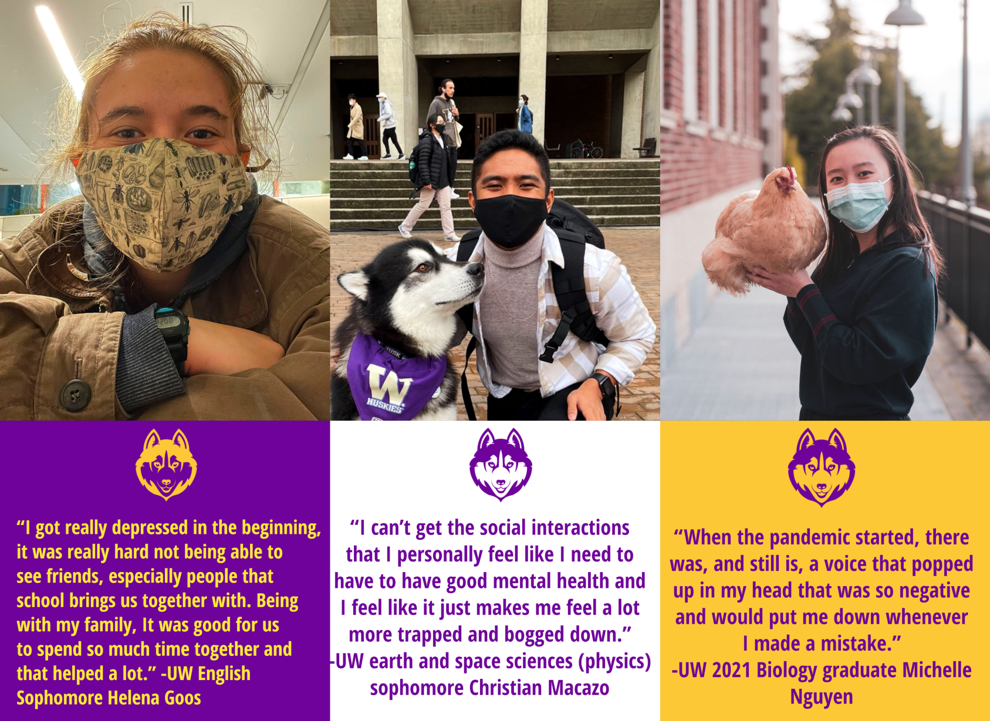 For second-year Helena Goos, it was therapeutic to spend time with her family while also managing her mental health. 
"I got really depressed in the beginning — it was really hard not being able to see friends, especially [those where] school brings us together with," Goos said. "Being with my family, it was good for us to spend so much time together and that helped a lot."
Mazza described the pandemic's impact as "a slow drip process," adding that the pandemic continues to strip away everyday freedoms slowly over time, causing this "wet blanket trauma impact" on people.
"We begin to talk ourselves out of the things that we know would make us feel better," Mazza said. "We need to be aware when we're not feeling like we want to feel. What is your body telling you? What is your mind telling you? If it's telling you that you are not in a good place emotionally, what can you do to change it?" 
Online learning, Mazza said, is a double-edged sword. He said online learning has given people flexibility and some regularity in their routine; for others, it has led to a lack of interaction in classes — including classes he teaches — compared to an in-person classroom. 
Jane Simoni, professor and director of clinical training in the department of psychology, said she is frustrated with the state of COVID-19 and online learning. 
"In general, people have some kind of pattern or consistency," Simoni said. "We like to have some kind of control or agency in our life and COVID-19 is not cooperating."
Simoni said she is saddened by the online college experience and lack of social interaction that students face during the pandemic, but that going back to in-person classes may be too soon. 
"You can put a kid back in school, but death, you can't take [that] back," Simoni said.
Simoni encouraged students to focus on the fundamentals of mental health such as sleep, hygiene, exercise, and nutrition. She said students should go outside, avoid close contact spaces, and be creative with how they engage with one another to find a balance essential to mental health.
"Some people are really suffering in a way that they're gonna need professional assistance," Simoni said. "If you need it, you can get help and it's effective." 
To help with mental health, Mazza recommended having a well-structured schedule that consists of what makes one happy. 
"I think we have to be really intentional about what we are going to do for ourselves," Mazza said. "I think we have to really just kind of plan it out, life does not come spontaneously anymore." 
Mazza said he wants the university administration to communicate to students and faculty that they should "give [themselves] some grace." Expectations to be as productive as our pre-COVID-19 selves are not realistic right now and that is fine, Mazza said. 
"Take care of yourself before you take care of others," Mazza said. "Once you do that, you can start to give some energy to others who might be struggling." 
For immediate mental health care support at UW, students can call 866-775-0608, visit UW's mental health website, or — in the case of an emergency — use their 24/7 support crisis hotlines. 
Reach reporter Shamaar Thomas at news@dailyuw.com. Twitter: @ThomasShamaar.
Like what you're reading? Support high-quality student journalism by donating here.