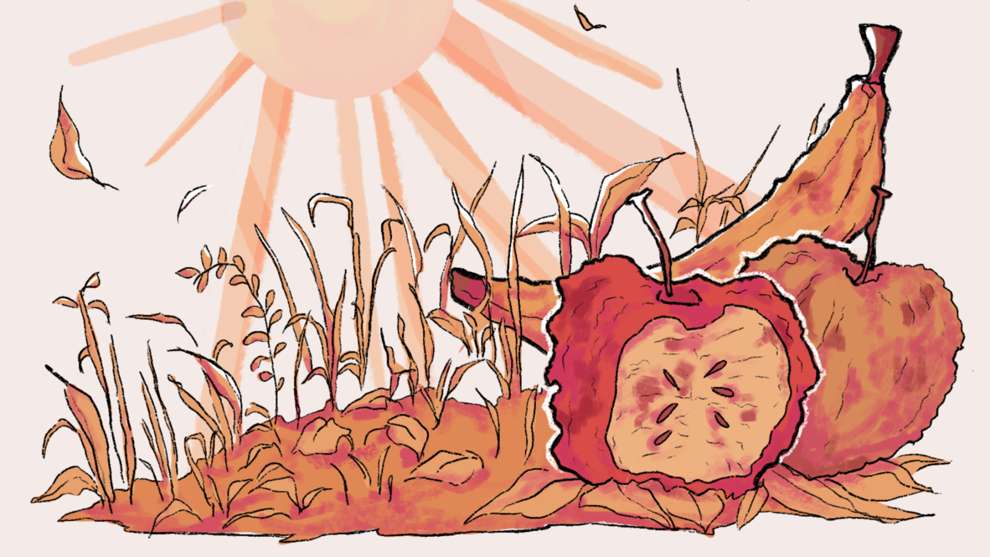 Following record-breaking heat this summer, many farms in Washington experienced significant crop losses, proving detrimental to the businesses and livelihoods of those farms. 
According to the Spokesman-Review, a shocking 20% of Washington's cherry crop was lost during its prime as multiple days with temperatures above 110 degrees Fahrenheit persisted. The Spokesman-Review also found that Washington wheat production dropped from an average of 76 bushels per acre to 55 bushels per acre, a reduction that industry leaders have attributed to persistent drought and broiling temperatures.
Seattle, as well as Washington state in general, are not used to the temperatures recorded this summer. As a recent Intergovernmental Panel on Climate Change (IPCC) report shows, temperatures are going to continue to rise. In light of this, many farms are adapting and discovering new ways to produce amid continuing challenges. Many farmers are mitigating losses by diversifying crops, creating several revenue streams for the farm. 
"The good news is, especially with annual crops and diversified crops, there's an opportunity to adapt, there's an opportunity to be a bit more proactive," Colleen Donovan, the executive director of the Washington State Farmers Market Association, said.
When farms have diversified crops, Donovan said, the biggest concern is whether vendors and consumers can safely attend outdoor markets in the heat.
"There can be vendors who are there not just for 40 minutes, but for an entire market day, and so we work with them to think through strategies and communicate to mitigate against the intense heat," Donovan said. "It could be [moving] to a site that has grass instead of asphalt, or if they were [at] an evening market, they start an hour later; if they were a morning market, they could close an hour earlier."
The UW Farm has experienced similar problems, especially with students gone during the summer and volunteer numbers reduced by the intense heat. 
"Our biggest challenge is that people are not around during the summer," Perry Acworth, the UW Farm manager, said. "When the farm is in maximum production, and in increasing play during June, July, August, and September, that is not when students are around, so a campus farm, unlike a commercial farm, has a different challenge as our helping hands disappear after graduation."
The farm doesn't see large numbers of students until mid-October, Acworth said.
To combat strenuous working conditions, Acworth set up a dunk tank over the summer to cool down workers and limit potential heat risks while also keeping farming fun. Popsicles and watermelon were also offered when temperatures rose over 100 degrees. Had shifts been canceled instead, food would have rotted in the field and the supply chain would have stopped for Community Supported Agriculture customers, UW Dining, and the UW Food Pantry.
The UW Farm did endure some sun-related damages, such as sunscald to their apples and plums — making the fruit incapable of being sold, despite much of the sunscald being purely cosmetic. Rather than let the sun scalded fruits go to waste, the farm donated the fruit to the food pantry. 
As farmers are constantly innovating, the UW Farm found ways to use the heat to their advantage as well.  
"An unexpected positive outcome is we really had an effective solarization of the weeds," Acworth said. "So we use clear plastic on weeds, and it makes temperatures so great that it kills a lot of weeds … we jumped on that heat and stretched out sheets of clear plastic that we had, put them over really stubborn weeds like thistles and burdock, and it reached over 200 degrees underneath the clear plastic. And so we're able to avoid using things like Roundup."
The soil solarization of weeds is just one way that farms are adapting to rising temperatures. Establishing heat protection for workers, managing water in efficient ways, and even fungal research are all ways that farms are looking to prevent future catastrophes and continue bountiful production despite the realities of climate change. 
To learn more about your food systems and the people who grow the food you eat, consider a visit to your neighborhood farmers market. 
"It's important to keep in mind with farmers markets that while we're there for the great food, to get really great seasonal one-of-a-kind types of vegetables and all that cheese and all that good stuff, that's really a great draw to go to a market, but there's also a terrific opportunity to learn something," Donovan said. "While you're there, talk to a farmer or see other neighbors … It makes a big difference."
Reach reporter Megan Matti at news@dailyuw.com. Twitter: @megan_matti
Like what you're reading? Support high-quality student journalism by donating here.