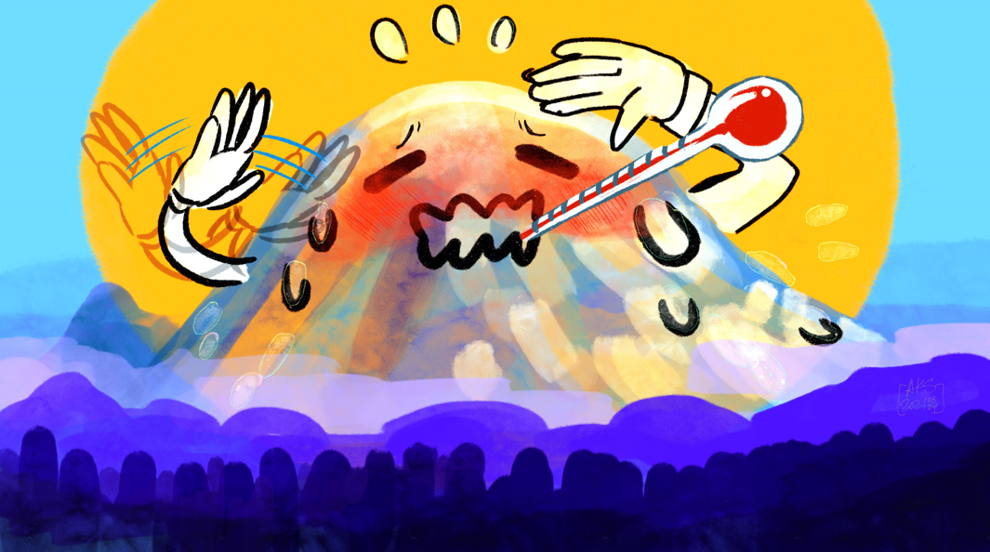 Visitors and students alike can be found exploring Rainier Vista, the area of open space on the southern edge of campus bearing the name of the active volcano that sits on the distant horizon. With Drumheller Fountain spraying its way through sunny days and an unobstructed view of Mount Rainier, there is hardly a more picture-worthy place on campus — just ask all the parents snapping photos of their freshman kids during move-in.
"The mountain is out" is a common saying among Washingtonians as a symbol of summer and good weather. But taking a stroll down Rainier Vista over the past two months has presented excited mountain onlookers with a new sight: Mount Rainier is naked. The pillows of white snow that gave Rainier its frosted look are gone, melted away after June's unprecedented heatwave. 
"The old cliche about Seattle is that the summer starts after the Fourth of July," Nick Bond, affiliate associate professor with the UW department of atmospheric sciences and the Washington state climatologist, said. "But obviously we didn't have to wait until July this year."
Between June 26-29, Seattle reached or exceeded 100 degrees Fahrenheit, peaking at 108 on June 28. According to the National Oceanic and Atmospheric Administration (NOAA), the city only hit 100-degree readings three times in the 126 years prior.
During this period, 30% of Mount Rainier's snowpack melted away, according to the Northwest Avalanche Center. The popular meadow-strewn region of the mountain known as Paradise boasted 106 inches of snow on June 5 but measured a meager 8 inches just a month later after reaching highs around 88 degrees during the heat event.
Washington community members took to Twitter to share their shock, comparing before and after photos and gifs. 
"The least amount of snow I have ever seen on Mount Rainier," one Twitter user captioned a photo.
The climate is warming and it will continue to do so, causing environmental impacts and changing the landscape as we know it. In the future, it's possible the mountain will be less snowy than we're used to.
"The main thing we expect with climate change is we are going to get less snow in the winter and more snow melting out in the summer," Guillaume Mauger, a research scientist at the UW Climate Impacts Group, said. 
While the historic heatwave played a large role in the sharp decline in snowpack this year, snowpack melt will continue in the years to come regardless of major heat events like this past June, Mauger said. 
Bond says we will see the moderate elevation areas around 3,000 to 5,000 feet change from snow to rainfall, leaving only the upper part of Rainier snowy.
Since 1900, Rainier's 25 named glaciers have lost more than one-third of their coverage and 45% of their thickness, according to an interview with Mount Rainier National Park geologist Scott Beason in The News Tribune.
The loss of snow goes beyond just looks: the snowpack serves as Washington's primary water source. Washington water reservoirs are much smaller than those in other states and lack the ability to supply the state for multiple years; they are replenished yearly by the melting snow in the summer. When there are warmer temperatures and drier conditions, snowpack accumulations lessen, impacting the entire state's water supply.
In a stable climate, the glaciers take up snow that is eventually packed into ice, thickening and expanding the glacial coverage. But when the snow on top melts, the glaciers can begin to melt too.
"As they melt more and more there's going to be less and less available for future summers," Bond said. "The melt is going to be greater than the supply, and eventually the glaciers shrink."
Additionally, the less time snow is on the ground, the more time vegetation has to dry out. One spark can turn into a multi-acre fire that rages through the Cascade mountains during the summer season, threatening communities and wildlife, and producing harmful smoke. 
At the same time, melting snow reveals unconsolidated sediment. The loose soil and rocks are a recipe for dangerous landslides. 
While the mountain currently remains gray and bare, and despite a less-than-optimistic future outlook, for this winter, at least, the snow will return. 
Long-range weather forecasters at NOAA have issued a La Niña watch for the upcoming winter season. This phenomenon, caused by variations in central Pacific Ocean winds, influences weather events thousands of miles away and tends to bring higher-than-average snowpacks to the Pacific Northwest mountains.
As for future summers, there will likely be less snow overall, and we may have to get used to seeing Mount Rainier in all its naked greatness. 
"We shouldn't panic about it," Bond said. "We should start planning for it."
Reach reporter Hannah Sheil at news@dailyuw.com. Twitter: @thehannahsheil
Like what you're reading? Support high-quality student journalism by donating here.