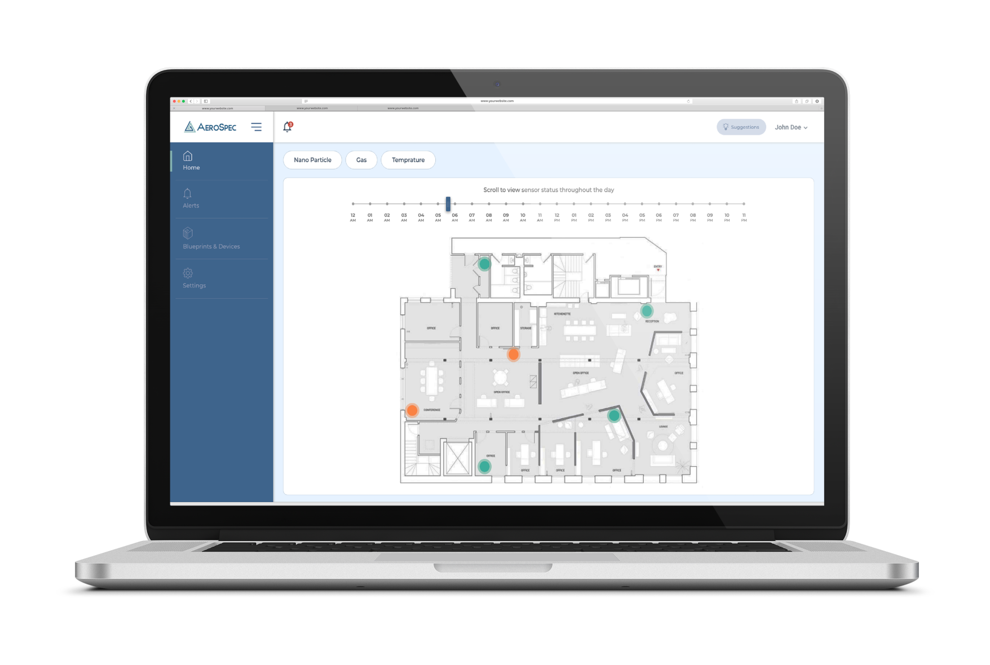 AeroSpec, a startup in development by UW students and alumni, seeks to provide users high-quality data on the air surrounding them. With the simple click on the app or webpage, one can evaluate indoor air quality for the betterment of their health.
CEO Sep Makhsous described AeroSpec as a combination or network of hardware systems and sensors that are accessible through an online cloud. 
"Think of it as like a smart smoke detector, but with different sensors," Makhsous said.
The developers plan to combine several accessories to make it adaptable to different user scenarios, including watch straps for a wearable mode, a wall-mount option, and a desk dock.
"The device actually works through the smartphone app, and you'll have access not only to your device that's with you, but a network of devices," Makhsous said.
AeroSpec crowdsources data to keep its information updated. The data collected, which is captured from users' smartphones, is shared with the AeroSpec database and is visible on a constantly updating digital map for users to see. Makhsous said that AeroSpec is using encrypted data to share air quality statistics that are accessible to other users.
AeroSpec hardware designer and UW mechanical engineering graduate student Cheng-Ying "Eric" Wu said the service is realized by combining hardware device development and user interface ecosystem building. The AeroSpec team is developing a website and app to interpret and visualize the real-time data for consumers, Wu said.
The team is also working on developing a series of Internet of Things (IoT) devices — wireless sensors or objects that transmit data over the internet — to monitor particulate matter, noise, air quality, temperature, and humidity, according to Wu.
Wu comes from Taipei, a city he described as one of the most crowded places in the world due to the abundance of vehicles. Air pollution is always an issue for the people of Taipei, and as a result, many suffer from respiratory diseases.

"I hope in the future, we can widely spread our device[s] and inspect each environment factor in the city," Wu said in an email.
The idea for the project originated from community air research conducted in California. Through crowdsourcing, its goal is to display data on a platform where everyone can have access to updated air-quality information, research assistant and UW environmental health graduate Shirley Huang said.
Currently, AeroSpec's team is focused on helping sensitive groups who are susceptible to airborne allergens or damaging air conditions. Due to the pandemic, AeroSpec has garnered more attention and has been working with sensitive groups to ensure air quality safety.
Makhsous noted that general consumers are now more well versed in the notion of aerosol air particles and how that applies to airborne viruses.
"That has allowed us to kind of have that jump in connecting with our potential consumer … It has opened a lot of doors for us to help," Makhsous said. 
AeroSpec's upcoming plan is to release a web dashboard for businesses, such as dental offices. 
Makhsous also expects AeroSpec to have their new business-focused website up within two weeks. Medical and dental offices can visit the website to learn more about AeroSpec and sign up for a pilot test.
The app is still in development and only available to users who request its service.
Reach reporter Shamaar Thomas at news@dailyuw.com.  Twitter: @ThomasShamaar
Like what you're reading? Support high-quality student journalism by donating here.