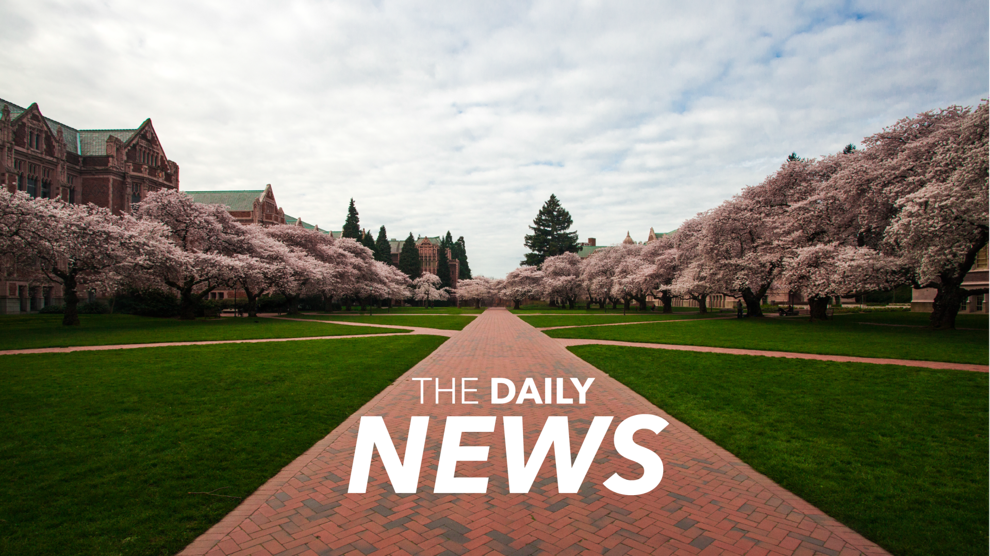 Then-junior Yueming (Vera) Zhou was visiting her father in Xinjiang, China, in October 2017 when she was taken away. She was arrested and interrogated, told by authorities that she was being held because she used an illegal virtual private network to log into Canvas to turn in her UW homework. 
Zhou, whose family are members of the largely Muslim Hui ethnic group currently persecuted in China, was placed in a "reeducation camp" for more than five months without a hearing. 
"I think the most scary part is that you don't know when you're getting out," Zhou said. "You don't know when you can get out and they don't know when you can get out." 
Donning a gray jail uniform with neon green stripes, she was in a cell with 11 other women. She could talk to her father for five minutes on the phone each week, but wasn't allowed to talk to her mother, Caiyun (Mary) Ma, who was in the United States.
She says the camp tried to indoctrinate her with pro-Chinese thought — making them study President Xi Jinping's policies and watch government propaganda — and surveilled the detainees at all times. 
Zhou, meanwhile, had been diagnosed with cancer and had surgery in June 2017, just four months before her detention. 
Zhou was released in March 2018, but kept under house arrest in Xinjiang for another 18 months under further surveillance as authorities took away her passport and green card. Worried about the lack of medical assistance, her mother turned to the UW for help. The UW denied her requests.
In November 2017, Ma emailed Daniel Brencic, the UW's global travel security manager, who responded that the university was in contact with the U.S. State Department about the situation but that there was little they could do because Zhou was not an American citizen. 
"Unfortunately, there is nothing else the University of Washington can do at this point," Zhou says Brencic wrote. Brencic is currently on leave and did not respond to a request for comment.
She came to the United States in 2008 and became a permanent resident two years later and her mother is a U.S. citizen.
Zhou's story was first written about in a column by The Washington Post last week.
UW spokesperson Victor Balta said that the university reached out to Ma multiple times and contacted the State Department to help Zhou. The UW was told not much could be done because she wasn't an American citizen.
Zhou's advocates argue the UW failed to help her out of fear of jeopardizing the university's partnerships with the Chinese government, including an alleged $3 million deal. Balta said that any relationship between the UW and the Chinese government had no effect on how it handled Zhou's case.
She was eventually released in September 2019, nearly two years after first being arrested, and is now back in Vancouver, Washington, living with her mom. 
"One wonders if Vera could have escaped her dreadful treatment much earlier had the University shown elementary consideration for a member of its community and had taken seriously her mother's cries for help," a Jan. 10 letter from several alumni to President Ana Mari Cauce reads.
But the release came almost a year after Ma had to start contending with another fire: The UW sent her Zhou's first tuition bill. 
Zhou and her mother now face mounting tuition bills, as well as student loan debt payments and the resulting interest. She's now classified as defaulting on her loans and can't continue studying at the UW, so is now attending community college. 
"The issues at hand rest directly with the federal government, not the University, though we endeavored to provide her support regardless of the circumstances," Balta said. "We reached out proactively to express how happy we were to hear she was home, provide her with guidance regarding her concerns, and to answer to any questions she had."
"She is absolutely allowed to return to the UW should she choose to do so."
The UW has told Zhou to contact the direct loan servicer and explain the circumstances.
"She wasn't avoiding her financial responsibilities, but was literally unable to contact anyone while she was in China," Sarah Castro, UW director of federal relations, said in a November email. In that case, Castro wrote that she may be able to be taken out of default, but she'd still owe the interest.
If that doesn't work, she can appeal to the Federal Student Aid Ombudsman Office, Castro says.  
The January letter to Cauce makes four suggestions to better Zhou's troubled situation. It should employ its resources to help resolve her student loan situation, the letter argues.
They also say the university should make her return to the UW a high priority and say so publicly. The UW should also offer her counseling assistance given the trauma she's been through over the past two-plus years. And Zhou should be given scholarship assistance so she can finish her studies at the UW given that her arrest and subsequent financial aid issues have "depleted the family's resources."
This article has been updated to include comment from the UW.
Reach Editor-in-Chief Mira Petrillo and News Editor Jake Goldstein-Street at news@dailyuw.com. Twitter: @mira_petrillo and @GoldsteinStreet
Like what you're reading? Support high-quality student journalism by donating here.