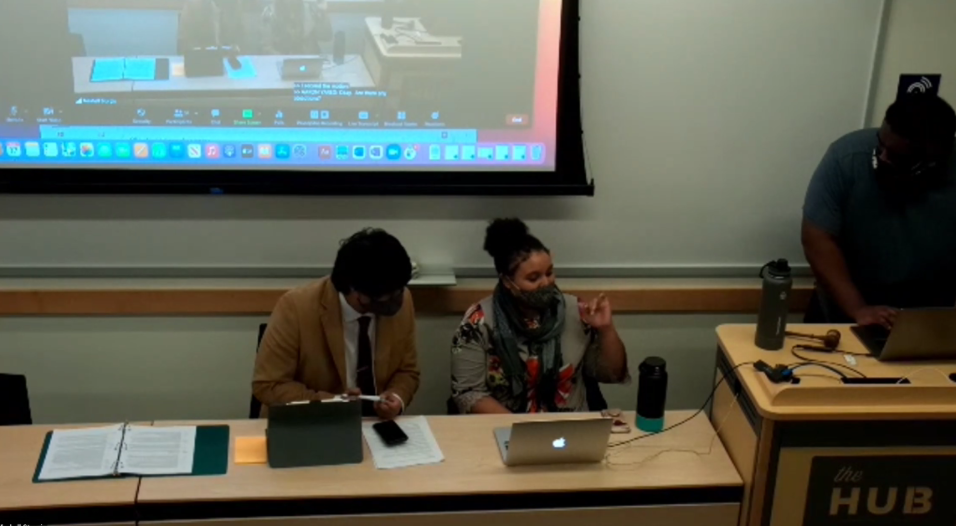 The Graduate and Professional Student Senate (GPSS) met Nov. 17 to discuss issues regarding student safety and well-being that were raised by senators throughout campus. GPSS passed the legislative agenda during this meeting; the legislative agenda is a legal document that narrowly limits and defines what student lobbyists can use their offices to lobby for. 
Bias accountability
A.J. Balatico, vice president of finance for GPSS, read an action that called for change and condemned a lack of accountability after the vandalization of several bathrooms in the Aerospace & Engineering Research Building and Gates Center. The vandalization included several racial slurs and other derogatory language directed against underserved students in the program. 
The resolution proposed a town hall meeting open to UW students to raise concerns directly to UWPD and to send a campus-wide email sharing the UW Bias Incident Reporting Tool for reporting incidents of harassment on campus. 
"GPSS amplifies the voices and experiences of graduate and professional students at the University of Washington, builds community, and advocates for the eradication of inequities," Balatico said in the reading. 
The condemnation mentioned that the term "graffiti" is not searchable on UWPD's website. UWPD's 60-day log also does not point to specific incidents of vandalism, and instead merely lists two reports from Sept. 23 and 24.   
Aaron Yared, president of GPSS, asked what the specific goal of the resolution was. 
"We don't really need a resolution to send an all‑campus email or to host a town hall," Yared said. "We can just do that as GPSS."
Balatico responded that he hoped to see further UWPD accountability and transparency.
Crisis response
Matthew Mitnick, a senator from the Evans School of Public Policy, introduced the University Crisis Response legislation. 
The program calls for the creation of a U-District-focused crisis response team that will bring a social worker to the scene, rather than an armed police officer in situations where one is not required, and comes in collaboration with a similar effort by ASUW.
"New York City has been piloting this," Mitnick said. "Out of 24,000 calls, only 150 required police backup." 
The proposal follows a similar program from Mitnick's alma mater, the University of Wisconsin-Madison, and a successful implementation model from Eugene, Oregon, where calls that do not require police on-site are redirected to crisis response.  
"[UWPD] have a very large budget of 8.1 million, which is larger than pretty much any other [university] police department in the country," Mitnick said.  
Funding for this initiative would come from a divestment from police funding rather than an increase in student fees, Mitnick said, adding that he is looking to collaborate with King County on the program. 
"King County Public Health would be doing the sole administering of this," Mitnick said. "We would work with the university to allow the crisis response team to operate on campus based on the boundaries we identify."  
GPSS will vote on the legislation during its Dec. 8 meeting. 
Other notes
GPSS also decided to hold its meetings virtually during the winter quarter with further deliberation before deciding on the platform for spring quarter. 
The GPSS liaison application is open for any interested graduate students who want to leverage their experiences onto one of the various committees throughout campus, such as the International Student Task Force. 
"Liaison representatives are expected to attend those meetings, committees, raise their voices, engage with the conversations happening, research, planning and also participate in decision making," Aditya Ramnathkar, director of university affairs with GPSS, said.
Yared emphasized the impact that serving as a liaison had on his professional trajectory. 
"I would say I probably wouldn't have gotten into law school if it weren't for the fact that I had so many connections, because I was in so many committees at UW before I applied," Yared said. 
Dinner will be served at the Dec. 8 meeting with "survival packs" offered for anyone who wants to pick up food and attend virtually via Zoom. 
Reach reporter Julie Emory at news@dailyuw.com. Twitter: @JulieEmory2
Like what you're reading? Support high-quality student journalism by donating here.