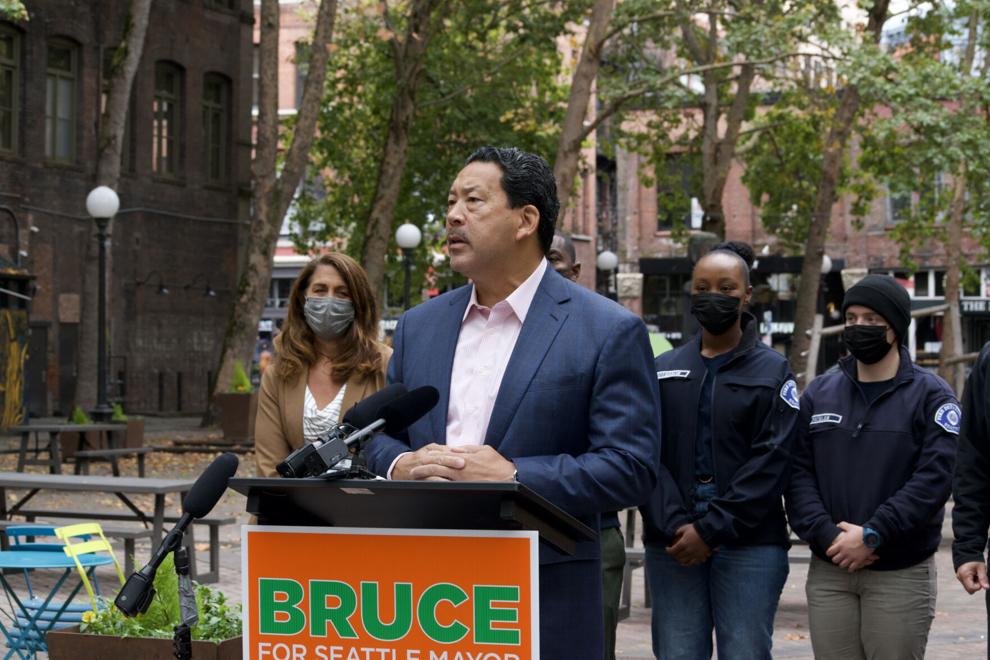 Seattle mayoral candidate and UW alum Bruce Harrell received an endorsement from the Seattle Fire Fighters Union, IAFF Local 27, and outlined his plan for public safety at a press conference in Occidental Square on Tuesday.
The union, which represents more than one thousand Seattle firefighters, EMTs, and other frontline personnel, cited Harrell's experience as city council president and his position on public safety as reasons for their endorsement.
"Public safety and health in our city has reached a crisis point," Kenny Stuart, IAFF Local 27 President, said. "[Harrell] is going to focus on homelessness, the opioid crisis, our mental health crisis, violence, and crime."
Unlike his opponent, Harrell does not intend to cut the police budget. Rather, he plans on pushing reform within the police department by retraining officers and hiring social workers and other personnel to respond to situations where armed officers are not needed. Harrell also mentioned his desire to hire more police officers, calling the current number of officers "unacceptable," without indicating an exact number of how many he plans to hire.
Outlined in Harrell's plan was an expansion of Safe Harbors data collection system, which the city uses to assess the size and needs of its homeless population. Harrell proposes expanding emergency supportive housing, sobriety centers, and long-term care and rehabilitation services for individuals in crisis.
"We have plenty of outreach right now," Stuart said in a press release. "But what we need are safe harbors to provide the definitive long-term help that they need."
With the expansion of Safe Harbors, Harrell intends to create culturally and medically appropriate places for people to recover and rebuild their lives.
Harrell also committed to investing in new and existing programs to increase recruitment of first responders. 
The mayoral candidate believes that having more BIPoC individuals represented in public safety jobs will rebuild public trust in policing. 
"By providing onramps and certification opportunities that will increase diversity, expand opportunities among BIPoC responders, we will build a public safety that is representative of our city," Harrell said.
Using existing programs like Running Start, which allows high schoolers to take classes at community colleges, and the Seattle Promise scholarship program, Harrell wants to create training courses for police, firefighters, and other first responders to become skilled in conflict de-escalation, crisis management, and understanding racial and implicit bias.
"We will build a curriculum that reflects the changing nature of the work, what firefighters and police are encountering in the field right now," Harrell said. "The key to this curriculum is to adopt emerging best practices for non-armed alternative responses."
During the news conference, Harrell mentioned that he wants to implement a gunshot detection system throughout Seattle. The city currently uses a system based on complaints, which Harrell claims does not accurately pinpoint the exact location of all gunshots.
Harrell previously studied a gunshot detection system during his time as city council president, but did not offer specific numbers at the conference on the cost of implementing such a system.
Reach reporter Timothy Phung at news@dailyuw.com. Twitter: @TimPhung
Like what you're reading? Support high-quality student journalism by donating here.