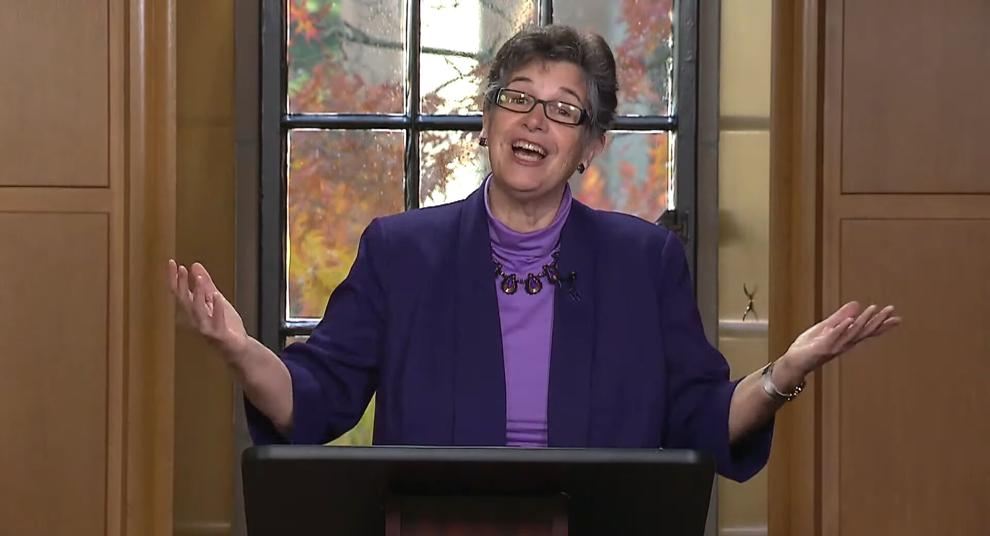 UW President Ana Mari Cauce gave her annual address over livestream Tuesday, discussing pertinent topics like the university's response to the COVID-19 pandemic and campus safety, as well as praising the UW community's progress and resilience over the past year.
Interim Associate Vice President for Communications Jack Martin said the event was originally meant to be held in-person, but "staffing and operational considerations" forced the event to move to remote. 
Even though the previously determined location wǝɫǝbʔaltxʷ — the Intellectual House — was empty, student protestors from the Black Student Union still surrounded the building to protest for the abolition of UWPD.
Cauce opened the address by welcoming students and acknowledging the varied hardships faced by students and faculty throughout the pandemic, including feelings of isolation, issues with finding workspaces, struggles with internet access, and the loss of loved ones. Cauce also thanked those who "never went online," such as hospital workers, groundskeepers and maintenance staff, and HFS workers.
Despite adversity, Cauce continued, significant progress has been made in fighting the pandemic. 
"Anyone who wants to be on our campuses has easy, no-cost access to a vaccine," Cauce said, touting protection measures such as air filters, enhanced ventilation, and the availability of vaccines. "I'm proud to say that of the more than 50,000 students who have reported, 97% are fully vaccinated."
Cauce added that under Gov. Jay Inslee's mandate requiring all state employees be vaccinated or have an approved exemption, "more than 98% of UW personnel are now fully vaccinated," one of the highest rates in the country.
"[Those who have not yet complied] are on unpaid leave or have been dismissed," Cauce said. "But we very much hope that they will get vaccinated and remain or return to the UW." 
Cauce highlighted some of the research groups and partnerships that helped UW battle the coronavirus, including the Seattle Flu Study, the UW biology lab, and the Institute for Health Metrics and Evaluation. 
"In our hospital COVID wards, UW health care providers worked heroically to save every patient possible," Cauce said. "And when medicine could do nothing more, they held the hands of the ones who couldn't be saved." 
Cauce also praised instructors for their flexibility. 
"UW became the first major university in the nation to switch to remote learning over the course of a single weekend," Cauce said. "Our incredible faculty pivoted to teach remotely — faculty, instructors, and teaching assistants. The fact that our university continued to deliver on its core mission of serving students will forever be a credit to you."
Cauce also addressed campus safety and diversity, taking a moment to note that the shift to an online event did not indicate that she did not want to meet with student protestors, offering to meet with them at a later time. 
"We recognize that for many BIPoC members of the community, and for others as well, the sight of an armed officer may not make them feel better, may not make them feel safer," Cauce said. "So we're working with UWPD and others from around our campus to create solutions that maximize campus safety and a sense of security for everyone."
Cauce said the university was working to expand its unarmed responder program and to provide first responders with training in behavioral health and social work. 
The university is also going to expand other resources for students, Cauce said, with access to remote counseling around the clock. 
"Our staff includes counselors with fluency in six languages, because the language you work and learn in might not be the language that you use when you talk about more intimate concerns," Cauce said. 
Cauce reaffirmed her commitment to increasing diversity through the Race and Equity Initiative, which she launched in 2015. 
"Over the last five years we have increased underrepresented faculty by 27%, and we expect that when we tally this year's hiring numbers, that trend will not only continue, but accelerate," Cauce said.
Following her prepared remarks, Cauce answered questions submitted through an online form before and during the event. 
The first question Cauce took concerned UW's decision not to declare this quarter an extraordinary circumstances quarter, which would allow students to change their classes from a numerical grade to S/NS at any time.
"It is an extraordinary circumstances quarter,"Cauce said."We don't need to put a label on it, we all know it. I think what's at the heart of the request is a more lenient satisfactory/non-satisfactory policy." 
Cauce said that the Faculty Council on Academic Standards is "considering legislation" to allow students to switch to S/NS grading until the last day of the quarter, adding that both she and Provost Mark Richards "very much support this change."
Even as protestors thronged the wǝɫǝbʔaltxʷ — Intellectual House, Cauce reaffirmed her commitment to police reform, but said the total abolition of UWPD that the protestors called for was not on the table. 
"It's a fraught issue," Cauce said, "But I think that there is no question that on an urban campus like ours, in fact on every campus that I know of, there has to be access to some armed police. There's no question that we need reform. We need to look at the culture within our police departments. There's no question that we need work. I just think abolition is not the answer, but there is, I think, a good middle ground that we can get to — or maybe not even quite at the middle."
Questions were also raised as to a perceived lack of institutional support and guidance from the university on remote learning policies, leaving professors to decide for themselves whether classes should be held in-person or remotely, as well as developing a protocol for doing so, potentially impacting students at high risk of contracting coronavirus. 
"I feel very strongly that we have to trust their decisions on what is the best way to teach the classes," Cauce said. "Some are doing hybrid instructions; others have decided that that isn't the best thing for the class. The truth is that those resources are available, but as we talked about earlier, there are real issues with labor shortages and getting people who can do that."
Cauce also addressed long wait times and limited availability for services provided by student employees. 
"There is no question [that] this is an issue, not just at the UW, but at every university in every institution across the country," Cauce said, mentioning that many faculty, including administrators, are working double or even triple overtime.
The final question Cauce took was about mask mandates, their effectiveness, and when they might be lifted.
"The first thing that I can say is the mask mandates are working," Cauce said. "I mean we are absolutely doing great at our university, and the mask mandate is a huge part of it. I think we should stick with them until we really feel we're in a very different phase than we are now."
Reach News Editor Matthew Hipolito at news@dailyuw.com. Twitter: @hipolmat
Like what you're reading? Support high-quality student journalism by donatinghere.