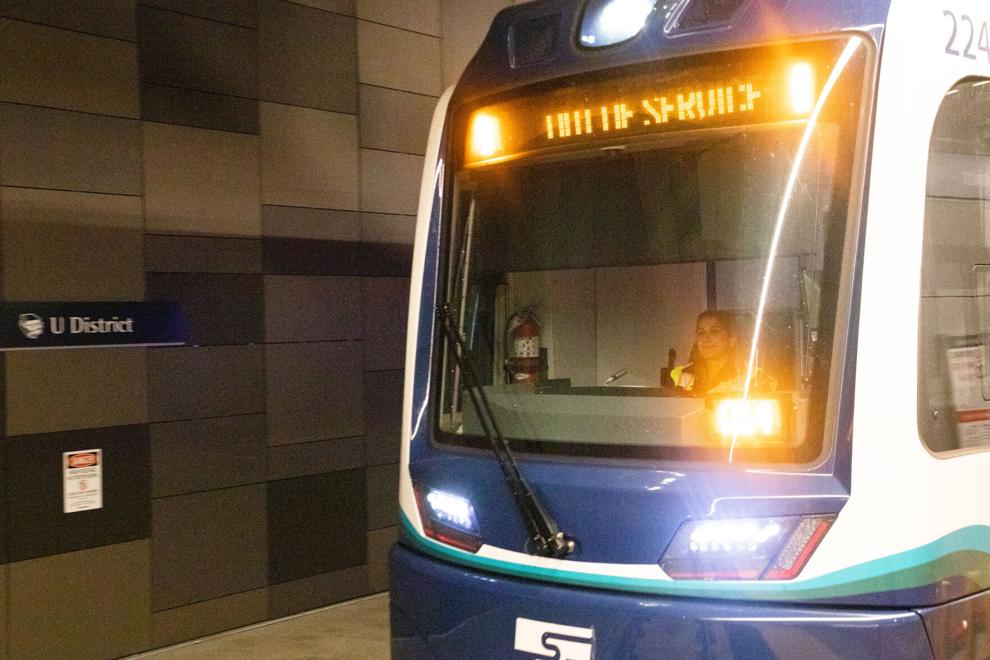 Thousands of students and community members flocked to the opening ceremony of the long-awaited U District light rail station Saturday, Oct. 2. The celebration featured a food walk of U-District businesses, live music and entertainment, and remarks from community leaders.
King County Executive Dow Constantine, recalling his time at the UW, emphasized the opportunities the new station will provide for current and future students.
"I think of all the times that I had to apologize for getting stuck in traffic, all the times that I got a ticket, all the times I got towed, all that time that could have been saved if somebody before me would've built this damn thing," Constantine said. "But it's here now. So you will always now be able to get to work on time, you will always now be able to get to class on time ... we're delivering opportunity. We're building a future that we've been promised for a very long time."
With the new stations open, commuters can travel from the U-District to Northgate in under 10 minutes, according to Sound Transit projections. The U District station, located just off the Ave, is closer to most on-campus academic buildings and residence halls than the UW station near Husky Stadium, which opened in 2016.
"A really healthy urban environment is all about connections," UW President Ana Mari Cauce said. "[The new station] opens up Seattle for our students ... this really opens up the city to the university as well, not to mention all our faculty, students, and staff and how much easier the commute is going to be."
Using the U-PASS, all current UW students can ride free from the new stations with their Husky Cards.
"I was really excited for it to open because I work downtown, so this makes it really easy for me to commute," UW third-year Taylor Ross said. "[I'm] hoping it'll bring more foot traffic to the Ave and make the whole area a bit more safe."
UW first-year Jessica Mendoza was excited to see the Ave full of life during the opening celebration.
"I really enjoy seeing a lot of people here. It's really nice to finally be around others and be able to dance," Mendoza said. "I'm excited to explore."
As students and community members return to in-person activity, Constantine said he hopes the new station will be an economic boon for U-District businesses, which struggled economically amid the COVID-19 pandemic.
"For businesses, it really means opening up new customers and new communities, and it brings this remarkable business district within the range of so many more people," Constantine said. "This is going to be a renaissance for the University District as a business district." 
Seattle Mayor Jenny Durkan echoed similar sentiments.
"Good transit is equity, it's opportunity, and it's the best formula we have for strong recovery," Durkan said.
The station openings conclude nearly a decade of construction and fall within a series of system expansions slated to open within the next few years. More stations extending to Mercer Island and the Bellevue area are planned to open 2023, and service to Lynnwood is expected in 2024.
Reach News Editors Annie Denton and Matthew Hipolito at news@dailyuw.com. Twitter: @anniesdenton @hipolmat
Like what you're reading? Support high-quality student journalism by donating here.