"What would a medical library look like 20-25 years from now?" Tania Bardyn, director of the Health Sciences Library, asked. "Will it have stacks? Probably not. Do researchers find it of value? They do, because frankly, it's a data space and a place for driving innovation and discovery."
The UW Translational Research and Information Lab (TRAIL) finished construction about a year ago and is now making new technology services for health sciences team meetings. This includes a floor to ceiling monitoring screen, Research Electronic Data Capture (REDCap) technical training, and stereoscopic headsets for virtual reality and augmented reality (VR/AR).  
"A researcher can see all the devices and services we have available," Bardyn said. "They can reserve the space and then a concierge can help them familiarize themselves with the equipment. We are asking people to be translational in their approach, to push their knowledge of their techniques to their clients."
After recently receiving a $25,000 grant from the Institute of Museum and Library Services (IMLS), the project seems to be gaining even more steam. The grant will help provide spaces for numerous medical simulation startups to continue pushing their health education VR softwares into the future.
"I surveyed over 140 academic health sciences libraries in May 2017 to investigate the current state of VR studios and VR uses," Bardyn said. "We wanted to understand which libraries are thinking about developing VR studios."
They found that seven other university libraries have a VR lab or are in the process of building one. After submitting their detailed final project proposal, Bardyn and her colleagues are continuing development of TRAIL's available services and writing a primer to help other libraries build a successful VR environment.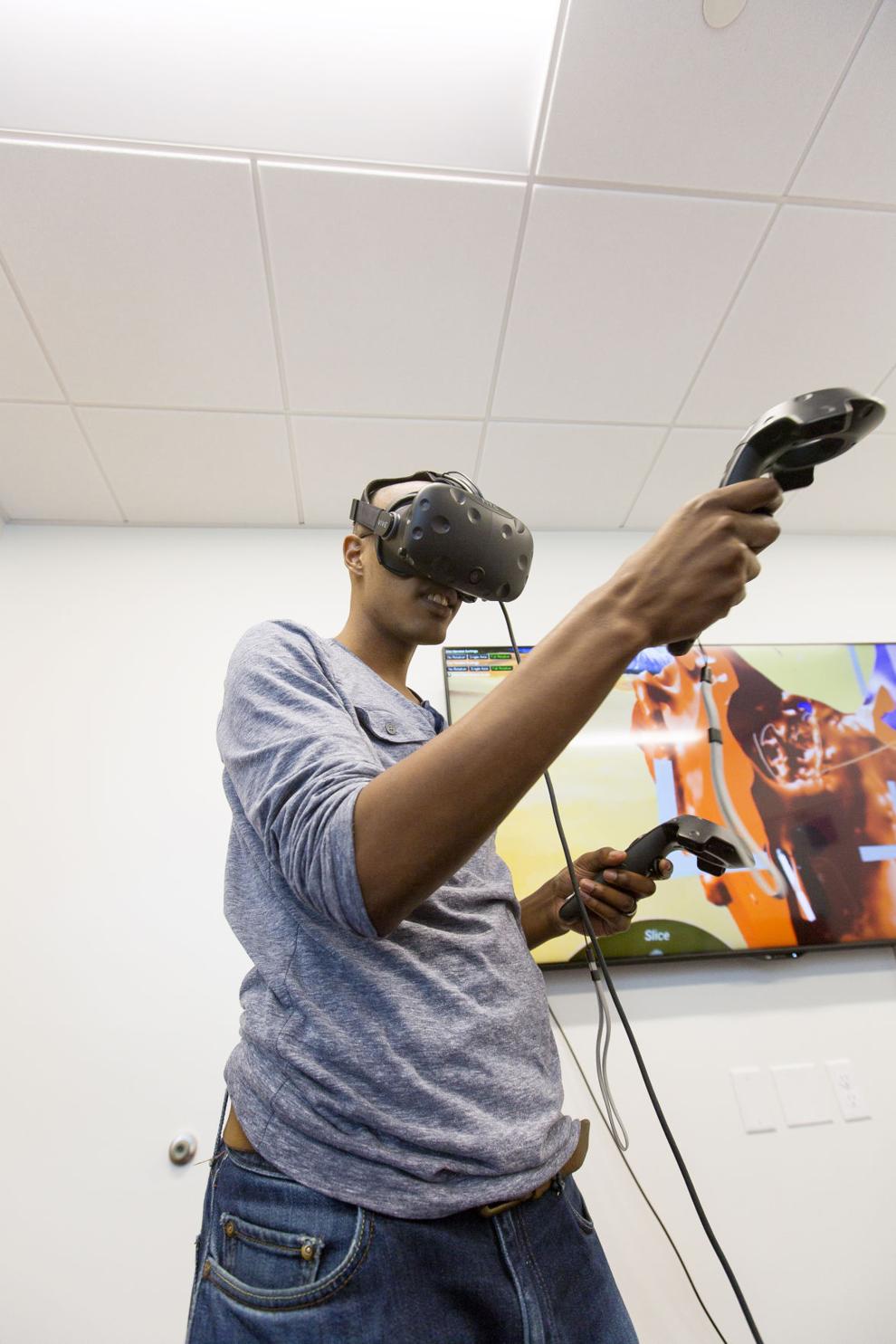 In the meantime, the TRAIL space is already helping physicians and researchers. Using medical simulation startup Pear Medical's VR software "Bosc," physicians can use the space to prepare for cardiac surgery. Looking at a three-dimensional representation of a patient's heart, surgeons and other healthcare professionals can prepare for a complex procedure in a safe, interactive environment. 
"With an MRI scan, the doctors take a patient's body and look at cross section slices of it," Ryan James, chief technology officer at Pear Medical, said. "What happens today is that if you have an issue, the doctors scroll through, and then mentally reconstruct your anatomy from these images. Doctors often go into surgery with a Plan A, a Plan B, and a Plan C, because current methods don't always give them enough information. But with new VR software like 'Bosc,' we can visualize a model of the anatomy, zoom in on it, draw on it, pull it apart, and slice into it." 
When asked on his thoughts about the TRAIL space, James thought it was an important step for VR technology as a whole.
"They are lowering the barrier to entry for using VR," James said about the TRAIL space. "People don't have to crack open their piggy bank to start changing the world. A space where people have the freedom to explore and create is essential. I think the most important thing to do today is research, so that we can figure out the best ways, and the worst ways, to use this technology."
Reach reporter Michael Blume at science@dailyuw.com. Twitter: @mcb18_blume