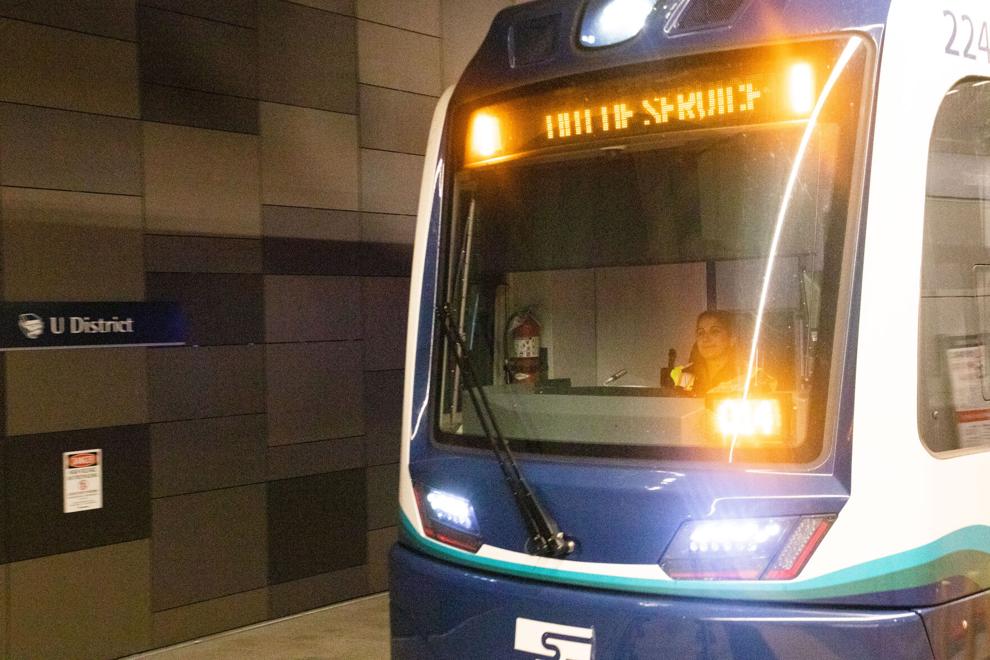 The Seattle link light rail, like most — if not all — public transportation systems, has experienced closures and delays. However, the light rail shutdown that occurred shortly after the end of the Apple Cup was different in nature due to the accident that caused it.
In a statement released by Sound Transit public information officer John Gallagher, the train traveling between the UW and U District Link stations was shut down due to a severed electronic cable between the first car and the following three cars. The absence of this cable prevented communication between the operator and the train's passengers, resulting in mass confusion for those on board.
An accident of this scale has never occurred before. According to Gallagher, an investigation into the incident is currently being conducted by Sound Transit chief safety officer David Wright. Gallagher said that Sound Transit hopes to report their findings in about 30 days and is looking into improving their communication systems and evacuation procedures across all departments.
"This was an unprecedented event for Sound Transit; we've never had a severed train line before," Gallagher said. "This was not up to our standard of passenger care [and] we are fortunate that no passengers were injured, as safety is a top priority for us."
As soon as the train's cable was damaged, Gallagher said all communication was cut off and the lights inside the cars went out, leaving only the tunnel lights to illuminate the area. Without any instruction or briefing from the operator, passengers used the train's emergency exits to self-evacuate on their own accord. 
In the event of a disabled train, passengers are safest remaining aboard the train, according to Gallagher. He said that tunnels present the potential for further danger, and that going forward, Sound Transit's goal will be to keep passengers informed of safety procedures in a timely manner.
Gallagher also said that Sound Transit was immediately aware of the situation as it occurred, instituting safety protocols and sending a rescue train in order to aid those stranded by the incident. A lack of instruction resulted in some passengers navigating their own way through the tunnels, with some walking back toward UW station, he said, adding that the disabled train was later towed, and all trains behind were stalled until this could be accomplished. 
Fourth-year student Audrey Vida, a passenger at the time of the shutdown, said that other passengers were annoyed at the lack of communication. After searching online for any updates from Sound Transit and finding none, she said that passengers became divided over how best to handle the situation. 
She said passengers were "on edge," especially without any idea of how long they would be stuck in the tunnel. While they were eventually led through the tunnels toward the rescue train, some passengers exited and walked north in order to avoid waiting any longer. 
"Without any announcement, it was kind of a free-for-all," Vida said. "I would've been more understanding if I had known what happened."
Vida said that announcements over an intercom system or real-time online updates would've been good solutions to keep passengers informed and alleviate their stress.
Another passenger and third-year UW student Sydney Floth, echoed Vida's frustrations about a lack of information. However, Floth said that she was a frequent user of the light rail and was more forgiving of the situation.
"I've been stuck on the light rail before due to congestion at different stations, but I still rely on it for transportation around the city," Floth said. "I guess it's just the reality of public transport — things will go awry."
Floth also said that backup power of some kind in order to keep air circulation in the train and to restore communication with the train operator would be useful in the future.
Gallagher said communication with riders would be improved going forward, and that safety procedures will be made clearer in order to prevent confusion of this degree from happening again.
"We're conducting a very thorough investigation, not only looking at the cause [of the accident], but also looking at our performance across departments including communications, operations, and passenger experience to determine what went wrong to make sure it won't happen again," Gallagher said. "We have a lot of lessons to learn here so we can take care of our passengers, and we're really dedicated to do[ing] that going forward."
Reach contributing writer Michael Munoz at news@dailyuw.com. Twitter: @MikeyOMunoz
Like what you're reading? Support high-quality student journalism by donating here.