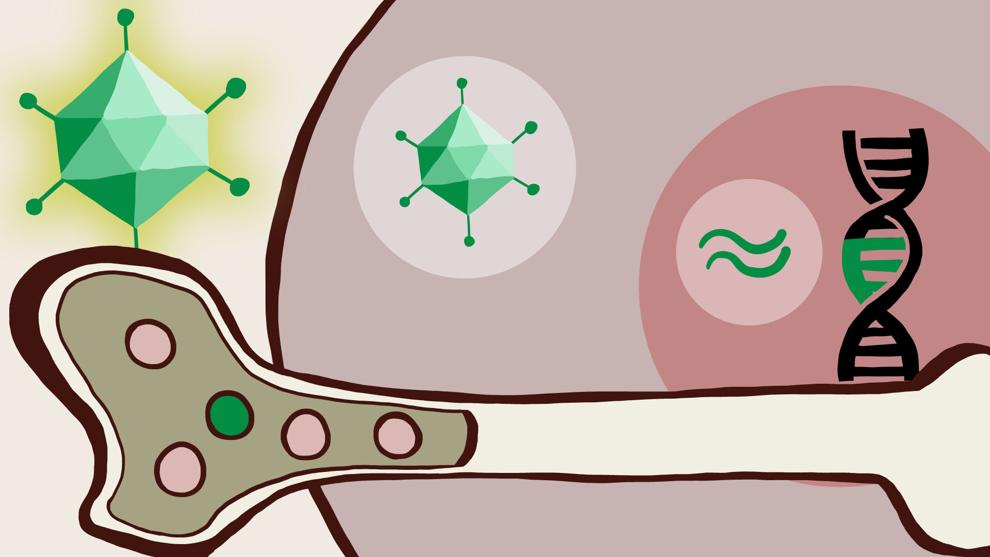 In a single injection, HIV and hemoglobinopathy blood disorders could soon be cured without the dangerous, expensive, and time consuming treatments like bone marrow transplants and chemotherapy which are only available to a small portion of the millions of people who need treatment worldwide. 
This highly accessible treatment is the vision of Ensoma, the Boston-based company developing injectable gene therapies, which launched earlier this February with $70 million in funding. 
Dr. Hans-Peter Kiem, a physician scientist and professor at Fred Hutch and UW Medicine, and Dr. André Lieber, a professor of medical genetics at UW Medicine, are the scientific co-founders of Ensoma.
"These genomic medicines, gene therapies, they hold so much promise now that we've identified so many genes, and the genome editing technology has advanced so much," Kiem said. "Now the question is really, how can we deliver it safely to as many patients as possible?"
In Kiem's January 2020 TEDx Talk, he highlighted the need for a new, more accessible approach. In 2019, an approximate 38 million people worldwide had HIV or AIDS, and 67% of those people took drugs to keep the virus in check, leaving 12.6 million people without treatment, heavily impacting low- and middle-income countries, particularly in parts of Africa.
Through gene editing technologies, cells can be changed to become immune to diseases. For example, a mutation can be added to disrupt the protein that the HIV virus uses to infect cells. By targeting stem cells with this gene editing, all the cells that arise from those stem cells will also be granted immunity. It's even possible to insert instructions to cells to find and destroy HIV infected cells to eradicate the virus in the body. This same concept can be applied to treat a wide range of diseases in hematology and oncology.
What makes Ensoma's approach unique is editing genes via injection into the patient, circumventing the need to edit cells outside of the body in specialized gene therapy facilities. 
"We use a cold virus, the adenovirus, but really totally gut it," Kiem said. "Take out all the coding genes for adenovirus, so you're just left with a shell." 
This harmless, empty viral shell can then be filled with gene editing tools and instructions to install resistance, whether it be against HIV, sickle cell disease, or other hemoglobinopathies. 
"It's like a Trojan horse we use to bring the gene editing technology directly into the patient to the cells," Kiem said.
According to Kiem, preclinical studies of this approach have been very promising and work is being done to ensure the safety of this therapy and improve specificity of cell targeting.
"But then the idea is really, as I discussed it in the TED talk, we could then generate a cryovial, and really ship it around the world, thaw it at the bedside, and inject it," Kiem said. "That's kind of the vision we have for this approach."
The creation of Ensoma allows industry support to speed the development of the expensive and resource intensive clinical trials needed to transfer findings into the clinic.
"We're very happy we're able to develop this here in the Seattle community, and hopefully this technology will reach far, and reach the resource limited settings for which we've planned this therapy," Kiem said. "We are very excited. This is clearly a paradigm shifting approach, going from this ex vivo to in vivo, and we are very excited to make this work."
Reach reporter Alvin Luk at news@dailyuw.com. Twitter: @AlvinLuk5
Like what you're reading? Support high-quality student journalism by donating here.