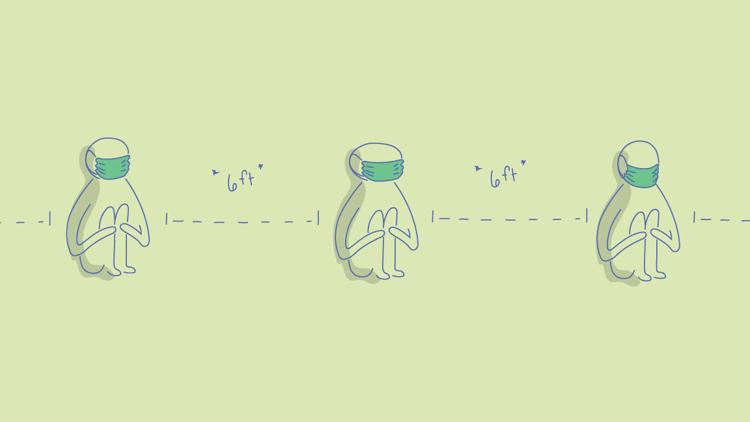 There is one emotion I have been feeling most consistently since March — guilt.
I feel guilty for feeling lonely, even though I know that feeling resonates with many people who are following the guidelines of limiting social interaction as well. 
I feel guilty for being a little sad to have missed the end of high school, even though I didn't particularly like it that much. 
I feel guilty for wasting those first few months of quarantine that were seemingly some kind of unique period of learning and personal growth for everyone else — meanwhile, my guitar is still sitting in the corner and I'm still a horrible baker.
I feel guilty for only being able to watch as others got sick, became unemployed, and persevered through situations far more trying than mine.
I think that the reason I feel this guilt is due to a concept known as comparative suffering. Comparative suffering is the act of minimizing your own feelings after observing that others have endured challenges that are comparatively worse. Internally, the act of comparative suffering seems reasonable, but in reality it serves no one and often results in feelings of guilt and the invalidation of one's own emotions, rather than providing perspective. 
"If you [had] asked me back in March, I probably would've said I would've gotten more pessimistic," Ella Chuang, a first-year student,said. "But, for some reason, I've become more optimistic just because there is no more pessimism. The last thing people want right now is to hear about how much life sucks."
Other students, like Anneliese Hasenbalg, have felt the opposite and describe themselves as feeling more jaded than ever before. 
"I'm an environmental studies major, just for the record," Hasenbalg said. "I want to save the planet. I would like us to stop destroying it. I have no faith in humanity now. Like, absolutely nothing because of the fact that people feel so inconvenienced by being asked to wear a mask."
I've noticed that many people, at some point, have expressed feeling like their emotions were invalid. They have identified with the same guilt I described earlier, even if the initial emotions are different. 
"In comparison to [some] people, [I] definitely have it a lot better, so I definitely feel like some of my struggles are semi-invalid," Hasenbalg said. "I feel invalid, but I still feel this way, if that makes sense."
Iris Song, a psychologist at the UW Counseling Center, describes emotions — guilt included — as cyclical, temporary responses.
"I like sharing with students that emotions sort of have a life cycle," Song said. "They're not there permanently … [and] at the very peak, it can be very intense, whether it's joy or whether it's anger or whether it's sadness. But, then, after some time it sort of falls, and the person is back to their baseline or neutral level of functioning."
Song emphasized the importance of allowing yourself to experience these emotions and the importance of speaking about them with others if necessary. 
"I think, when it comes to guilt and any of the other more painful emotions, if they don't get attended to [then] they can fester a little bit," Song said. "Maybe that leads to withdrawal or isolation… [It] can lead to sort of symptoms of anxiety if we don't kind of attend to [our] feelings in appropriate ways."
I'm starting to think that the guilt that I've been feeling, regarding the idea of comparative suffering, is useless. The shame spiral is useless, because unhappiness and loneliness are not emotions that need to be justified. However, perspective is useful, and the acknowledgement of privilege is necessary. 
Anger, in particular, can feel useless because there's no one to direct it at besides Republicans and the world, and neither of them are going to do anything about it. However, emotions without direction may be the most important ones to acknowledge, because they are valid and they can weigh on you. You don't want your anger to fester. Whether it's grief or anger for the normalcy that we've lost to this pandemic — it turns out that, a lot of the time, we're not alone in our feelings. 
In an uncharacteristic lapse of my usual pessimism, the concepts of emotional life cycles and experiencing emotions together make me feel hopeful. Nothing — not sadness, anger, disillusionment, guilt, or even the coronavirus itself — is going to last forever. But for however long they do last, we don't have to go through them alone. 
Reach contributing writer Michele Rubinstein at opinion@dailyuw.com. Twitter: @michelehalleru
Like what you're reading? Support high quality journalism by donating here.