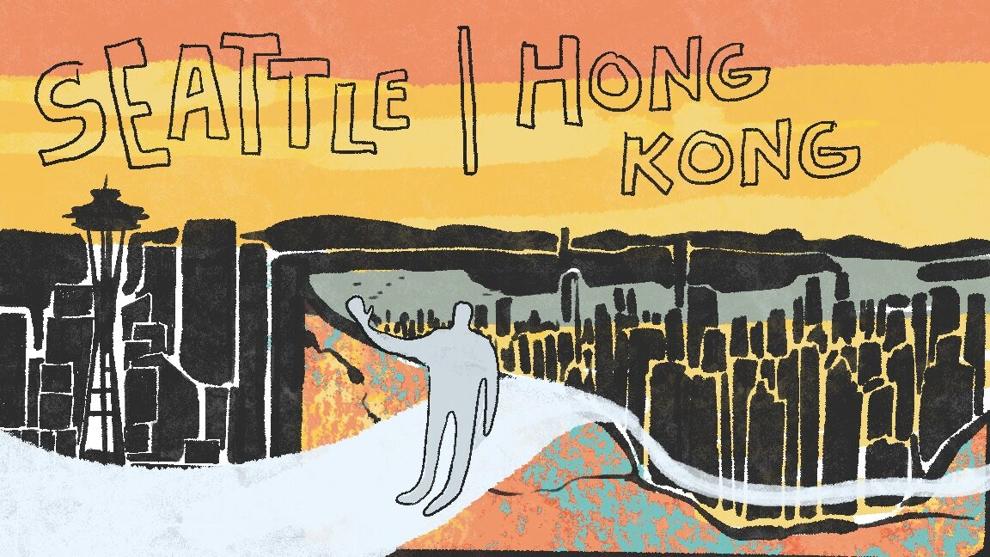 Hong Kong is the democratic and liberal stronghold of China, and Seattle is the face of liberalism in Washington state. Both cities are inhabited by people who are in constant challenge against the status quo. As they are fueled by the same motivations and principles, it was easy for me to draw similarities between Hong Kongers and Seattleites in preparation for my move to the United States.
I anticipated the move from Hong Kong to be a seamless transition, and I was excited at the prospect of finding liberal solidarity in Seattle. Instead, I found myself overwhelmed and surprised by the political culture
According to a recent Nielsen survey, 10.7% of Seattle's population identifies as LGBTQIA+. This statistic reflects the stark differences in how the LGBTQIA+ community is treated in Hong Kong versus in Seattle. In contrast, according to a survey conducted by the Chinese University of Hong Kong, only 1.0% of the male participants and 0.4% of the female participants self-reported as gay men or lesbians, respectively. This further elaborates the lack of inclusion of Hong Kong.
However, this isn't to say that Seattle is a haven for the LGBTQIA+ community. Stigma still persists, and many LGBTQIA+ communities continue to be marginalized; they may also be confined into pockets of communities, such as Capitol Hill, across the city.
Regardless, Hong Kong could seek value in becoming more inclusive.
"I feel like there are more inclusions in Seattle than compared to Hong Kong," Zoe Chang, a third-year international student from Hong Kong, said. "People still have some stigma toward LGBTQIA+ people in Hong Kong."
The stigma lies predominantly among the older population of Hong Kong and is reflected in the continued prohibition of same-sex marriage in the city. Although the younger generation is more accepting, the cultural stigma still persists. Unfortunately, this lack of action, along with the tightening of China's grip over Hong Kong's sovereignty, has thwarted progress toward LGBTQIA+ inclusivity.
This means that inclusive pronouns can come as a surprise and a struggle for students moving from Hong Kong. This was definitely a facet of Seattle's inclusivity that I had trouble grasping — it only took me two weeks before I misused a fellow student's pronouns. 
"I don't think HK people have that much awareness of different pronouns," Chang said. "We don't have specific pronouns for different boys and girls." 
Like many other languages, Cantonese does not use gendered pronouns. For international students who have been learning English as a second language, inclusive pronouns were likely not taught in their English grammar classes in high school. Thus, they have trouble familiarizing themselves with the concept of using non-traditional pronouns. But choosing to study in Seattle means respecting the inclusive culture that Seattleites have cultivated. 
It has become very apparent to me that Republicans are not the most popular people in Seattle. This is not one bit surprising. According to the Associated Press, 75.45% of voters in King County, which houses Seattle, voted for Joe Biden during the 2020 presidential election. 
What surprised me, instead, was the close association between the American flag and Republicans — particularly those who used the American flag to represent a radical ideology that led to a siege on the Capitol. Through this association, the image of the American flag became vilified by millions of people.
Across the globe, however, protestors in Hong Kong raised the American flag high and proud in solidarity with democracy and liberty. People in Seattle are afraid of hanging it up out of fear of being portrayed as a Republican, ashamed of the flag and what it represents. 
I believe that contemporary politics cannot be detached from the ideology that a flag represents. Although the American flag represents the values of life, liberty, and pursuit of happiness, it is important to recognize the controversy and malice that follows it.
Should Hong Kong protestors idolize the American flag even if people in Seattle are ashamed of it? 
Should Hong Kong protestors use the American flag as a symbol of democracy and liberty, and are they able to do so without inheriting the conservative radicalism that comes with that flag?
It seems that my intention of searching for liberal solidarity in Seattle has left me with more questions than I came with. 
Reach contributing writer Max Cheung at opinion@dailyuw.com. Twitter: @maxtszc
Like what you're reading? Support high-quality student journalism by donating here.