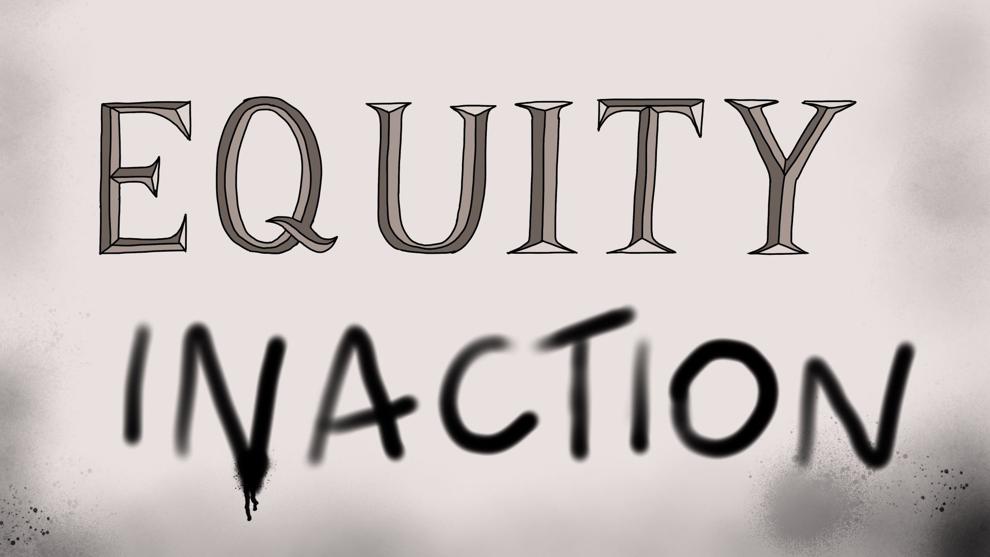 Editor's Note: Living in today's world as a queer person of color has made it clear that spaces are dominated by and fundamentally for white folks. In an effort to reclaim power and uplift marginalized communities, this column acts as a step to holding institutions of power like the UW accountable. 
At the beginning of Black History Month, on February 3, a racist-printed label was placed on a Daily newspaper stand in front of the School of Law. The message read: "WHITE LIVES MATTER MORE THAN 'ANTI-RACISM.' TRUST NO NEGRO."
The Black Law Student Association made a public statement on Facebook pushing for the School of Law to take action. 
"It is imperative that UW Law investigate the origin of this message and respond publicly to reassure students that this behavior is unacceptable," the statement read. 
Existing as a black student on campus comes with various levels of barriers, and this instance of blatant racism adds on to the complex experiences of this community on campus. 
"It makes me feel a little uneasy and makes me want to be more aware of my surroundings while walking around campus," Marlisa Hall, a junior studying public health, said. "There may be people I sit next to in class or walk by during passing period that don't physically want people who look like me to be attending the University of Washington."
As people of color living in the era of neo-nazis in Charlottesville and racism from elected officials such as Donald Trump, we're conditioned to always be cognizant of our identities in spaces we enter. This is especially true in predominantly white spaces, like the UW.
"First hearing about the incident I honestly was speechless because I had never seen such blatant racism and it left me feeling disgusted," Kenneth Curry, a freshman studying education, community, and organization, said. "As a black student on this campus, it is definitely disappointing to hear such things being said. People say that UW is a safe space for black/African Americans, but this shows that there really is no guarantee."
This situation also highlights how important conversations regarding racism are at the UW and in Seattle, both of which are perceived as progressive and safe for communities of color. 
A lot of people believe we live in a racism-free society, however, that is not the case, and black students on campus can speak to that point.
"Racism is so systemic and deep in America that it is not something that just can 'no longer exist,'" Curry said. "The fact that in 2020 people referred to us as negroes says a lot. That was a term used in the past casually to dehumanize us and seeing it used now is sad, especially during Black History Month."
Hall agrees, stating that this situation serves as a reminder to us all on the work we still have to do to combat racism in our society. 
"Although UW promotes diversity, it is important to acknowledge that different issues affect different populations of students more than others," Hall said. "For those who say racism no longer exists need to continue to open their eyes and look at this situation as a reminder that in 2020 we still have a long way to go in fighting racism."
Hall, who is a member of the Black sorority Alpha Kappa Alpha, brought up how the Black community on campus has constantly been the initiator for accountability for the UW.
"The handling of this situation is not new to black students on campus," Hall said. "Black students in the past have had to write to University officials to get them to take action. We shouldn't have to be writing letters to University officials to bring issues to their attention on campus. University officials should be well aware of issues affecting all students attending the University and respond in a timely manner to show respect to those students most affected by the issue."
The School of Law responded to the situation with an official statement after much student outrage. 
"We, of course, condemn strongly expressions of hate as antithetical to UW Law's and the University's values. We acknowledge the impact hateful messages have on our community, especially our students of color," the statement read. 
However, the statement felt reactionary and not preventative. 
Students were encouraged to "... contact the UWPD and Dean Endter to remove [racist propaganda]" if found. This is tricky as many people in communities of color, especially in the Black community, don't feel safe reaching out to law enforcement. 
This situation is a reminder of the discriminatory experiences black folks have to face on campus and in our society. There is still so much more work the UW, and we all as allies, can do to alleviate the concerns of this community in the face of racism. 
Reach columnist Andre Lawes Menchavez at opinion@dailyuw.com. Twitter: @itsjustdrey
Like what you're reading? Support high-quality student journalism by donating here.