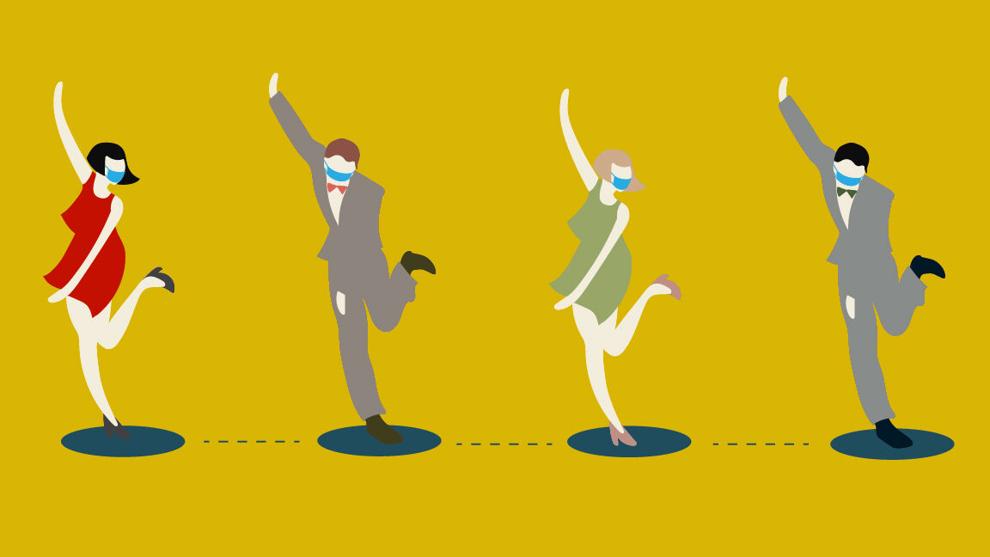 Believe it or not, I remember a time not too long ago when this whole COVID-19 thing didn't exist –– licking stale Natty Lights off of poorly washed pong tables, sharing bites of greasy Center Table pizza, and inhaling the stench of the IMA with an unfiltered nostril. 
I also remember spontaneously going to the Seattle Center late at night with some of my closest friends, dancing the night away at another frat party, and nervously looking for my rudely assigned group at Ode to cram in a project we should have definitely started two weeks before.
Like many others, I find myself reflecting on the positive memories –– and a few questionable choices –– before this pandemic, and I keep forgetting to ask the question we should all be asking: When this ends, where do we go from here?
I believe our generation will be impacted the most by the repercussions of this pandemic, on multiple fronts. Yes, medically speaking, we will probably wear masks more often and need to stay up-to-date with vaccinations, but the social impacts need to be considered as well. 
Kunteang Som Haskins, a first-generation Master of Public Health student at the UW, is focused primarily on community-oriented public health –– work that resonates deeply with efforts to address societal impacts of the pandemic. 
Haskins' work looks at the present and future healing aspects of communities.
"We're trying to create spaces where elders can connect with young people and young people can connect with elders in a way that feels very authentic and loving and kind," Haskins said. "Like engaging in cooking classes together, so that they can share our traditions with us and start to continue to build those relationships that are really disconnected."
Haskins argued that through community-building activities like these, we can truly begin to heal and open up about our eventual trauma spawning out of this intense period.
For the most part, I agree with Haskins. Once the virus is under control and we as a generation begin to accept the new normal, we will need to rebuild and heal our communities. 
Whether it's your fraternity or sorority, your dorm floor, your RSO, or just your rag-tag group of friends –– we will all need time to process and understand the chaos of the past few years.
"I think that COVID is going to have significant lasting impacts on the combined community and the greater global community at large," Haskins said. 
Haskins, who works with and studies Cambodian refugees, pointed to the effects of the Cambodian genocide and its lasting psychological impact. 
"We experience a lot of intergenerational or transgenerational trauma," Haskins said. "If someone is experiencing a traumatic event, whatever that event might be, there are physiological processes that are happening in our body, so, you know, your fight-or-flight is activated and all the stress hormones are released. And while that is episodic … there is a long-lasting impact."
Ultimately, with this new viewpoint, I see two distinct pathways: one in which we embrace our community and accept our collective trauma, and another in which we revert back to old ways.
While I constantly attempt to believe in the intelligence of my generation, they continually prove me wrong. Last weekend's snow and subsequent spontaneous alley party once again made me lose a bit more faith.
This more reckless approach will ultimately lead to our downfall as a social structure. Longer social-distancing mandates, additional waves of lockdowns, and harsher restrictions could all fall in line and last past the time of vaccination and total control of the virus. 
In short, it's a lose-lose situation for everyone.
While watching MAGA idiots cry would be thoroughly entertaining, I would appreciate being able to walk my dog on the beach without wearing a mask at some point in my lifetime. This is why our social approach to the virus, after a potential containment or total population immunity, is incredibly crucial. If we rush into returning to the old normal, it will ultimately reverse all the progress we seemingly made up to this point –– and affect everything when it is safe to emerge. 
There's a current movement on Twitter and TikTok to make this decade our own roaring '20s, and while I love the concept, I cannot advocate for it. 
We can't party without recognizing the lives lost, and especially without economic assistance. Without economic assistance, there is no economic stimulus, and without positive stimulus, there is no economy. If we do not receive assistance soon, we could come out of this in horrible shape. 
This all paints a terrifying, dystopian view of what could happen to our generation, but I want to urge that this could all be different.
While it occasionally wavers and diminishes, I still have a spark of faith in us, and I often see a brighter path. With a community-oriented healing approach like Haskins', our post-COVID-19 generation could be more resilient and inclusive than ever before. 
In addition, if the government wises up, includes college-aged dependents on the next round of stimulus checks, and listens to our demands regarding social justice issues, climate, and equity, we may be one step closer to creating a better, more suitable lifestyle for generations, and our own.
So, while we may need time to recover and process, I believe in this generation. We may have regrettably zambonied a few too many times and hooked up with people who don't clean under their fingernails in our past, but at least we learned from those experiences. 
I am certain that we will learn from this experience, whether or not that lesson is positive. When we are ready to tell our individual stories, I know that we, as a community, will be willing to listen and grow together. 
Until then, I'll be sitting here, watching the snow melt, and hoping for the best  out of this generation. Good luck, us. I know we'll be needing it.
Reach writer Jacob Renn at opinion@dailyuw.com. Twitter: @jakemrenn
Like what you're reading? Support high-quality student journalism by donating here.