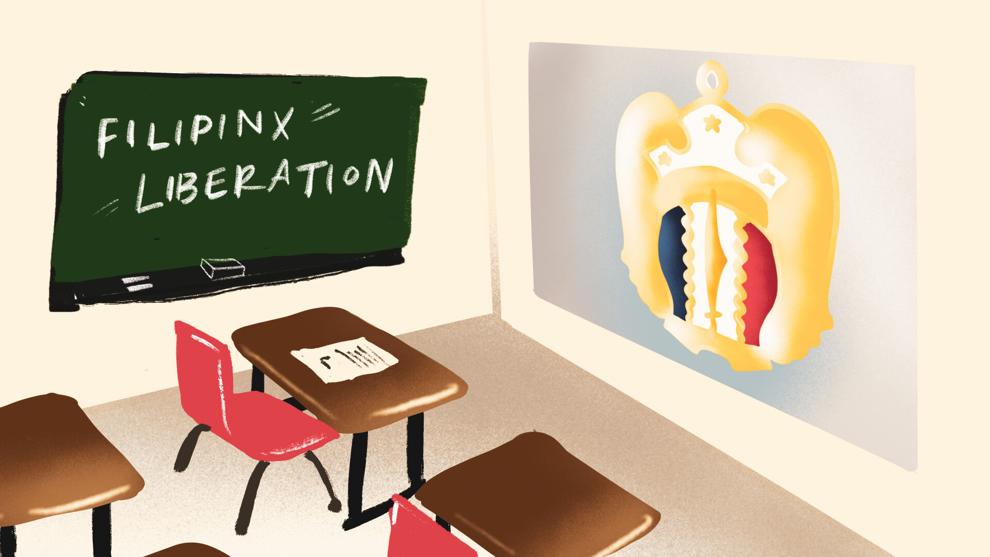 Last year I took JSIS A 205, Filipino Histories, and for the first time in my life I was taught by a Filipinx professor. Professor Vicente L. Rafael had his students explore the early histories of the Philippines, allowing the Filipinx American students in the classroom to apply lessons from the deep histories of war and colonialism to our modern-day lives.
One lesson in particular was about early Indigenous peoples, who still exist today, called the Babaylans. The Babaylans are Indigenous healers and spirit guides made up of women and a subset of feminine men, often called Asogs, who were outcast by society for their non-conformity. Learning about these peoples in an educational setting ignited something new within me. As a Filipinx and Indigenous queer body in this white-dominated country, I resonated with these stories of resilience amid ostracization for your identity.
This specific moment exemplifies the impact that learning your history has on your liberation. After 19 years of living with the shackles of white supremacy and the pressure to conform to whiteness forced upon me my whole life, reading about my history gave me a release of tension ­­–– the shackles began to come undone.
As a Filipinx American, especially this month during Filipinx American History Month, I am inspired by the power education has in empowering members of my community to embrace their culture, dismantle the colonial mentality, and inspire to fight for the collective liberation of all marginalized communities in this country.
"It's about cultivating critical pedagogy, and hoping that students in the classroom will want to do the same thing in their own capacity," Rafael, a professor in the UW's history department and the instructor of my JSIS A 205 course, said. "My teaching [of Filipino histories] moves toward reconnecting Filipino Americans to a past that they've never experienced, to stimulate in their minds the fact that these things that happened in the past are very much present."
Learning about the erased and eradicated oppressive histories of the Philippines became an inspiration for me to pursue more activism work. The truth is that genuine Filipinx American liberation cannot exist without collective liberation for all, and assessing how people in my community have been displaced for decades has made me want to fight for it even more.
Rick Bonus, a Filipinx professor and department chair of the American ethnic studies department, spoke with me about how teaching Filipinx American stories is a way to encourage the community to think deeply about what this nation truly is.
"The United States established schools in the Philippines with a goal to make them forget the beauty of the Philippines and also devalue it, [to believe] that white culture is better," Bonus said. "[Filipinos] learn how to not like their own selves and aspire to be someone else. It is benevolent assimilation, making sure Filipinos desire something else: to like their colonizers, and not rebel."
This colonial mentality is very real for a lot of immigrant families beyond the Filipinx American community. Immigrants begin to erase the parts of themselves that don't fit into a Western mold of desirability, and thus teach their children the same. Especially when entering an educational system like the UW that's full of white folks, this mindset is harmful. That is why courses, and instructors like Rafael and Bonus, are crucial and speak to the need of more diverse faculty, staff, and course material.
"I'm trying to set conditions that allow people to decolonize their conditions," Rafael said. "What I will do is give students the tools and materials to begin the complex work of decolonization in ways that are relevant, appropriate, and fitting to their situation."
Professor Bonus reminded me that learning about the oppressive histories of Filipinx peoples in both the Philippines and the United States is about more than just our community, it's also about the larger conversations on what it means to colonize a country, to resist, and to be a non-white body on this soil.
"We forget that a lot of Filipinos did not just passively sit by," Bonus said. "We have a long history of resisting power: farm workers, soldiers at war, or even people like you and me."
I was able to take in what I was learning about my histories and use it as a way to fuel my anti-racist and decolonial work in this world. To finally be able to know I came from generations of resiliency, to feel seen and have a connection to my history — it is power. It is a power that I wouldn't have had without the ability to learn about my histories through education.
As Bonus said: "If you know the workings of how control happens, in this case through schooling, you can try to undo it."
Reach Opinion Editor Andre Lawes Menchavez at opinion@dailyuw.com. Twitter: @itsjustdrey
Like what you're reading? Support high-quality student journalism by donating here.