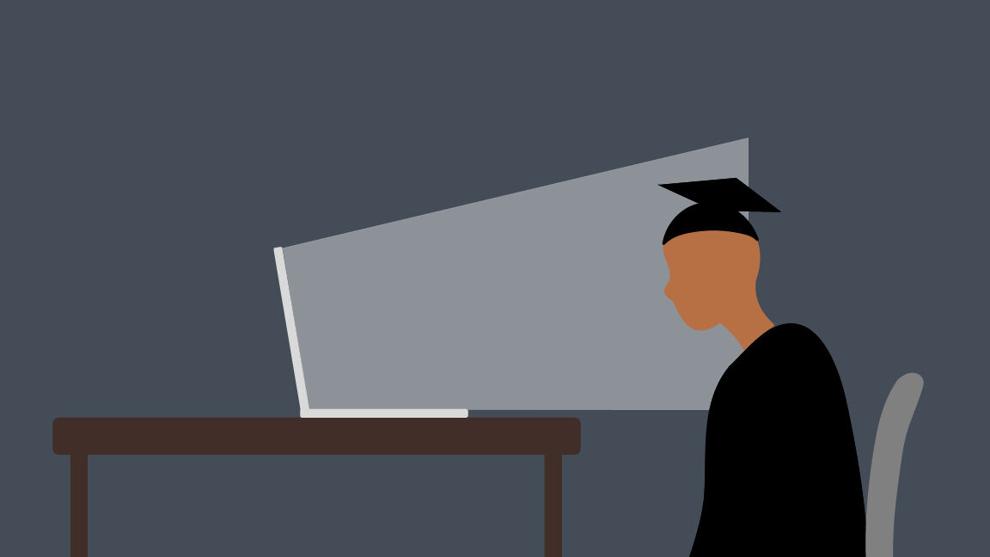 The last day I was ever on campus as a student was March 6, 2020. Looking back, I was so certain I was going to return to campus on April 24. Never would I have imagined that my laptop would become my classroom and my house would become my campus for the following year.
I am graduating at the end of the quarter. After three full years of classes — summer quarters included — and a partial final year, I have to admit that I am happy my time to be done with school for the foreseeable future is here. Although, it's not the way I would have wanted it to end.
And I don't think that it's the way that anyone would want to end their college experience. Before I left for college my freshman year, my mom left me with a final parting gift of advice as she tearily left me alone in my dorm room: "Your time in college will be the best years of your life; don't waste it." 
But was it time wasted? At first, the pandemic really made it feel that way. I have anxiety to begin with, and being trapped in my house only exasperated my anxious feelings. I couldn't figure out how to take classes on Zoom, and I wasn't able to have fun in the same way that I used to. 
It has been just over one year since the first case of coronavirus was detected in the United States, and I can confidently say that I am no longer holding a grudge against COVID-19. While I know there are a lot of things I missed out on, there's many things that I never would have done if society carried on as normal.
Because of the pandemic, I'm graduating a quarter early with two degrees — journalism and business administration with a focus in marketing — and I am damn proud of myself. I took a road trip down to California with some of my best friends and surprised my parents, something I never would have been able to accomplish. I got a hamster, and that sweet little girl is the best thing that ever happened to me. 
And even the experiences I knew would happen, and happened in a different way than I ever could have imagined, turned out to be incredibly memorable. My roommates and I transformed our rooms into local U-District bars so we could go "bar hopping" for our 21st birthdays within the comfort of our own home. I continued being an editor and a writer for The Daily, and even though I miss the newsroom, I am still so happy to be a part of the virtual newsroom team. 
The amount of lives lost in the United States alone show the detrimental effects that the pandemic has had on our nation, and because of that, I can admit that I have and will continue to happily reinvent what my life looks like in an effort to stop the spread of COVID-19. 
When my parents left me in my dorm in September 2017, I never could have envisioned that this is how I would be graduating. I miss truly feeling like a college student, trekking to campus everyday, coffee in hand, to go learn about the subjects I am passionate about. I will say though that my mom was right: My experience at the UW has been some of the best years of my life thus far, even if it wasn't what I imagined.
Reach Managing Editor Rachel Morgan at opinion@dailyuw.com. Twitter: @rclmorgan
Like what you're reading? Support high-quality student journalism by donating here.