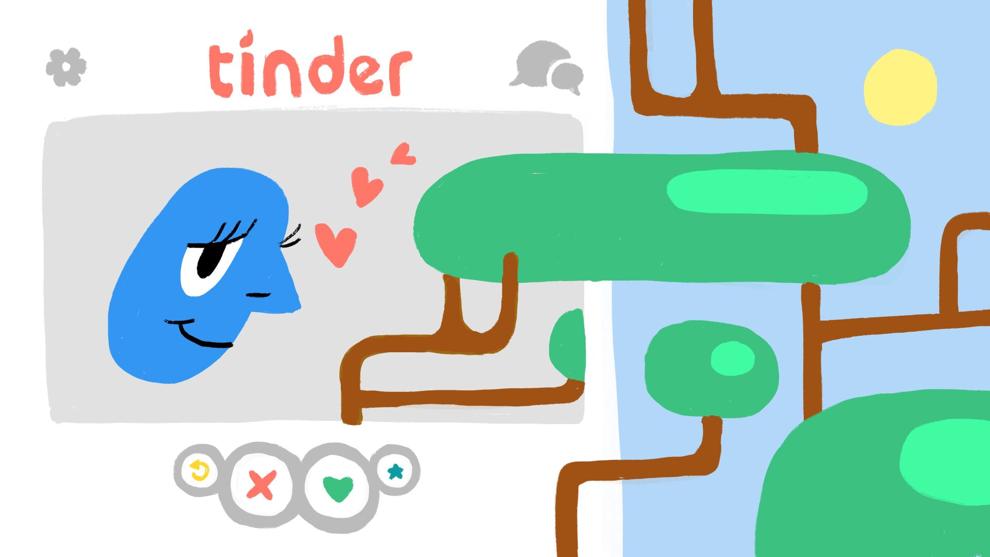 They say opposites attract. But I say: Do they? 
I have always perceived people who care about our planet as attractive because I myself care about this planet. 
When I first came to the UW, seeing all the color-coded trash cans with appropriate labels on them was my biggest turn-on. And why wouldn't it be? There is a very real attraction in seeing people making efforts for sustainability. 
Gen Z is all about being responsible, and I strongly believe that we are the generation with the capacity to create that change everyone has been talking about so much –– especially in the context of our environment. Most of us know how to resourcefully make use of technology to find the root cause of sustainability issues; we have the education to strategize this change and we also have unlimited platforms from which to spread our message.
There is one platform I want to talk about in particular — the dating platform. Something I've come to realize is that there is an opportunity to raise our voices on Tinder as well. 
I know we have a tendency to look for people with similar political interests on dating apps, but why not apply this same lens and look for people with similar environmental interests?
I believe in the potential of dating platforms to transform people who litter right next to the trash can, because there's an incentive there –– maybe if you picked up your trash, you'd get picked up yourself. 
Especially with today being Earth Day, I'm finding those Tinder bio features where people can put "environmental sustainability" as one of their interests to be an amazing blessing. Today, more than any other day, Gen Z folx really should be celebrating the moves we've made to progress socially conscious environmentalism, but also think critically about how important people's relationship with the earth are to the relationships they have with others.
Beyond what people put on their social media bios, what is also important is that we address going beyond performativity and being equally accountable for spreading the positive message of looking after the environment with our actions.
As much as I'd like the person I match with on Tinder to change their profile picture to be with a plant or a recycling bin, I'm aware that someone may pretend to love mother nature just to impress potential matches. 
To anyone in the UW who has a crush on me –– first of all, thank you for boosting my self-confidence. Second of all, have you asked yourself if you are an environmentally conscious person? Do you compost your Starbucks cup? Do you dispose of your face masks sustainably and efficiently? Do you brush your teeth with the tap off? Do you understand the relationship between the environment and racism in our country? 
If you answered yes, then I'd like to ask you if you like Indian cuisine, because you've checked off the boxes of the type of person I want to share a meal with. 
Some may say that having sustainability as a requirement for my romantic attraction to a potential partner is too much, but now more than ever, we need to strategize both consumption and disposal –– not only of food waste and clothing, but also of the people we romantically pursue. We are living with pressing issues like climate change, upcoming water scarcity that we fail to acknowledge, a fuel shortage in the coming years, and so much more.
We do not need leaders to guide us into getting concerned about our planet. We need to do this ourselves. Take one class in the environmental health department and the professor will give you a long list of issues with our present status quo (and their unanticipated results). 
I will only choose a partner who is an advocate for the health of our planet. It is time you do it too. As the world reopens post-vaccinations and it's now or never to get back into dating, it's also now or never to start taking steps to save our planet. 
Reach writer Niv Joshi at opinion@dailyuw.com. Twitter: @niveditajoshii
Like what you're reading? Support high-quality student journalism by donating here.