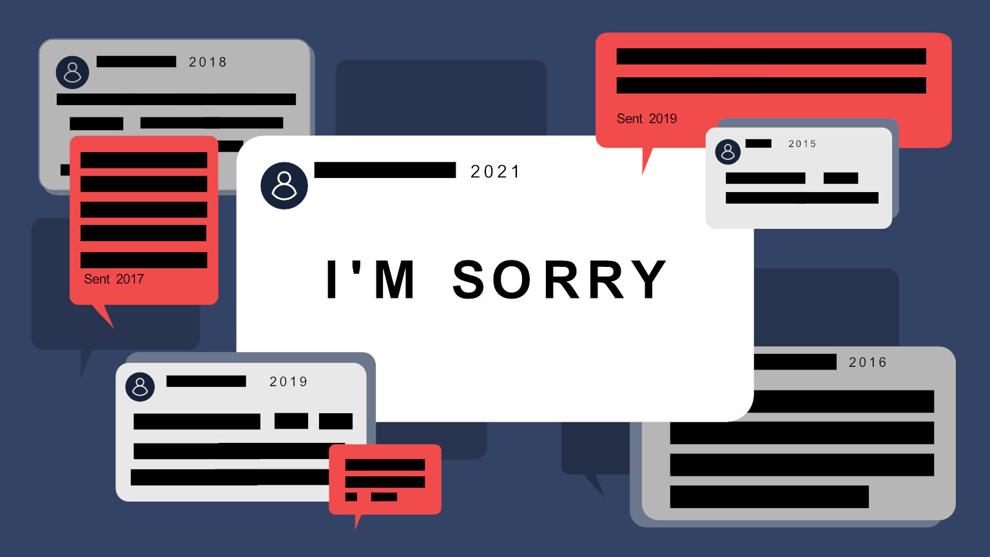 In a year filled with racial justice focuses and parroted anti-racist statements, action surrounding the interpersonal aspects of racism has made its way into the mainstream. 
Related discussions often center on how to move forward and do things differently in the present and future. But we also need to see a reckoning with the harms and oppression of the past, because they continue to affect people and our societal structure today.
A question more commonly brought up today on the internet and among our peers is that of how to address past racism. Anecdotes of people going from alt-right circles to leftist circles have circulated on the internet. More and more celebrities are being confronted with past racist actions. The youth "racist phase" is much too common among non-Black Americans.
Recently, this received attention when it was revealed that Rachael Kirkconnell of "The Bachelor" had attended a racist fraternity party in 2018; her delayed apology for the incident also came under fire.
Naturally, many seek a specific answer to the question of how long is "long enough" for someone to have done the anti-racist learning, to officially be considered "not racist." Of course, with systemic racism, one cannot stop being racist so long as one institutionally holds power. Additionally, the issue is that not everything can or should be quantified. There is no easy magic formula for anti-racism.
And despite 2020 having felt like at least a decade, 2018 really isn't that long ago. 
Just in 2018, Brett Kavanaugh was confirmed to the U.S. Supreme Court, for instance. It's hard to determine how much more "anti-racist" someone is after a given amount of time has elapsed — not that anti-racism can even be quantified, as it's really based on action and continued dedication to the liberation of oppressed peoples.
Our racist programming is systemic; it is deeply rooted into everything we know and experience in the United States. Americans have been marinating in the normality of racism for centuries. That is not undone with a Notes app apology on Instagram and Twitter. It's also not accurate to just say "I read books A, B, and C. I've changed." 
This reflects the idea of racism being a superficial, name-calling grievance, when that barely scratches the surface of this country's legacy and present of oppression. Anti-racism is also about the actions you take in interacting with others, especially in more confrontational situations. This includes the apology when you're experiencing something like your past publicly catching up to you.
A pretty simple red flag is if the apology is reactionary, defensive, and aloof, rather than addressing the actual issue at hand. If your impulse and response is to excuse your behavior and explain that it was long ago, chances are, maybe you haven't really learned.
We are all capable of learning, growing, and making our actions reflect that. However, empty "I'm sorry if I caused you harm" apologies tend to be emblematic of the lack of change and wanting to deflect any real accountability. 
Accountability means a genuine reckoning with the harm done, rather than ignoring it and trying to shake it off your image as soon as possible. And that includes understanding the doubt and skepticism from the people around you –– especially if you might have been touting violent, white supremacist rhetoric just years ago.
The discussion on past racism is twofold, though. It's necessary to look at who we center when looking at instances of racism. A lot of times, there's a focus on the hurt reputation of the aggressor, who is often white or non-Black. There's a very infantilizing grace given to adults who have been racist in the past, with a focus on how call-outs are leftist policing and efforts to tarnish reputations.
Similar to conversations in cases of sexual assault, a lot of focus is on the racist person and less on the impact done onto others. 
Who are we centering? An apology that centers the personal impacts of past racism, rather than an active effort to learn and unlearn, is another sign that maybe it's not just something that can be chalked up to past ignorance.
Time doesn't actually heal all wounds, especially when no time is actually taken to fix the issue. That's just a scab that keeps festering. 
So many of our discussions about how to deal with people who did blackface 10 years ago, supported Donald Trump six months ago, were "casually" racist a year ago, and so on, don't center enough on legitimately confronting the harm done by those instances. Whether racist actions took place one month, one year, or one decade ago doesn't mean much without the active anti-racism and liberation-seeking work. 
Without this work, it really just feels like more avoidance of the issue, and not wanting to deal with any of the reputation-tarnishing feelings. Avoiding the problem doesn't work during roommate squabbles, so how can any of us really do the same with racism?
Reach writer Deborah Kwon at opinion@dailyuw.com. Twitter: @scoobydeeby
Like what you're reading? Support high-quality student journalism by donating here.