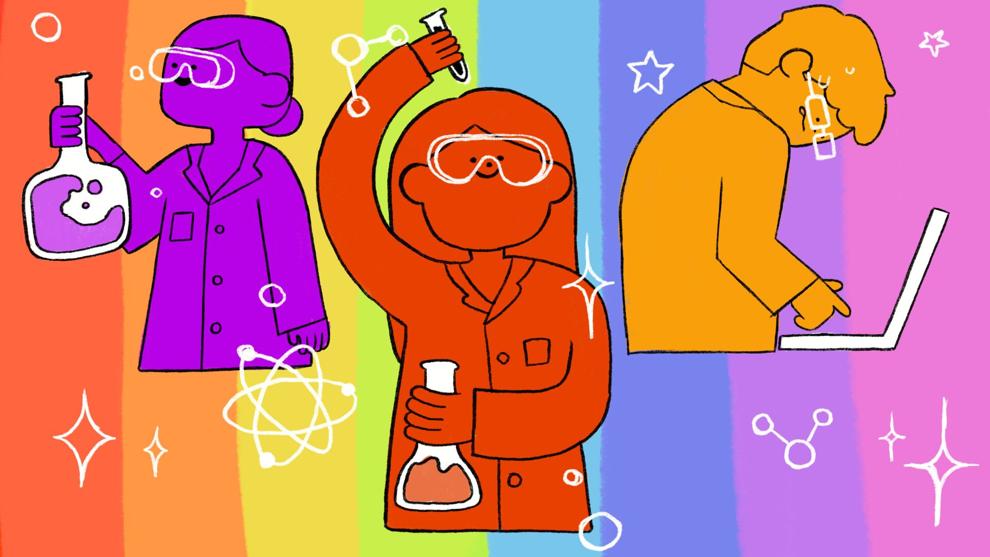 When I was in kindergarden, while my classmates used their library time to find the latest Magic Treehouse book, I would slip away into the nonfiction section to look at glossy pictures of rocket ships, volcanoes, and strange deep-sea animals.
One day, I pulled down a picture book about dinosaurs. One look at the illustrations of the huge prehistoric creatures, and I was hooked. I proceeded to check out every single book my library had on dinosaurs, spent the afternoons playing with fake fossil kits, and watched all the "Jurassic Park" movies. 
I think this is where my passion for science began. Ever since that first cartoon picture of a T. rex, I have known that I wanted to be a scientist. 
After graduating high school and parting ways with many of my old friends, I began to further explore other parts of my identity and interests. I came out for the first time during the first quarter of my freshman year in college. That same quarter, I coincidentally also picked my majors: microbiology and archaeological sciences. 
I still remember walking into my first college chemistry class and being shocked at how big it was, and how overwhelmingly male, and straight-presenting, my classmates were. 
Recognizing the impacts of intersectionality is key to understanding the experience of being queer and in STEM. Queer people of color in STEM face much more discrimination in both their education and their career than do white queer individuals, and as such, my experiences cannot be used to speak for theirs. 
As a female-presenting queer individual, I experience challenges not faced by men in the STEM field. When I contribute in class, I am frequently talked over or not taken seriously. 
I can vividly remember explaining how to solve a problem to a male classmate in a chemistry class and having him ignore my answer, only to call the TA into our breakout room, where the (male) TA gave the same answer I had. My classmate proceeded to tell the TA how much sense his answer made and how he would solve the problem the way the TA had suggested. 
While incidents like these don't, perhaps, sound like a big deal, they are just a symptom of something much worse. In talking with all my female-identified friends in STEM, I have not found a single person who doesn't have a story exactly like mine. 
Having your classmates, colleagues, and teachers dismiss your answers, ideas, and contributions repeatedly can diminish your confidence in your own abilities and lead you to consider switching fields. As a result, while the number of women graduating with STEM degrees is similar to that of men, less than a third of those employed in STEM fields in the United States are female-identified. 
I also feel the effects of being surrounded by mostly cisgender men. When you look around a room and see no one who looks like you, it can be extraordinarily isolating. I find myself changing the way I dress, talk, and do my makeup if I know I'm going to a chemistry lecture. 
While I use she/they pronouns in my daily life, I use she/her in lecture as a way of avoiding judgement and being taken less seriously. People who are different in STEM are seen as somehow less intelligent, less capable, and less serious. 
That isn't to say that things aren't changing. A new era of role models is emerging, demonstrating that science is for everyone. Former UW graduate student Jaida Elcock, who studied sharks at Friday Harbor Lab, is testament to this. Elcock, who is a queer woman of color, runs @soFISHtication on Twitter, where she shares science communication videos and research with thousands of followers. 
The diversity of scientific fields should reflect the diversity of the people who study them. Queer people belong in STEM, and they always will. Everyone deserves the chance to be as awestruck by science as I was with that very first dinosaur. 
Reach writer Zoe Luderman Miller at opinion@dailyuw.com. Twitter: @zozozaira
Like what you're reading? Support high-quality student journalism by clicking here.