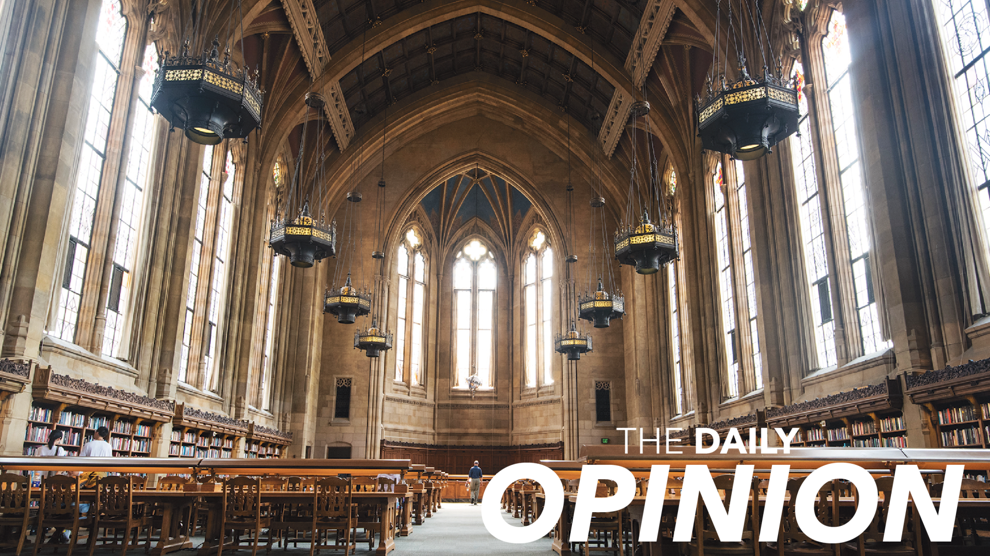 My grandmother remembers crying in front of her locker after hearing John F. Kennedy had been assassinated. My dad can remember 9/11 like it was yesterday — running on a treadmill in an empty gym with eyes glued to the TV screen.My mom won't let May 18 go by without reminding me of where she was that day in 1980, how the ash from Mount St. Helens turned the sky black. 
While 2020 left us with several momentous dates and events, all vying for an eternal corner of our minds, 2021 has hit the ground running with a good old-fashioned attempted coup d'état. 
So where were you the day white supremacists tried to overthrow the United States government?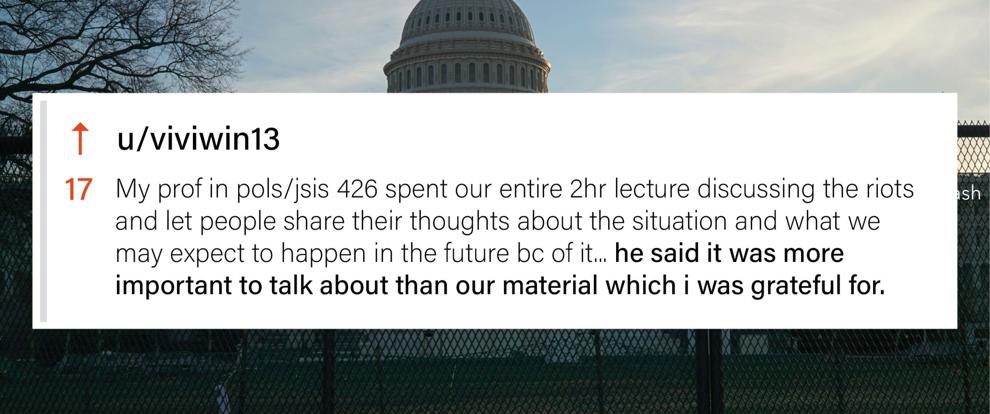 Less than two hours after insurrectionists forcibly breached the Capitol building, I was in a political science lecture with assistant professor Jake Grumbach, who had just finished discussing the Capitol Police's passive response to the riots in an interview with KING5 News. 
Instead of lecturing on collective action for 80 minutes, Grumbach decided to address the then-ongoing riot at the Capitol — a move that was much appreciated by students, including freshman Eulalie Mathieu. 
"You can see the things we've been learning in real-time and action," Mathieu said. "You get a real-life visualization of what's happening, so it's no longer just purely conceptual, it's right there in front of you."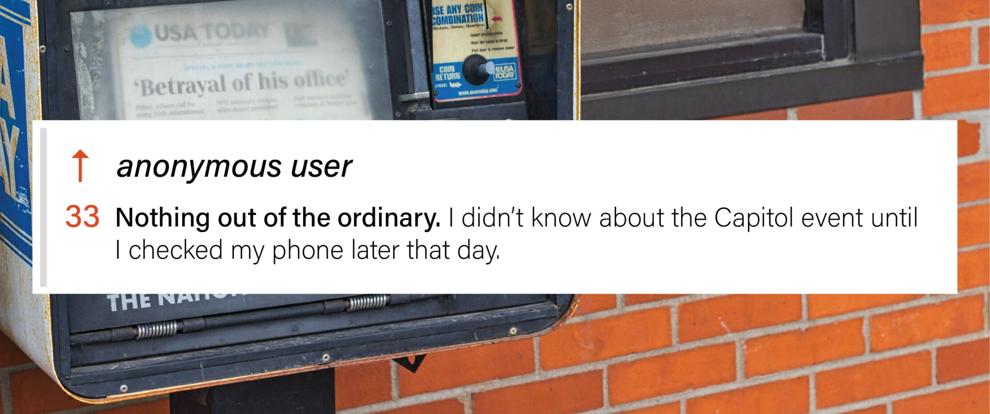 Mathieu also noted how Grumbach not only talked about the riot itself, but tied it into the main theme of the class — labor studies.
"He also connected it to [labor] unions and showed us the statistics about how, starting in the mid-70s when unions began to decline, we see a direct correlation with the rise in hate groups like the KKK," Mathieu said.
Political science, however, certainly wasn't the only department capable of analyzing the events of Jan. 6. 
Sophomore anthropology major Jodi Yoshimi and her classmates in ARCHY 208 instead analyzed the tattoos of Jake Angeli, the shirtless man who wore a fur cap with horns while storming the Capitol building. 
Yoshimi's class examined Angeli's tattoos, which depict the hammer of Thor (or Chris Hemsworth, take your pick), mjollnir; the Norse mythology's tree of life Yggdrasill; and the Valknut, a symbol of the god Odin, which has been appropriated by white supremacists as a racist symbol.
Alt-right white nationalist groups often idolize the Norse Vikings because they believe them to have been an ethnically homogenous population, Yoshimi said. Unfortunately for Angeli, as well as the majority of Trump supporters these days, science is not on his side. 
"[Strontium isotope analysis] is a method that people use to figure out if someone died in the same region they were from," Yoshimi said. According to the Center for Applied Isotope Studies at the University of Georgia, strontium is found in soil, rocks, and water, so when populations eat food or drink water, the element is absorbed into teeth and bones.
"When you study [human] remains, you can see that someone is from a certain area because they have a certain amount of strontium in their remains," Yoshimi said. 
The strontium isotope analysis of Viking remains shows varying levels of strontium among the population, which suggests some amount of human mobility and racial diversity, according to Yoshimi. 
"It essentially indicated that their claims [of ethnic homogeneity] are baseless," she said.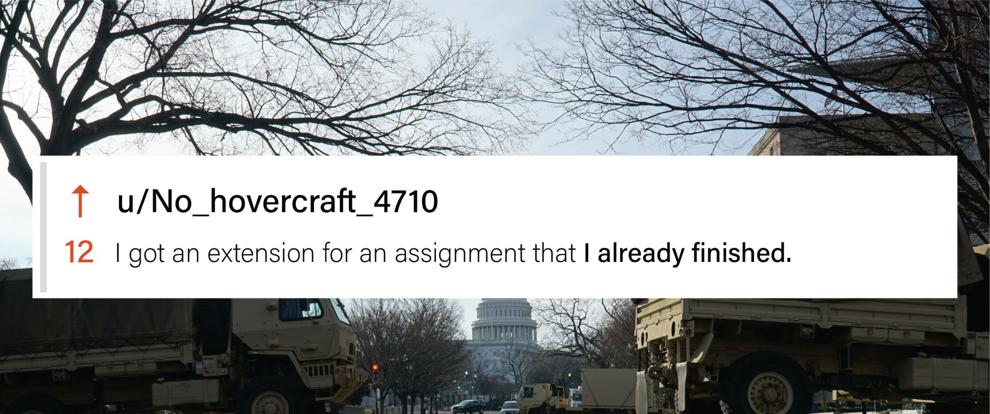 In the days that followed the coup, many students received emails or Canvas announcements acknowledging the attack, with professors often encouraging students to reach out to them or the TAs if they wanted to express their thoughts or feelings. 
But would you feel comfortable asking for emotional support from the people who are grading your assignments and abilities for the next nine weeks?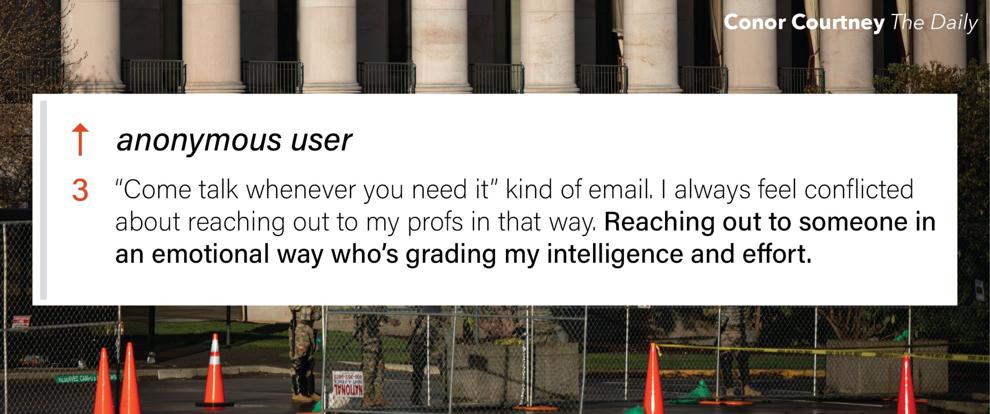 Junior Hunter Camfield had a succinct answer: "Hell no."
"Especially with the quarter system and because we're all online, I don't know this guy for the most part," Camfield said. "To be emotionally vulnerable with someone that you don't even know — I understand the gesture is sweet, that they want to be another resource for students, but it's also not very genuine." 
While he probably won't be taking any of his instructors up on this offer, Camfield does agree with his instructors' decisions to address the riot in the first place. 
"An attack on the Capitol hasn't happened since the 1800s, so it was a pretty major historical event that I think was worth addressing," he said.
In addition to considering the historical implications of the event, sophomore Paul Hung recognizes the benefits of an open discussion for students.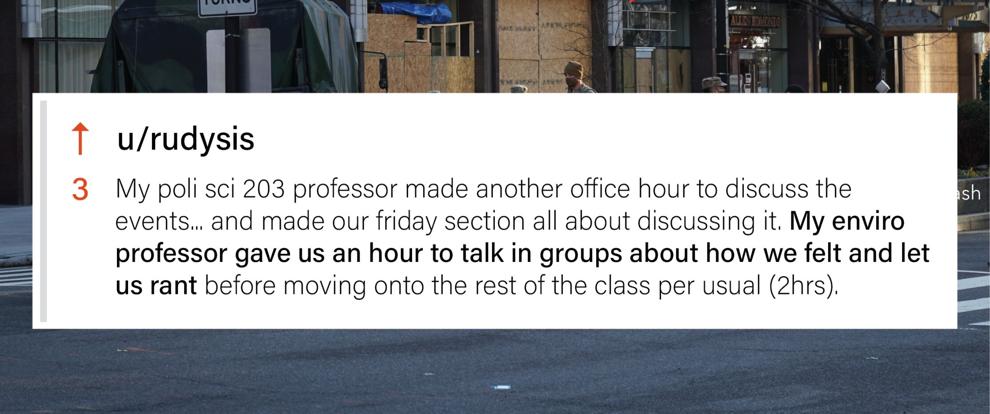 "A national event like this really can distract students," Hung said. "So by discussing it in class, it lets them express their opinions, hear the perspective of other people, and build a sense of community so they don't feel so on their own." 
Regardless of how your professors chose to acknowledge the fatal violence that transpired at the Capitol building almost two weeks ago, the attack will surely become a symbol of the fascist rhetoric, bigotry, and deliberate misinformation that poured out of the White House for four exhausting years. 
Reach contributing writer Sydney Lyman at opinion@dailyuw.com. Twitter: @syddlyman
Like what you're seeing? Support high-quality student journalism by donating here.