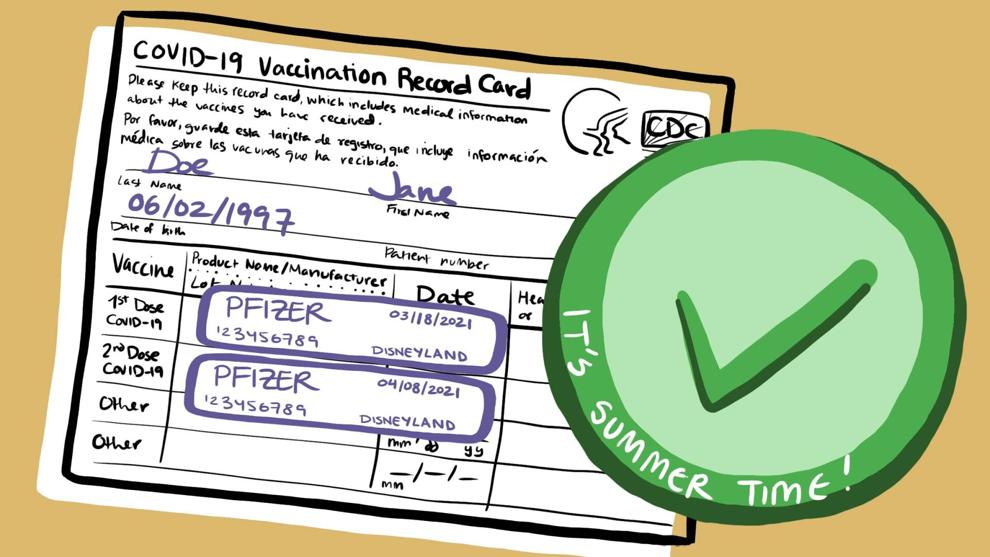 Oh, to walk outside and feel the sun on the lower half of my face. The recent stint of good weather was truly magical and felt a bit like a microdosing summer vacation. And although the warm weather helped me forget I had class, the global pandemic remained on my mind. 
By the time summer starts, many adults probably will be vaccinated. Seattle is beginning to return to "normal" –– the CDC recently stated that people who are fully vaccinated don't need their masks outside, unless they are in a large group of people. I personally will keep wearing my mask, but this news is a sign that summer can bring about the return of outdoor parties and gatherings — the "vaxxed girl summer" phenomenon everyone is raving about.  
The return to this post-vaccination version of our pre-COVID-19 world, however, is not something that all students are ready for just yet.
"I am nervous about things opening up," Isabel Gates, an international studies major, said. "Biden announced today that adults that are fully vaccinated can go outside without wearing masks, but I don't think I'll do that because I'm still a little paranoid, and I also don't want other people thinking I'm an anti-masker."
The thought of taking my mask off around anyone I don't live with scares me as well, so I am approaching a fully vaccinated summer with a feeling of optimistic anxiety.  
I am excited to find secluded spots to sit in the sun and breathe in fresh air without the barrier of my mask. I am excited to go hiking and exploring with friends I haven't gotten to spend a lot of time with. However, I am nervous for people who take the loosening of regulations as a sign to go wild and I worry about the possibility of a new variant or wave of COVID-19 to emerge before we reach herd immunity.
I might be on the more anxious side when it comes to this summer, but I do not want it to seem like I'm not excited for its potential –– the freedom it'll offer me and our student body is enticing, even despite the fears.
"I'm super excited for the summer," first-year Brandon Howe said. "I already got my first shot getting my second next week, while most of my family and friends are getting their shots very soon. It feels good to finally have some freedom after being holed up in my room for over a year." 
I'm excited to feel more comfortable on public transportation again. I learned the bus system last year and lost all that knowledge because of quarantine. Now, I plan to use this summer reacquainting myself with weird schedules and transfers, something I never would have guessed I would be excited about a year ago. 
Now that more people are putting "fully vaccinated" in their dating app bios, this "vaxxed girl summer" phenomenon means a new shift in dating culture for us all –– and I now sadly have no valid excuse besides nerves to not agree to meet up with people. I don't know how I feel about that loss. Maybe I'll follow through on meeting up to go to a bookstore or grab a coffee; something that felt like an unreachable goal is now a possibility.
My friends and I are also all planning to get the tattoos we've wanted in the last year, go thrift shopping with more confidence, and take mini road trips together. My roommate and I recently planned a trip using public transit to get to a bigger grocery store than we normally go to, and it felt like we were planning a month-long trip to France. None of our plans are outlandish, but they still feel like a novelty and that in itself is exciting.
The point is, for the first time in over a year, I feel like I might get to be a college student again, even if I still don't feel fully comfortable. I am still going to be cautious and I will probably still wear my mask more often than not. However, I have the option and opportunity to go out and adventure and to take advantage of the warm weather and the confidence that comes with being vaccinated. I am going to keep that promise of the coming summer with me as the middle of the quarter looms before us all. 
Reach writer Zoe Schenk at opinion@dailyuw.com. Twitter: @schenk_zoe
Like what you're reading? Support high-quality student journalism by donating here.