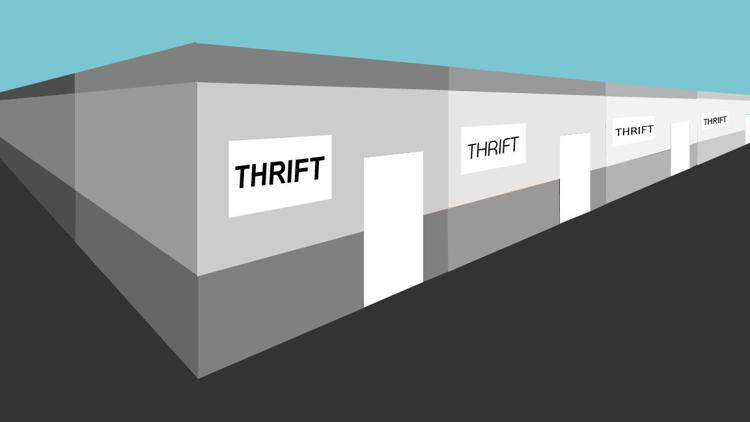 Buying a new piece of clothing has always been a good way for me to get my monthly boost of serotonin, and the thrift and vintage shops on the Ave have consistently provided me a great place to do so. But with COVID-19, the fear of used clothing and its connection to germs may be a threat to the closure of these beloved businesses –– many of these stores have only just reopened, and this time they could be closing for good. 
Long before the pandemic, but especially during the COVID-19 outbreak, people have feared the cleanliness of both thrift stores and secondhand clothing itself. My simple advice: Wash the clothes, like you would with any new clothes you'd buy from the mall. Other than that, continue practicing COVID-19 safety habits. Students at the UW have continued to thrift on the Ave and implemented some COVID-19 best practices as additional steps in their thrifting routine.
"At first I can say that I was a little sketched out to go thrifting," Barrett Ihde, a sophomore at the UW, said. "But now I just take a few more precautions, like hand sanitizer afterwards — but I do that everywhere, so it's not that different."
The benefits of thrifting extend far beyond just supporting our local shops on the Ave. Thrifting also helps mitigate our destructive impact on the planet –– the statistics on how much waste we produce can be quite shocking. Around the world, the fashion industry creates around 10% of the world's carbon emissions, as well as being the second-largest consumer of water. With pollution coming from everywhere, the fashion industry is often overlooked, even with its lasting consequences. 
"I know the sustainable aspect of fashion is just atrocious," Anna Connell, a junior at the UW, said. "Always, the answer is to buy second hand." 
Stores specifically on the Ave range from higher-end curated vintage pieces all the way to the chain thrift stores. With some of the curated shops, the pricing can be a deterrent to some students. However, with sale sections, the same clothes can often be attained at reduced prices. 
There is always the option of going to traditional thrift stores as well, like the downtown Seattle Goodwill outlet, which lets you buy clothes by the pound and is just a short bus ride away.
Regardless of where you go about thrifting, there is an ample amount of opportunities to do it and find unique pieces on campus and in the greater Seattle area.
"Thrifting and finding unique pieces of clothing has always been a priority for me," Connell said. "Back in high school, we had uniforms so I'd really been exploring my own personal style outside of my Monday through Friday. And I've always really liked dressing up and wearing weird s--t, like, I just love it. It makes your wardrobe so unique." 
With the holiday season coming up, an alternative to online, fast fashion, or big box stores can be embracing the small businesses we have all around us. Many of these businesses may not be getting as much attention as they need to survive past the pandemic. Look for a unique gift that you, or someone you know, might not have –– and trust me when I say that they will appreciate it more than some cheap tchotchke from Amazon that thousands of other people will be getting under their tree this year.
"Small businesses are better for this planet than large corporations in almost every way," Ihde said. "Most of the time they are way more sustainable and ecologically friendly. Plus, it's more community-based, and I think supporting those around you is just good for everyone in the long run." 
So put on those gloves, grab your mask, and go look for a sustainable and unique way to contribute to your community.
Reach contributing writer Liam Blakey at opinion@dailyuw.com. Twitter: @LiamBlakey2
Like what you're reading? Support high-quality student journalism by donating here.