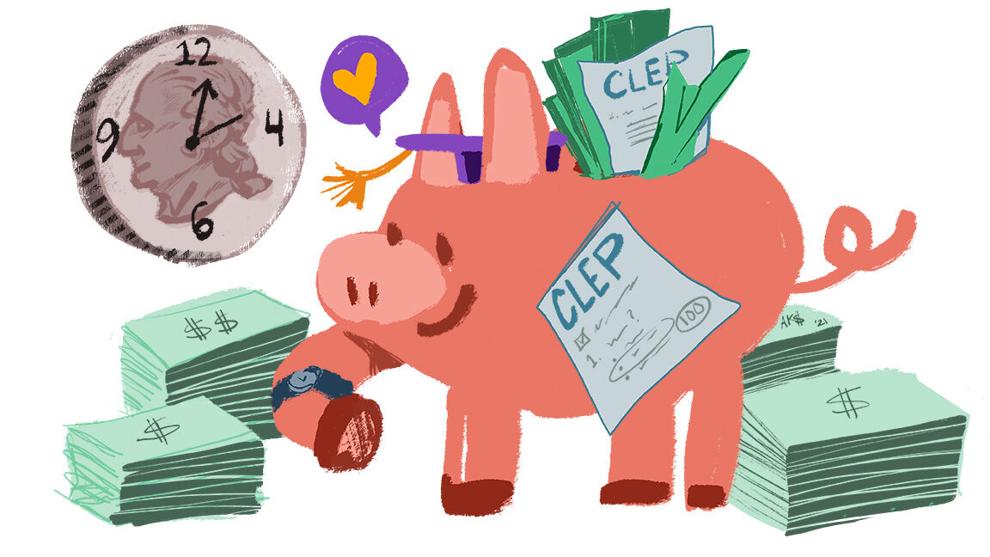 The cost of a college degree has increased astronomically since the 1980s, at a rate nearly eight times that of wages. 
If you're reading this as a UW student — particularly if you're an out-of-state student —  this statement should not surprise you. Working your way through college isn't feasible anymore, and it hasn't been for a long time. Now, I'd argue that the most straightforward way to reduce the cost of a college education is to reduce the amount of time spent in college. 
The College Level Examination Program (CLEP) is administered by the College Board, much like the SAT and Advanced Placement (AP) exams. There are 33 CLEP exam subjects, each exam costs roughly $87, and a passing score on an exam is generally equivalent to three or more credits. 
CLEP exams are unique because unlike the AP and International Baccalaureate (IB) exam scores that UW accepts for credit, CLEP exams are not as dependent on a corresponding course. Instead, they rely on independent study and prior knowledge. 
"I homeschooled all the way through high school, way before COVID, and taking APs and IBs was and still is a complicated matter that requires going through the local school district," freshman Emily Chua said via email. "The CLEP was a much better option for me as a homeschooler." 
Don't get me wrong, AP and IB exams are great –– that is, if they work for you. 
As someone who walked into the UW with over 50 credits, I'm certainly grateful for them. The downfall of AP and IB exams, however, is that they require quite a bit of foresight and time, which is a lot to ask of a high school sophomore. 
CLEP exams, on the other hand, can be taken at any time. In fact, in 2016–17, approximately 57% of CLEP exams were taken by current college students. 
Unfortunately, the UW Seattle campus does not accept CLEP exams for credit. However, the UW Tacoma campus — and over 2,900 other colleges and universities — do, and it is time for our campus to follow suit. 
"Ultimately, I didn't take any CLEPs because UW didn't accept them … and I had already opted to do Running Start, which also allowed me to earn college credit," Chua said. "If UW had been open to accepting CLEPs back then, I definitely would have considered those exams more strongly. The [Running Start] credits I earned have definitely saved me money and time, something I'm especially grateful for during COVID."
Out-of-state freshman Gabrielle Moore arrived at the UW with 90 transferable credits, which she earned through taking community college courses in high school. 
"Attending university is going to take a financial toll on me for years to come," Moore said in an email. "The unwavering debt that often comes with college is another reason students should be allowed every resource to knock out prerequisite courses and general education requirements prior to attending a university. If students are able to show they are familiar and comfortable with material they would otherwise be taught in a university course, options should be available to allow such students to count [that] experience toward their college education requirements."
CLEP has the potential to make a UW education more equitable and accessible. I'm not under any impression that accepting CLEP exams for credit is a solution to our complex problems — it's going to take a series of legislative actions to even begin to address that. Rather, I view it as giving students another option to earn their degree as affordably and efficiently as possible.
If UW intends to best serve its students, they should reconsider recognizing CLEP exam scores for credit. 
Reach writer Michele Rubinstein at opinion@dailyuw.com. Twitter: @michelehalleru
Like what you're reading? Support high-quality student journalism by donating here.