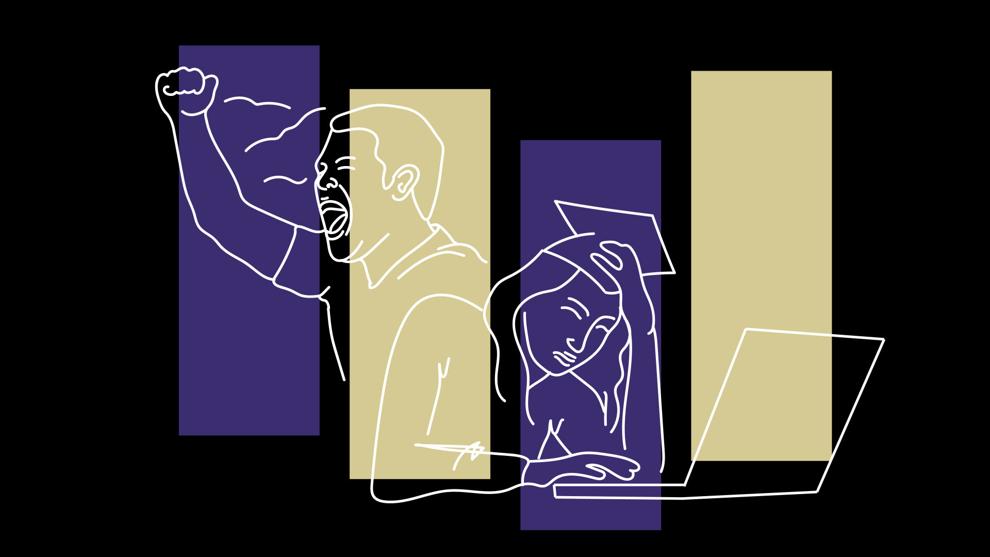 "Football is most certainly not prioritized over academics," UW President Ana Mari Cauce said in a comment on a UW student's Facebook post.
Maybe football isn't prioritized over academics exactly, but profit is clearly prioritized over students. 
On April 1, Cauce released a message to the student body announcing that the 2021 commencement ceremony would be held virtually. 
A month later, May 1, the UW football team was able to have an in-person spring game that brought 9,000 spectators to Husky Stadium. The event was open to students, families, and elderly community members, allowing folks of the general public into the stadium.
On May 13, President Joe Biden, under guidance from the Centers for Disease Control and Prevention (CDC), lifted the country's mask mandate for fully vaccinated people. This week, the White House released a notice that 50% of adults in the United States are fully vaccinated. In Washington state specifically, we are ahead in our rate of vaccination ahead of many states. As of May 22, more than half of Washingtonians 16 and older, and 40% of the total population of the state, are fully vaccinated. 
Despite the CDC-approved guidelines and rising rates of vaccination, and despite the decision to allow a 9,000-person event in the same venue graduation would be held in, the UW still maintained its stance on graduation being held through a computer screen.
Universities like UC Berkeley and the University of Southern California (USC) are some of the largest schools in the country, yet were still able to safely host smaller graduation ceremonies for their graduates, with safety measures like distancing, masking, and proof of vaccinations for guests. 
After getting a fairly early decision from Cauce in April before vaccinations and CDC guidelines were put out –– which was likely done to give international and out-of-state students enough time ahead to plan their graduations without coming to campus –– and seeing our friends across the country get their diploma in person and walk on that stage, many UW seniors are feeling disappointed at the UW administration for their decision to not change their plans. 
The reasoning behind the UW deciding not to have an in-person graduation despite all of this is sparse, as the senior class has still yet to receive a full letter from Cauce on in-depth reasons why departmental graduations of a few thousand at most can't exist. This made it all the more concerning when a UW senior student named Vivian Ha posted on her personal Facebook page about how the "... UW prioritizes profits over their students" alongside a video of the football team's spring game. 
Ha decided to tag Cauce on the post, and Cauce left a number of concerning comments in response that ranged from gaslighting to clearly lacking empathy or knowledge for student concerns and suggestions. 
A coalition of students sent Cauce a proposal of department-only graduations of fewer than 9,000 people (which, again, was the number of people attending the spring game) that would only be open to graduates, not the public. They would continue to follow mask and social distancing requirements, on top of using the reservations-based system of attendance that the spring game used for their attendees. It's also important to add that the spring game allowed all members of the public to attend, which included students, their families, and the elderly, who are at most risk of COVID-19 deaths. 
Despite knowledge of this plan, Cauce responded with a number of flawed arguments.
She first said that past commencement ceremonies were packed, even including photos of pre-pandemic ceremonies of maskless and closely seated graduates in her comments to back up her claim, but she failed to contextualize that many seniors –– and universities across the country –– are not aiming for a graduation of the same format as before. We want smaller department graduations, with COVID-19 safety protocols, and comparing this plan to the clustered and crowded ceremonies before 2020 is completely misguided. 
"At our typical commencements we have 30,000 plus in [these] stands," Cauce said in a comment. "But, the bigger issue isn't in the stands, it's ON THE FIELD. During spring football at any given point there are no more than 50 players on the field, by contrast, here's a picture of graduates on the field from several years ago. On the field there are thousands [of students] ... they are shoulder to shoulder with no room for any distancing. So, they are very different situations."
Aside from this comparison being flawed, I find this argument frustrating considering the strings the UW pulled for sports like football to still happen even despite a number of COVID-19 outbreaks. I guess it was worth it for the UW to allow students to be put at risk of COVID-19, back when vaccinations were not anywhere near in sight, if it meant that the UW was getting money out of it. 
Football games give the UW profit, but giving us a ceremony (when we're vaccinated) after four years of robbing our wallets to obtain an education –– especially in this last year of remote learning –– does not provide them any profit.  
"By the way, it would have been possible for some departments/units to have had in person ceremonies, but the decision was made after extensive discussion with faculty and student leadership that if all units couldn't have [an] in person graduation, it was best to have them [all] be virtual," Cauce said.
Cauce doesn't mention why some departments could not be able to have an in-person graduation, but I speculate it has to do with the fact that some departments are much bigger –– and are funded more –– than others. This would mean that bigger departments may require more money from the university with more students to oversee, but it also could mean that smaller departments may require more money from the university because they have so little resources in the first place. 
My response to this is: While a global pandemic ravaged the country and sent the economy into a s---show, the UW didn't lower tuition costs. The UW continues to charge fees for essential materials, from the test booklets we're required to use for finals to the S/NS fees we might need to pay because of how flawed the quarter system is for student retention. 
You have the money, UW. Funnel your money into these departments. 
"The thing is, UW already allocated money for graduation," graduating senior Ziyana Kani said. "We already paid for the ceremony with the tuition that wasn't lowered during [COVID-19], so it hurts to see UW not attempt to spend the money ... You had a year to plan. A full year to rent our bigger stadiums and prepare for smaller department graduations that could accommodate social distancing."
Cauce also is receiving criticism for how she's responding to student concerns, which has been perceived as lacking empathy or transparency. 
"But, please look around campus these next few weeks," Cauce said. "We'll be lighting the fountain up in purple, putting some [additional] big W's around campus and providing some great photo ops for graduation pictures. And, the virtual ceremony will be fun too … it wasn't possible to have [it] all in person."
But it is possible. Seeing my peers across the country being able to walk on the stage, grab their diplomas, snap pictures from socially-distanced chairs on their university stadium field –– it gave me an immense feeling of sadness knowing I will never get to experience that after four years of hard work. It stung even more knowing that my parents never got to experience that as well, and after immigrating to the United States so that I could see this day, I just know they'll feel deeply disappointed that their son will never get to experience it either. 
More W's to take pictures of and purple-lit water isn't going to do anything for me after I spent the last 17 years of my life working toward a degree my family always dreamed of. Many other graduating first-generation students feel the same.
"For me, graduation is huge because both my parents came to the [United States] from Kenya," Kani said. "My mom never went to college, and my dad was the first one in his family to go to college. My brother never finished college, so really being able to graduate is a big deal for my family."
Cauce also continuously repeated in the Facebook post that the decision of hosting a virtual graduation was "made after extensive discussion with faculty and student leadership that if all units couldn't have [an] in person graduation, it was best to have them [all] be virtual … it was NOT a top down decision."
But the lack of transparency of who these students were makes this hard to digest, especially when a number of students have come forward about how the administration has been hard to contact about graduation –– Kani even stated that a number of students have been trying to reach out to UW leadership for over a month.
Kiran Pradhan, another graduating senior who penned the infamous "Letter to UW administration" document with over 400 signatures, also had thoughts about Cauce's alleged collaborative decision. 
"It was also upsetting to see Cauce repeat herself saying that student leaders were part of this decision," Pradhan said. "From my perspective, this seems to be a rather sneaky statement which defers responsibility from administration to students. From the number of shares on Vivian Ha's Facebook post to the number of signatures on my letter to UW administration, it's clear that many students don't agree with the decisions these 'student leaders' are making on our behalf."
What this graduation controversy reminds us is that this university will forever be guided by money. 
To the UW: You have the blueprint of many universities to follow. You've heard student concerns. You are planning for in-person classes in the fall for fully vaccinated people, meaning you have a plan about large gatherings established already. You have the perfect venue to use, and the money to pay for the departments that are less endowed. 
But what you don't have is a spine. After sending your students into a boundless future with student debt and robbing their pockets clean despite a global pandemic and a shift to remote learning, the least you can do is to attempt everything in your power to give us an in-person graduation we deserve. 
For a university that preaches being boundless, it's ironic how little the UW administration will try to advocate for its students when the university doesn't get anything in return. 
Reach Opinion Editor Andre Lawes Menchavez at opinion@dailyuw.com. Twitter: @itsjustdrey
Like what you're reading? Support high-quality student journalism by donating here.