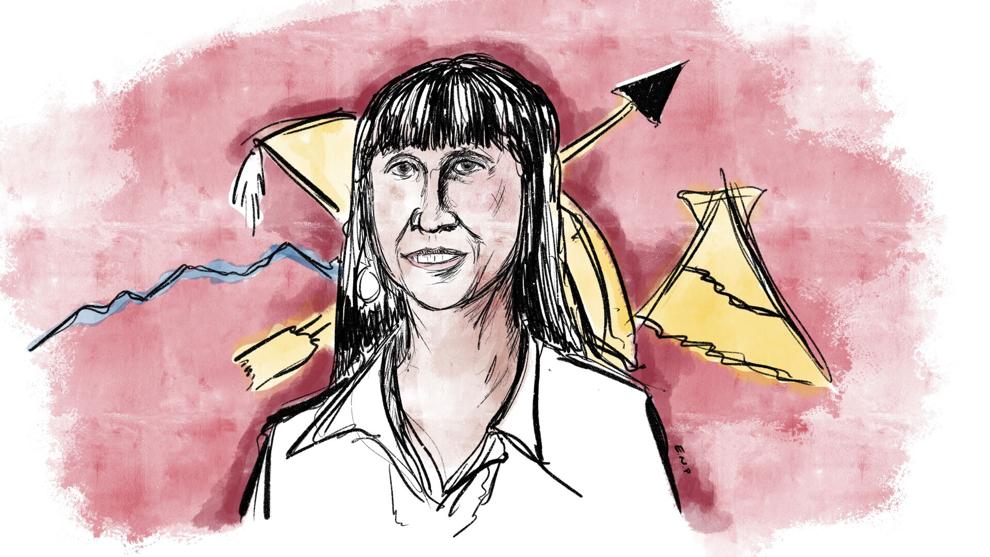 Editor's Note: In honor of Women's History Month, in an attempt to de-center whiteness and men from the perception of our history, the Opinion section is pursuing nine pieces that aim to amplify BIPoC women of the UW and their contributions to the community –– and our history. 
As of 2018, there were only four Indigenous professors at the UW, and in the fall of 2019, I was lucky enough to be taught by one of them. I was a student in GWSS 244: Indigenous Feminisms, a course created and taught by Dr. Luana Ross of the gender, women & sexuality studies (GWSS) department.
As an Indigenous student in a university rampant with hollow land acknowledgements and a lack of reparations and care for the Indigenous communities within it, it was fulfilling to be taught by a woman who utilized her culture as a mechanism of connection and liberation for her students and represented the peoples whose land institutions like the UW stole from.
Ross has a long history of empowering Indigenous voices and utilizing the values of community and resilience from her culture to critically analyze and educate, then improve the faults of the world around us –– including our campus. 
Ross retired from teaching and is now a co-director of Native Voices, one of America's only film programs dedicated to training Native filmmakers to cover stories on the Indigenous community. The program, led by two faculty members and a small amount of funds, has successfully established careers and graduated 26 Native students.
She is also the author of the award-winning book "Inventing the Savage," where she draws on the stories of imprisoned Native women. Her research on the prisonization of Native women is also said to be one of the only complete studies done on this topic in the country, according to Ross.
Ross has also developed curricula that have crossed several departments, from GWSS to American Indian studies (AIS); alongside the Indigenous feminism course that I was a student in, she also created a course specifically on the prisonization of Indigenous peoples for the AIS department. 
While pursuing this meaningful work to reincorporate Indigenous voices into our curriculum and history, Ross has noted the disparities of BIPoC women entering these spaces who attempt to pursue this work. 
"All institutions and bureaucracies are white and male by design, and classist, too," Ross said. "As a Bitterroot Salish woman, I find myself editing my behavior and language in such spaces. I present myself, in all ways, totally differently when I am with Native women or women of color. It is stressful and emotionally exhausting to continually police yourself in public institutions."
The statistic of four Indigenous professors teaching at the UW in 2018 is made even more worrying when you compare it to how many white professors there were at that same time: 886.
There is an immense amount of pressure on the backs of Indigenous women like Ross to represent and retain the presence of the Indigenous community when they're surrounded by whiteness and men, sacrificing so much labor as the university continues to fail to represent their community or offer more professors of this background tenured positions.
"There continues to be relatively few Native women in academia who truly have a seat at the table by being tenured," Ross said. "When I began my academic career as an adjunct professor at the University of Montana in 1981, it was very difficult for many reasons –– I was the youngest, the only woman, and only Native. I persevered because I love learning and hoped that my research would be instrumental in changing oppressive conditions."
Ross credits her culture and family as supporting foundations that helped aid the traumas of pursuing her work. As one of six daughters "raised to be strong women" on the Flathead Indian Reservation in Montana, Ross recalled the impact of her mother and grandmother who provided a blueprint through family and community stories of how to survive difficulties and understand feminism. 
"My mother was the first female head of a department in our tribe, the Confederated Salish and Kootenai of the Flathead Indian Nation," Ross said. "Her mother, my yaya, was one of two women to run for tribal council in 1934. They were the first women in our tribe to seek political office under the federally recognized tribal council. These brave women were clearly movers and shakers and absolutely risk-takers and border-walkers. They were role models for me, and I have been shaped and molded by those who came before me."
Ross mentioned a quote by her mother she had taped to her kitchen cupboard, "A lost cause can find itself in a noble dream," which molded her values of believing that all people possess a special gift. As one of the privileged people to have learned from Ross, I can confirm this value translates to the ways in which she connects with her students, sparking new thoughts and ideas for each person entering her classroom. 
"She created a space of healing, I will never forget the lessons I learned in that class," Bonnie Greer, a recent UW graduate who took Ross' Indigenous feminism course, said. "She completely altered my career path and taught me the importance of having Indigenous voices, especially women's, involved –– especially ones discussing climate change. Her class inspired me to complete my Arctic Task Force in Ottawa where I wrote my chapter on the importance of decolonizing Arctic policy by including Inuit art as a form of communication."
Greer has since utilized Ross' influence by beginning to work at Americorps with the Spokane Tribe and is one of many other students who have discovered and acted upon their potential after being in Ross' presence. 
"Dr. Ross is surely one of the most impactful professors I have had at UW," Audi Lynette Brown, a fourth year in the GWSS department, said. "She poured so much into me, but she also recognized that I have a lot to offer the world. As an older Black woman, I entered Dr. Ross' class with a lot of rich lived experiences, experiences that allowed me to connect with the joys, pains, and sufferings of her life and the stories of Indigenous peoples … The most valuable lesson I took away from Dr. Ross is for me to embrace my culture, because it is a form of resistance to fight oppression."
Utilizing culture to address oppressive structures is one of the key pillars of Ross' instruction. During the Black Lives Matter (BLM) movement, the global pandemic, the climate crisis, and the rise of the modern feminism movement, Ross believes Indigenous stories and histories are crucial to be contextualized in the next steps ahead.
"Native solidarity with BLM is imperative, as we are obligated by our own histories to stand strong together," Ross said. "We both continue to experience state violence; we must recommit ourselves to ensure that all people are free."  
From addressing that COVID-19 isn't the first pandemic Native peoples have endured to educating the community on Native peoples' sacred and close relationship with their land amid climate change and highlighting the importance of intersectional feminism and the role of Native women in the women's rights movement, Ross emphasizes the need to validate and incorporate Indigenous knowledge to better the world and our community. 
The lack of this knowledge in our education, from our course material to the demographics of our professors, mimics the removal of Indigenous peoples from their land and erasure of their histories at the expense of uplifting white men. We need more opportunities to learn from BIPoC women like Ross.
I look back at my four years at the UW with a lot of resentment in my recollections of biting my tongue at problematic white men who are in charge of my final grade, as well as looking back on a lifetime of white-centered histories taught throughout my education where I was forced to simply consume knowledge as a receptacle of information in classrooms. Being one of Ross' students is one of the few educational moments I've had in my life where I felt truly liberated, connected, and empowered to not just consume information but to transform it into a catalyst of change for myself and for the community. 
The UW is a capitalistic and white-centered institution that resides on the land of the Coast Salish peoples, a stolen land that was then used to steal students' opportunities to learn authentic histories from excellent Indigenous peoples like Ross.
I'm honored to have been in the presence of someone who has pursued work to decolonize the history of the UW and has utilized her histories to ignite and amplify the potential of her students to do the same.
"I was raised in an activist household, extended family, and Native nation," Ross said. "I come from humble beginnings and possess knowledge that one cannot get from a doctorate. Native women were raised to be strong women. If I can do it, anyone can."
Reach Opinion Editor Andre Lawes Menchavez at opinion@dailyuw.com. Twitter: @itsjustdrey
Like what you're reading? Support high-quality student journalism by donating here.