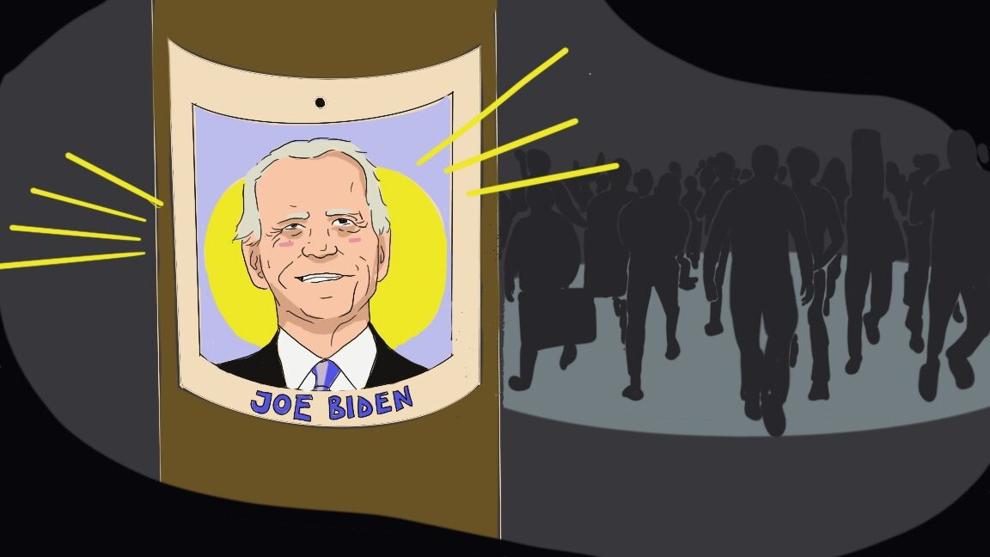 We're almost a month past the inauguration of Joe Biden, and it has been over three months since the general election in 2020. We're getting settled in. Somehow, though, cries of "Can't we enjoy anything?," "At least he's not Trump," "Give it some time," and "C'mon, he just got inaugurated," still prevail.
Since the 2020 election cycle, Democrats and others on the left claimed that the goal was to get Biden into office so that we no longer had to stomach a flagrantly white supremacist and  corrupt president, and that we would hold Biden "accountable." The question remains, though: How do we hold the Biden-Harris administration accountable?
It is necessary to hold the president accountable without holding ourselves back in our demands; we need to stop fawning at the bare minimum. Respectability does not equal progress or liberation, no matter how much more wholesome Joe and Jill Biden seem compared to Donald and Melania Trump.
"Yes, [Biden] has done some good stuff, and yes, he's not as bad as Donald Trump," Moriah Draper, president of the Young Democrats at the UW (YDUW), said. "But we can't always be in a reactionary position — he is separate from Donald Trump."
Critiques of Joe Biden can and should exist outside the sphere of what we might expect from Donald Trump or any other politician. For example, consider Joe Biden's commitment to the $15 minimum wage.
"We have been fighting for the $15 minimum wage for so long that it's not good enough anymore," Draper said. "So, yes, it's great that he's finally gotten us a $15 minimum wage, but it's still a valid criticism [that a] $15 minimum wage isn't good enough anymore."
Alternatively, is it actually possible to hold any American president accountable? We talk a lot about accountability, but Biden holds the greatest power in a destructive, oppressive country with a history and foundation of chattel slavery, oppression, and illegitimate occupation of Indigenous land.
"I do not believe it is ever possible for a U.S. president to be a champion of liberation," sophomore Jasmine Fernandez said. "Because when we think about liberation, the question is raised: liberation for whom? The system is set up in a way that accountability is more performative than it is an actual strive towards [being] genuine."
It is important to consider who is able to take that sigh of relief with the Biden administration. 
Things may improve to an extent from a domestic angle, but this perspective fails to consider the countless countries that the United States ravages through its military and imperialist agenda.
Oftentimes, in discussions about politics and stanning The Squad, imperialism and foreign policy are left out of the conversation. Much of the focus is on domestic issues, which makes sense, to an extent, because that is what directly affects us the most. However, the violence enacted by the United States in other countries is very real, vast, and not that far from us.
"The way that our social institutions are set up — such as education, media, government …  they perpetuate this distance, this idea, this myth of there being just an inherent separation between the Western world and the non-Western world," Fernandez said.
As people in the United States, we must confront these issues too, not just the ones that are visible to our eye, and not just the ones that prioritize "America first." We must honestly take in the fact that when we voted for Biden, that was a very small step in the progress and liberation that many oppressed people seek.
Fernandez questions the idea of voting as harm reduction, as well as the positioning of voting as one of the greatest things that we can do to be the change.
"What it does is really minimize grassroots efforts, efforts that have been led historically by the most vulnerable to these systems … it minimizes legacies of activism that our ancestors have been waging, and it minimizes the current organization and mobilization that is being done on the ground," Fernandez said. "Rather, [it pushes] for this idea that voting, simply like marking a checkbox and getting a person in office, is going to ... put us on a path towards the right direction."
What people can do is start at the community level and get involved in genuine coalitions and organizations, such as the International League of Peoples' Struggle, for international solidarity for democracy. At the UW level, we can start by listening and responding to vulnerable communities and those most affected by issues like white supremacy and imperialism.
"The [UW] administration needs to listen to student voices, and one of the big ones is they need to listen to the [Black Student Union's (BSU)] demands for divesting from the UW Police Department, and advocating for better mental health services," Draper said.
That change that many of us are increasingly seeking doesn't come from waiting on Joe Biden and other lawmakers — that is not what the American government, quite frankly, stands for. It comes right from the hands of coalitions of people organizing together with genuine, mass solidarity.
"The only way that we can truly achieve liberation is if we jump off that train, abandon the train, and find a new path towards our desired outcome," Fernandez said.
Reach writer Deborah Kwon at opinion@dailyuw.com. Twitter: @scoobydeeby
Like what you're reading? Support high-quality student journalism by donating here.